AHL LabNote 37-Viewing reports and invoices online
Our LIMS software program, LabVantage, has been designed to allow our clients to access their results and invoices whenever they want!   Online reports are immediately available upon test completion depending on the turnaround time of the particular test you have ordered.
To access LabVantage, you must contact us to obtain a user name and start-up password.  To contact us, please email us at ahlinfo@uoguelph.ca or call 519-824-4120 extension 54530 .
If you already have a username and password, below is a tutorial on how to log in to LabVantage and access results and invoices.
To start
Below is an overall view of the LabVantage screen. 
· Occasionally there are notices of maintenance or holiday hours.  These will appear above the log-in—typically in black, bold letters explaining the cause for LabVantage to be shut down or explaining our holiday and courier hours.
· Presently, LabVantage can be used with Chrome, Edge, Internet Explorer and Safari. 
· Network firewalls will need Port 8080 open.
· Toolbars (Yahoo, Google) interfere and may need to be removed.
· Adobe Acrobat is needed to open PDF reports files. - Need Adobe?  Click here.
The URL is: http://jaguar.lsd.uoguelph.ca:8080/labservices/logon.jsp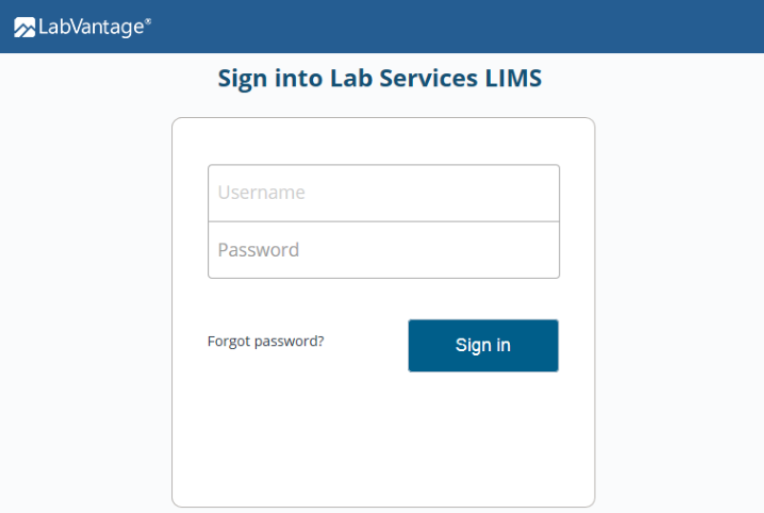 Logging in to LabVantage: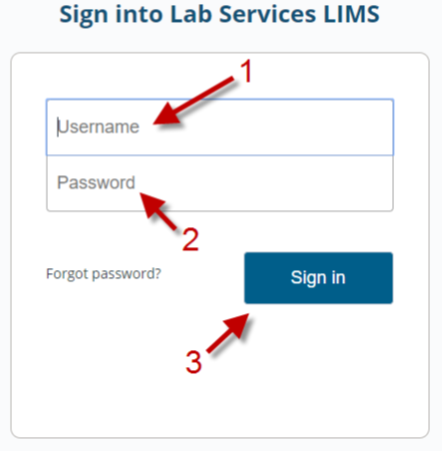 1. Username
            This is your AHL client number (Typically 7 digits).
2. Password
The first time you log-in, you will be prompted to change your password.
Enter your new password  (enter any combination of 4-8 numeric or alpha characters).
Click "Confirm New Password".
Retype the NEW password.
Click "Change Password"
3. Sign in
            Once you've entered your username and password press Sign in! This will take you to the LabVantage "home page".
4. Forgot Password?
Click the Forgot Password? link and instructions will be sent to the email on file.
Or call us to reset it - because after 3 unsuccessful attempts, the account will lock up for 24 hours.  It's much easier to reset your password than have to wait!
Tool Bar: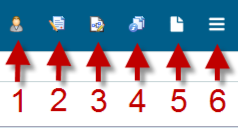 1.  This will link you to our https://guelphlabservices.com/ website - click on "Contact the Animal Health Laboratory" under Contact Us for direct access to email and phone numbers.
2.  This will take you our "Client Access" link which, if you have a username and password, will allow you to see the Fee schedule with pricing, our online submission form ordering page and a direct link to LabVantage if needed.
3.  This will link you to our "Submission form" page on our website to download and print our submission forms. Customized forms are available to you by contacting our Client Services Technician at 519-824-4120 x 54976
4. This link will take you to our UoG AHL website's homepage.
5. This will open a virtual submission form.
6. Sitemap - this will take you to the LabVantage home page
User Options Button: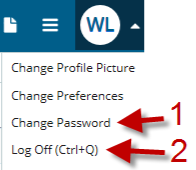 1.      This is where you will change your password.
2.        This is where you Log Off of the application.
Searching for a result:
Search Bar: 
There are two ways to access the queries, you can click the down arrow beside "Search by a Query" or click "Show Advanced Search" to have a "Search by a Query" menu open at the left of the screen. 

| | |
| --- | --- |
| | There is a wide array of Search options as seen on the left.  The following are the most used search options |
Search by: New Results # days:

This is the default search option called "New results # days".

This will search all your cases for the past number of days you put in.

In this example, number of days is 10.  This is the default number of days.

 

Search by: Invoice  #:

If you can't find the original results, but have an invoice -  you can use the invoice number to search for the submission.

Please make sure you put the full invoice number in (with year dash and the number, e.g. 10-02547) - partial numbers do not work.

Search by:  Submission ID:

Submission ID is the AHL assigned number.  If you have this number - insert the seven digits here and click OK.  You can change the year to search for historical information back to December 2008.  If you require results before this date please contact us.

 
Helpful Hint:  SubmissionbyOwner and AnimalClientSampleID are free text fields - so you must type exactly what you wrote on the submission form.

Search by: Submission By Date Range
Another useful search tool is to search by date range - you remember submitting a sample sometime in June, but you don't know what date -  this will help you find the cases you need!
First - Click the 'Start Date of Range' Calendar icon (the first red arrow is pointing to the calendar).
Look up Date:
           1. Choose the applicable month.
2. Choose the applicable year.
3. Choose the applicable day.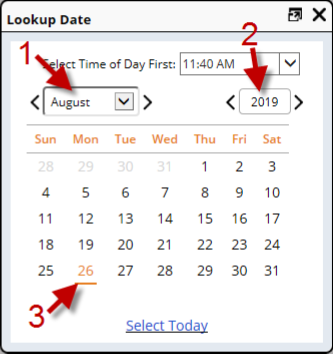 After you've chosen the start date of range -  complete the same Lookup Date for the End Date of Range.
After Start Date of Range and End Date of Range are filled in, press 

 Helpful Hint: If you select a full year - it will take a lot longer to search.  For faster searches, keep the range between 2 to 3 months!
Getting your results and Invoices:
Now that you've searched and found your case, the following options are available to you:

1. Print Submission form
This is the virtually created submission form for the case.  This is only useful for clients who remotely enter their cases.
If you are interested in remotely entering all your cases - reducing your paperwork and paper trail, please contact us for applicable training and access!
2. Reporting - Submission Summary Report
These are your results that have been finalized.  For interim results, you must
contact the applicable laboratory.
There are additional options under the reporting menu to obtain results in an Excel format.
3. View Submission form
This button will bring up a copy of the submission form as scanned here at AHL.  This is the submission form we received from you.
This is a useful tool in the event that you receive results and are missing a test.  You can look this up to see if we missed it or perhaps
it was not checked off.
4.  View Invoice
This button will bring up all invoice (s).
Please note that an invoice will only appear if the case has been finalized and closed.
If there is no invoice - a window will pop up that will say: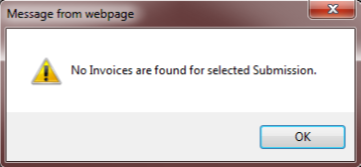 Helpful Hint:  You can only select one case at a time and make sure you've selected the case you want. LabVantage defaults to pick the first case at the top.
Logout:
To Log out - press the 

    key button the top right of the screen.
If you are inactive for ten minutes or longer - we automatically log you out for security purposes!
If you ever have questions, concerns or issues please let us know!
Please contact us:
Phone: 519-824-4120 x54530
Email: ahlinfo@uoguelph.ca