Comprehensive bovine respiratory disease panel
Jim Fairles
Animal Health Laboratory, University of Guelph, Guelph, ON                     
AHL Newsletter 2021;25(3):13.
Many practitioners have asked for complete panels as an aid in diagnostic testing.  AHL continues to develop and combine tests to help in providing more comprehensive diagnostic planning.  The comprehensive bovine diagnostic panel has been developed for this reason, and combines several existing tests.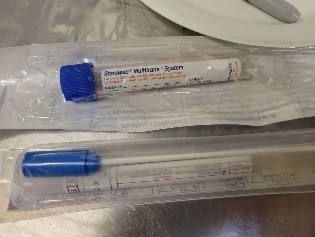 The panel includes:
rotavirus/coronavirus (bovine/equine) PCR.  Coronavirus PCR result is reported only (rotavirus PCR is not relevant as a respiratory pathogen, but the same test is used primarily for enteric disease)

bovine respiratory virus PCR panel -  BoHV-1/IBR, BPIV-3, BRSV

BVDV PCR

Mycoplasma bovis

PCR

Bacterial culture, food/fiber producing animals (other than swine).
Samples required:
         A) For postmortem samples – lung is the required sample
         B) For the live animal there are four choices:
Nasal swab (BacT swab for culture, Virus Transport Media (VTM) swab or dry swab for PCR)

Deep pharyngeal swab (normally guarded uterine swab – for Bacteriology into gel media; for PCR into VTM or dry swab)

Bronchoalveolar lavage (BAL)

Transtracheal wash (TTW)
Note: separate samples are needed for both bacteriology (gel media) and PCR (VTM or dry swab).  The swabs cannot be transferred into alternate media upon arrival at the lab.
A reference article (1) outlines a comparison of sample types.  There is good agreement when samples types are compared to TTW except for bovine coronavirus (BCV) and BRSV.  Deep pharyngeal swab appears to be the best non-invasive method for sampling.  It is also important that a representative number of affected animals are sampled to provide a good cross-section of the problem.  The actual number needed is always centered around a representative sample and cost of testing.
This panel is intended for individual animal testing only.  If pooled PCR testing is desired (up to 5 samples), each pooled test must be ordered individually.  Pooled testing is not available for bacterial culture, as these samples are subject to contamination and pooling will amplify this problem.   AHL
We are also glad to discuss any testing questions and concerns.  Please feel free to reach out!
ahlinfo@uoguelph.ca or jfairles@uoguelph.ca; 519-824-4120 extension 54530.
Reference
1. Doyle, D, et al. Agreement among 4 sampling methods to identify respiratory pathogens in dairy calves with acute bovine respiratory disease. J Vet Intern Med 2017;31(3):954–959.