Feline cerebral cuterebriasis
Murray Hazlett
Animal Health Laboratory, University of Guelph, ON
AHL Newsletter 2019;23(4):18-19.
A one-year-old DSH cat was left alone for a weekend and the owners returned to find the cat dead on the bed where it had been left, with some signs of struggle and urine and feces present. The cat was an indoor/outdoor cat and there were concerns about toxicosis.
Submission to the Animal Health Laboratory for autopsy showed two foci of acute hemorrhage on the rostral/dorsal aspect of both cerebral cortices (Fig. 1A), with meningeal hemorrhage and a hemorrhagic tract in the grey matter of the right hemisphere (Fig. 1B). Two adjacent histology sections of cerebral cortex showed a large migrating parasite compatible with a Cuterebra spp. larva.
Most cases of cuterebriasis in cats occur from July to September, and they have been associated with parasitic tracks, laminar cerebrocortical necrosis, cerebral infarction and gliosis. There is evidence that at least some cases of feline ischemic encephalopathy are caused by these larvae.
Cuterebra spp. flies lay eggs near openings to rodent nests where the larvae enter hosts (normally rodents, but sometimes cats and dogs) and most commonly cause parasite-containing cutaneous nodules with fistulas through which the larva breaths. Aberrant migration can occur and is recognized especially in cats.  Examination of AHL pathology records for feline CNS disease from 2008 to present revealed a total of 11 cases in which the pathologist felt that Cuterebra spp. was a possible etiology (Table 1). This was based on the lesions (idiopathic encephalomalacia, encephalitis with eosinophils) and the time of year (8 in July to September). In only one case (the present one) was the larva actually found in the brain.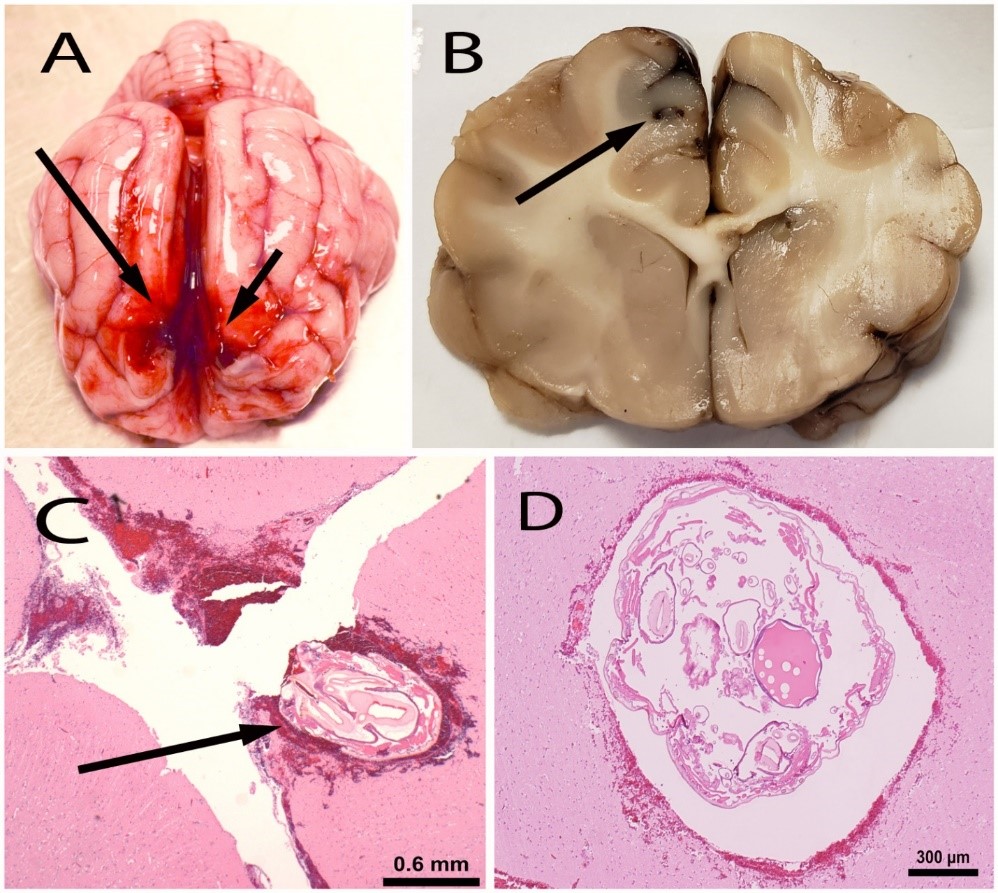 Figure 1. Cuterebra spp. migration in a cat brain. A. Foci of hemorrhage in dorsal-rostral cerebral cortex (arrows). B. Hemorrhagic tract in cortex (arrow). C, D. Migrating larva in brain, H+E.
Table 1. Pathology coded cases of Cuterebra spp., all host species, all body sites.
| | | |
| --- | --- | --- |
| Species | Month | Diagnosis/Location |
| Dog (1 Pug) | September | peritracheal cuterebriasis |
| Cat (5 cases) | July to September | 3 brain, 2 skin, |
| Rabbit (2 cases) | July to August | 1 skin, 1 ocular |
| Mouse (1 case) | August | skin |
Reference
Williams, KJ et al. Cerebrospinal cuterebriasis in cats and its association with feline ischemic encephalopathy. Vet Pathol 1998;35:330-343.