OAHN Update June 2015
The Ontario Animal Health Network is progressing well. We have made significant progress with a number of expert networks, which you can view below:
In addition to the Network progress, we have also set up a temporary webpage: http://oahn.ca, while our official page is created. We expect the design of the page to be complete by mid-June. We are also excited to include provincial slaughter condemnation data in the major agricultural sectors, as an additional information source.  We are recording some great podcasts currently, so stay tuned at www.oahn.podbean.com, or subscribe via iTunes to never miss an episode.  You may also wish to follow our Facebook and Twitter feeds for the most up to date information about disease outbreaks and network releases.  If you have a suggestion/idea, let us know!  Network updates are below.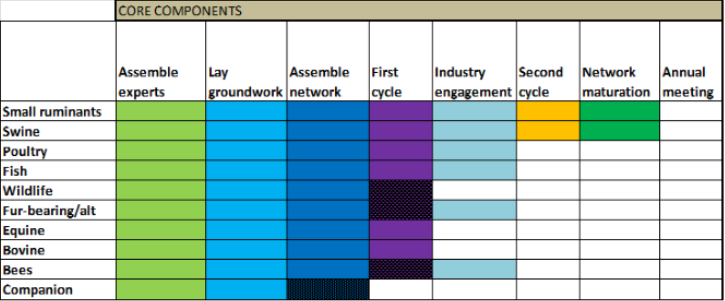 Q1 of 2015 (Jan/Feb/March) has completed
Look out for the Q1 2015 vet and producer reports on SRVO listserv.
Check out our podcast with OSMA and Ontario Goat (see link below).
Top items of discussion: emaciation and associated disease due to harsh winter.

Dr. Melanie Barham spoke about OAHN at the recent Northern Ontario Aquaculture Association meeting in Parry Sound.
Q2 2015 fish meeting will be taking place mid-June.

The bovine network is up and running!
Q1 2015 veterinary report will be released soon to the OABP listserv. We had 71 responses to the survey after emailing the OABP listserv. AHL contributed data, and provincial slaughter data was also included.
Dr. Melanie Barham spoke about OAHN at the recent OABP/OABA joint meeting.

The first OAHN bee meeting will be taking place in late June 2015.  Date and time TBA.
We will be releasing a bee podcast shortly with information of interest to the general public, veterinarians and bee keepers.
WILDLIFE
CCWHC is preparing a report for distribution to all the groups outlining the details of their surveillance systems in Ontario.  Stay tuned for the reports in coming months.

Q 1 of 2015 (Jan/Feb/March) has completed.
Look out for the Q1 2015 vet and producer reports on the OASV listserv.
Gallant Custom Laboratories contributed data alongside AHL data.
Top items of discussion: colibacillosis in suckling piglets, ascarid issues causing liver condemnation at provincial slaughter plants.

Q1 2015 veterinary report was released to OAEP listserv.
IDEXX laboratories will be contributing data alongside AHL in the next quarter.
Ontario Racing Commission death registry data will be included in the next quarter.
The first survey had 69 responses after emailing the OABP listerv.
Discussions about anthelmintic resistance led to an AHL newsletter article about testing, and an owner report from OMAFRA (to be released soon).
OAHN will be participating in the first equine disease simulation being hosted with OMAFRA mid-June.

The companion animal network will be launched imminently.  A call for nominations will be put out within the next month.
A great group of veterinarians across Ontario met as a focus group to help determine the shape of OAHN's companion animal network.
Follow us on Facebook for up to date notifications about diseases in your area, and helpful news articles for you and your clinic.

Q2 2015 (Feb/March/April) meeting is taking place May 21st- expect the veterinary report shortly thereafter.
Avian influenza infographic for backyard flock owners can be found on our Facebook page, and was well received by industry.
OAHN was featured on multiple radio broadcasts for farm radio reports, directing producers to resources.
Veterinarian to veterinarian mentoring was set up through CVO and participation of Ontario Poultry vets.
OAHN held an emergency call early in the avian influenza outbreak to discuss possible gaps and issues of concern.  Small flock grower initiatives were undertaken together with OMAFRA and industry, including release of avian influenza information to small flock growers, information for vets called upon to treat small flocks, and teleconferences for small flock growers with experienced poultry veterinarians.
ALTERNATIVE SPECIES
Dr. Hugh Hildebrandt, leading expert in mink medicine, lead a well-attended mink veterinary workshop April 11th, 2015.  The workshop was attended by 15 veterinarians from across the province and some via teleconference from across Canada. Drs. Marina Brash, Emily Martin, Pat Turner were also instructors for the post mortem workshop, and Brian Tapscott from OMAFRA lectured about the background and future of this growing sector.  Industry partners generously shared the cost of this workshop.
A call for mink veterinarians to discuss cases with experts in the field will be taking place each quarter.  If you are interested in being part of this call, please contact Dr. Melanie Barham at barhamm@uoguelph.ca