First detection of porcine astrovirus-4 in suckling pigs in Ontario
Rebecca Egan, Kevin Vilaca 
Animal Health Laboratory, University of Guelph, Guelph, ON (Egan); South West Veterinary Services, Stratford ON (Vilaca)
AHL Newsletter 2023;27(2):16.
In November of 2022, a diagnostic work-up was initiated to investigate the cause of increased pneumonia and loss of condition in nursery pigs within three barns receiving piglets sourced from a single 3000 pig farrow-to-wean sow herd.  Overall, pigs were in good condition upon arrival to the nursery, with occasional coughing that seemed to subside within the first week.  In the second week post-placement, several pigs in these nurseries began to lose condition and developed signs of pneumonia, such as coughing and increased respiratory effort.  Sick pigs were treated with antibiotics, and the mortality rate peaked at approximately 7%, with most of the losses occurring in the second and third weeks post-placement.  On-farm postmortems were performed on nursery pigs from each barn, revealing lungs that failed to collapse.  A small amount of fibrin was noted on the surface of the lung in one animal.
Tissues from piglets obtained from each nursery were submitted to the AHL for histopathology and ancillary testing.  Microscopic examination identified a variety of pulmonary lesions, including bronchopneumonia (nursery A, two pigs), interstitial pneumonia with chronic pleuritis (nursery B, three pigs), and pulmonary edema (nursery C, one pig).  Bacterial cultures grew Streptococcus dysgalactiae from a pooled sample of heart and lung collected from one of the pigs with bronchopneumonia.  Involvement of Mycoplasma hyopneumoniae was suspected based on the histologic appearance, but further testing was not performed.  Streptococcus suis was isolated from thoracic and brain swabs from nurseries B and C, and this pathogen is suspected to have been playing a role in the development of disease in these groups.  A definitive cause for the interstitial pneumonia in nursery B was not determined.  Porcine reproductive and respiratory syndrome virus (PRRSV) and porcine circovirus-2 (PCV-2) were not detected in various samples, including oral fluids, serum and lung tissue.  There was no immunohistochemical detection of influenza A, PCV-2, or PRRSV antigens in microscopic sections of lung.  PCR testing for porcine parainfluenza virus-1 (PPIV-1) was performed on three lung samples (2 from nursery B and one from nursery C), and one sample from nursery B was positive with a high Ct value (34.5).  In light of these findings, it is unclear whether PPIV-1 was directly involved in the development of pneumonia in these animals.
Upon further investigation of the sow barn, a pronounced cough had been noted in the weeks prior.  Postmortem examination was performed on three piglets, and the sole gross finding was patchy lobular pulmonary atelectasis in cranioventral lung, similar to influenza virus infection (Fig. 1).  Samples were submitted to the AHL for histopathology and ancillary testing, and all three pigs were found to have microscopic lesions of suppurative pneumonia with epithelial attenuation and/or hyperplasia affecting multiple airways (Fig. 2), suggestive of cellular injury caused by epitheliotropic viral infection.  Pig 1 also had suppurative lymphadenitis and systemic lesions compatible with septicemia; however, bacterial culture was not performed to identify a causal pathogen.  PCR testing did not detect influenza A in oral fluids, and PRRSV, PCV-2, and PPIV-1 were not detected in lung samples.  In addition, there was no immunohistochemical detection of influenza A, PCV-2 or PRRSV antigens in microscopic sections of lung.  PCR testing was also negative for Mycoplasma hyopneumoniae.  Lung samples were then submitted for PCR testing to assess for the presence of porcine astrovirus type 4 (PoAstV4) which has recently been described in association with respiratory disease in young pigs.  This virus was detected in all three lung samples (Ct values of 31.8, 29.8, and 30.4), and RNA in situ hybridization confirmed the presence of viral antigen in affected respiratory epithelium in 2 of the 3 pigs (Fig. 3B).  Not long after this diagnostic investigation, the cough in the sow barn resolved and nursery performance improved.  It was hypothesized that introduction of large numbers of gilts following PRRSV eradication earlier that year may have led to reduced immunity in the gilt litters, which combined with viral respiratory infection in suckling pigs, may have predisposed animals to various infections in the nursery. 
At present, there are five known lineages of porcine astrovirus, causing neurologic disease, enteric disease, or asymptomatic infection.  More recently, detection and characterization of a novel genotype of PoAstV4 from nasal swabs obtained from suckling pigs with acute clinical respiratory disease has been reported, and while a causal link between PoAstV4 and respiratory disease in pigs has not been fully established, there is research to suggest that infection may contribute to the development of clinical disease.  These results highlight the importance of assessment for PoAstV4, as well as other viruses such as PPIV-1 and porcine hemagglutinating encephalomyelitis virus (PHEV), in cases where microscopic lesions suggestive of epitheliotropic viral infection are present in the trachea and/or upper airway and influenza virus is not identified.  Also, given the distribution of these lesions, it is crucial to routinely collect trachea for microscopic examination (formalin-fixed) and ancillary testing (fresh/frozen) when performing a diagnostic investigation of porcine respiratory disease.   AHL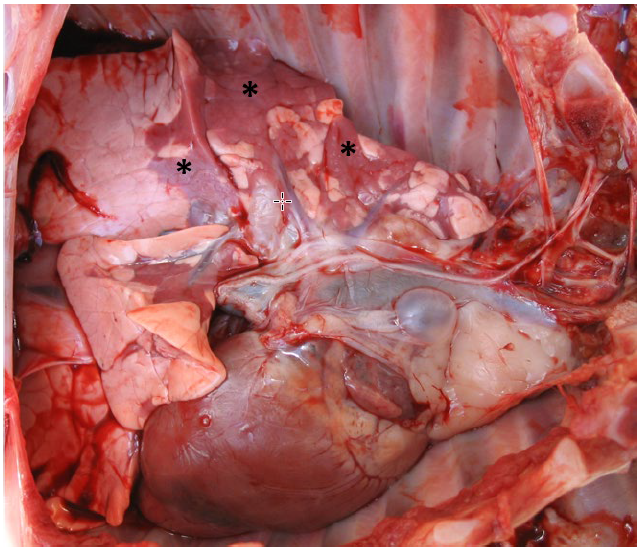 Figure 1. Nursing pig.  Cranioventral lung exhibits multifocal to coalescing regions of lobular atelectasis (*).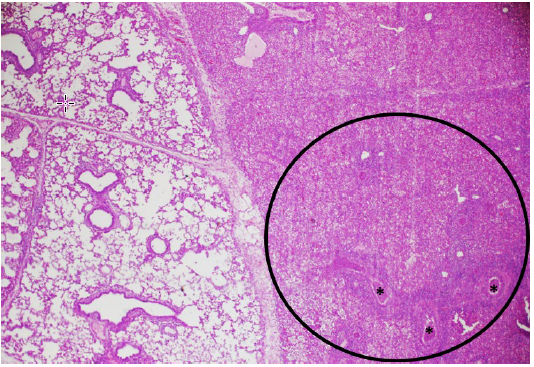 Figure 2.  Nursing pig.  Microscopic section of lung (H&E stain, 4x).  Affected lobules on the right half of the image correspond to the grossly noted areas of lobular atelectasis, and multiple small airways contain luminal accumulation of neutrophils (*), accompanied by mild alveolar edema with variable accumulation of macrophages and neutrophils.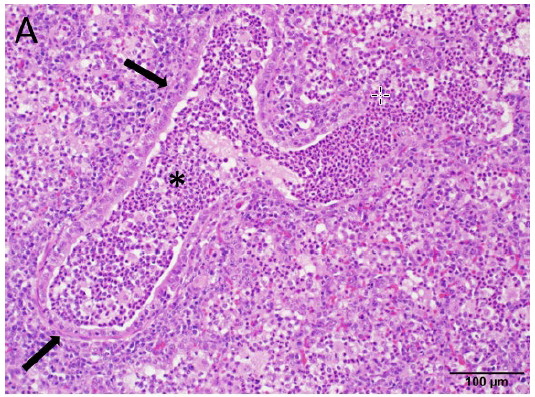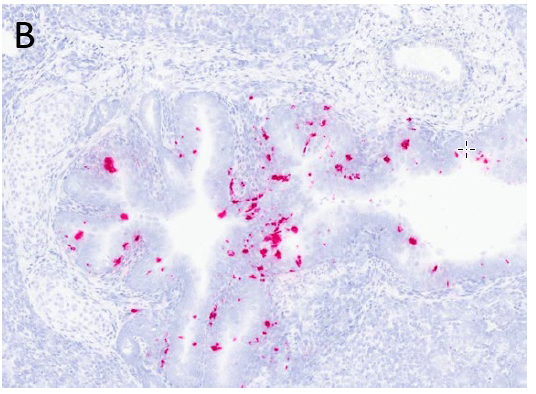 Figure 3.  Nursing pig.  Microscopic sections of lung (H&E stain, 20x).  A. Bronchiolar epithelial attenuation (arrows) with luminal accumulation of suppurative exudate (*), as well as accumulation of neutrophils and macrophages in adjacent alveoli.  B. RNA in situ hybridization assay demonstrating moderate staining for PoASTV4 in bronchial epithelium. (Photo courtesy of Dr. Derscheid, Iowa State Veterinary Diagnostic Laboratory).
References
1. Rahe MC, et al. Porcine Astrovirus-4 detection in lesions of epitheliotropic viral infection in the porcine respiratory tract. Transbound Emerg Dis 2023, Article ID 9113355.
2. Padmanabhan A, Hause BM. Detection and characterization of a novel genotype of porcine astrovirus-4 from nasal swabs from pigs with acute respiratory disease. Arch Virol 2016;161(9):2575–2579.