Interstitial pneumonia in a donkey
Amanda Mansz
Animal Health Laboratory, University of Guelph, Guelph, ON
AHL Newsletter 2023;27(2):23.
Following the death of a 12-year-old middle-aged donkey with acute signs of respiratory distress and fever, the animal was submitted to the AHL for postmortem.  On gross examination, the lungs failed to collapse and there were discrete rib impressions along the dorsal pleural surfaces. Approximately 80% of the right lung lobes and 40% of the left had multifocal nodular to regionally diffuse areas of pleural and parenchymal fibrosis represented by regions of firm, non-aerated pallor.  At this stage, two different respiratory syndromes that affect donkeys were being considered.
Donkey pulmonary fibrosis (DPF) is a spontaneous syndrome documented in the lungs of 35% of aged donkeys (mean age 30 years).  DPF can be an incidental finding at autopsy or may result in chronic respiratory disease and debilitation. Grossly, DPF is expected to appear as multifocal and coalescing large foci of pulmonary pleural fibrosis over the dorsal lungs which can occasionally extend ventrally.  The most predominant microscopic lesion described in DPF is pleural and subpleural fibrosis; however, the severity and extent of the fibrosis can vary.  The cause of DPF remains unknown and there is no evidence that the development of DPF is related to lung infection with asinine herpesviruses (AsHV).
The alternative diagnosis is a different syndrome termed interstitial "fibrosing" pneumonia in donkeys which has been associated infection with AsHV-4 and AsHV-5.  The classic gross lesions are lungs that fail to collapse with patchy or multifocal firm lesions that more commonly affect the cranioventral areas.  Histologically, lesions are significantly more inflammatory than DPF, and consist of a mix of bronchiolitis and interstitial pneumonia with the presence of multinucleated syncytial cells.  In some cases, dramatic interstitial fibrosis is a feature.  Diagnosis is based on PCR testing to detect AHV-4 or AHV-5 in association with the characteristic histologic lesions.
Microscopic lesions noted in this case consisted of severe generalized pulmonary interstitial fibrosis with histiocytic, lymphocytic and neutrophilic bronchointerstitial pneumonia and syncytial cell formation (Fig. 1), warranting a diagnosis of interstitial pneumonia likely associated with AsHV-4 and AsHV-5 infection.  AHL does not currently offer in-house testing for AsHV-4 and 5; however, send-out PCR testing for AsHVs is available through UC Davis in California.   AHL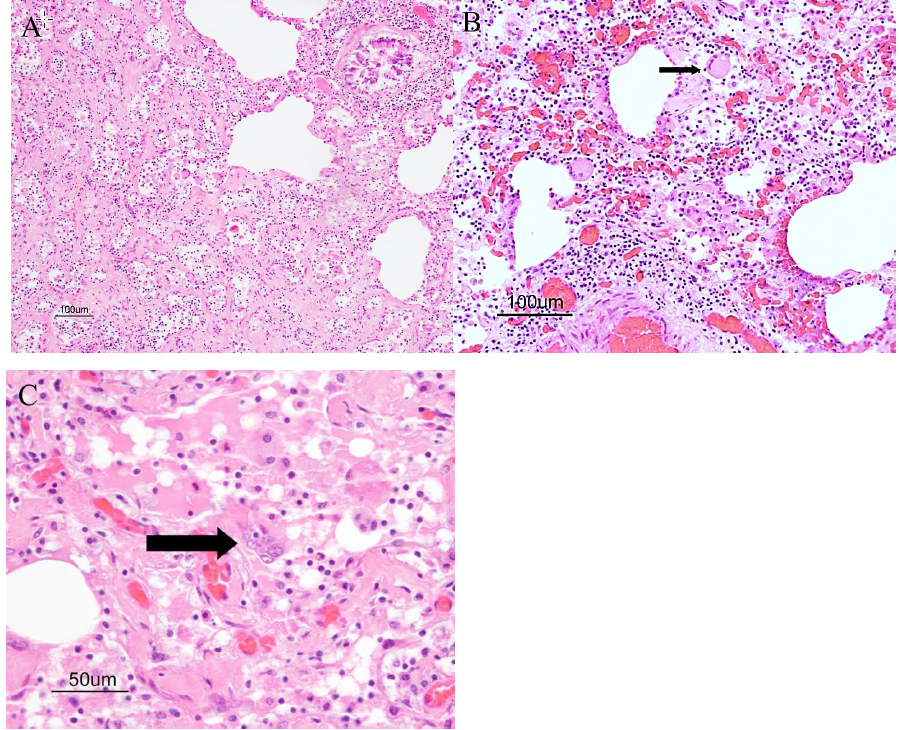 Figure 1. Histologic lesions in donkey lung compatible with interstitial fibrosing pneumonia. H&E stains. A. Massive expansion of the alveolar interstitium by dense collagen bundles (fibrosis) that compress adjacent alveoli. 10x. B. Bronchiolar epithelium is denuded, and airspaces contain numerous macrophages, lymphocytes, fewer neutrophils and large multinucleate cells (arrow). 20x. C. Syncytial cell (arrow) within a bronchiole. 40x.
References
1. Maboni G, et al. Detection of asinine gammaherpesviruses in association with pulmonary fibrosis in free-ranging donkeys. J Vet Diagn Invest 2022;34(1):167-171.
2.  Caswell JL, Williams KJ. Respiratory System. In: Jubb, Kennedy, and Palmer's Pathology of Domestic Animals, 6th ed. Maxie MG, ed. Elsevier, 2016;vol 2:514, 568.