Intra-ductal mammary tumor in a male neutered dog
Rebecca Egan, Kristiina Ruotsalo
Animal Health Laboratory, University of Guelph, Guelph, ON.
AHL Newsletter 2020;24(3):23.
Direct smears prepared from a fine needle aspirate of a 2 cm mass associated with the teat of a 7.5-year-old male neutered mixed-breed dog were submitted for cytological evaluation.  The dog was otherwise clinically well. The slides contained a hemorrhagic background with moderate numbers of variably preserved neutrophils and a predominance of foamy macrophages that often contained evidence of blue-green granular intracytoplasmic material.  This material was somewhat similar in colour to the clusters of amorphous material (likely secretory) which were also present in the background of slides.  Scattered clusters of epithelial cells were noted (Fig. 1 A-B).  These epithelial cells contained scant to moderate amounts of lightly to moderately basophilic cytoplasm with occasional punctate vacuolation, and one oval to round nucleus with fine chromatin and a variably prominent nucleolus.  Occasional evidence of two to three-fold anisokaryosis and anisocytosis was also noted.  The cytological features of this sample were highly suggestive of an epithelial mammary tumor, which is very uncommon in male dogs (1), and as with all mammary masses, excision and histologic evaluation were recommended.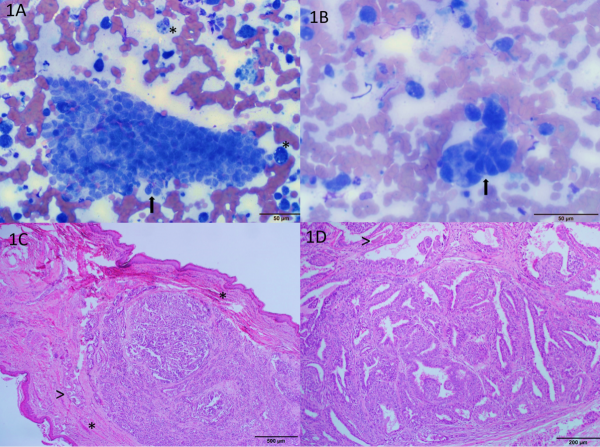 Figure 1. Mammary tumor in the teat of a male neutered dog. A,B - Direct smears from a fine needle aspirate (Wright's).  Clusters of epithelial cells (arrows) and macrophages (*) within a background of hemorrhage. C,D - Excisional biopsy (H&E). An epithelial mammary tumor within the mammary duct of a teat. 1C. There is smooth muscle surrounding the expanded mammary duct (*). 1D. Secretion is evident within tubules (>).
The teat mass was excised and sent for histologic examination which confirmed the presence of an intraductal mammary carcinoma with low-grade features of malignancy.  The mass expanded the mammary duct and was multilobular, locally infiltrative and comprised of neoplastic epithelial cells arranged in papillary projections and tubules, in addition to occasional micropapillae and small solid clusters of cells (Fig. 1 C).  In some areas, neoplastic cells were relatively well-differentiated and orderly, whereas in others, neoplastic cells displayed jumbling, piling and clustering, accompanied by moderate anisocytosis and anisokaryosis and patchy squamous differentiation.  In well-differentiated areas, mitoses were sparse, and a total of 10 mitotic figures were observed in ten consecutive 400x high powered fields in areas that displayed greater cellular variation.  There were also occasional areas of necrosis within the mass, and as noted on cytologic examination, the lumens of some neoplastic tubules contained flocculent fluid, secretion and/or neutrophils and macrophages with finely granular yellow-brown cytoplasmic pigment (Fig. 1 D). 
The current case demonstrates a common presentation of a relatively uncommon finding in veterinary practice, as mammary gland tumors are rarely reported in male dogs.  The majority of documented cases report a benign clinical course following surgical excision (1).   AHL 
References
Saba, Corey F., et al. Mammary gland tumors in male dogs. J Vet Diagn Invest 2007;21(5):1056-1059.