Necrohemorrhagic tracheitis in swine - New project supported by SHIC
Josepha DeLay, Tim Blackwell
Animal Health Laboratory, University of Guelph, Guelph, ON (DeLay); Ontario Ministry of Agriculture, Food and Rural Affairs (Blackwell).
AHL Newsletter 2020:24(3):10.
Severe tracheitis is seen sporadically in Ontario swine and can cause significant morbidity with typically low mortality.  No etiologic agent has been definitively or consistently associated with the syndrome.  It is possible that either a novel infectious agent or a novel strain of a known infectious agent is responsible for severe tracheitis.  Thorough diagnostic workups of tracheitis cases are hampered by sampling deficits (trachea not included for various diagnostic tests) and the sporadic nature of the condition. 
The Swine Health Information Center (SHIC) is working together with the Animal Health Laboratory, University of Guelph, the Iowa State University Veterinary Diagnostic Laboratory and the Laboratoire de Santé Animale, MAPAQ to support consistent testing of severe tracheitis cases.  SHIC funding will supplement routine respiratory disease diagnostic workup on applicable cases.  A tissue bank will also be established from these cases for further investigation of novel pathogens.
The case definition for participation in the project is as follows: growing pigs (including breeding stock), within an age range of 14-30 weeks and a weight range of 70-160 kg that develop an acute onset of a 'honking' cough, progressing to dyspnea (affecting a low % of animals).  Necropsied animals feature edema and hemorrhage within tracheal submucosa, resulting in marked luminal impingement (Fig. 1).
The minimum sample required for testing is an intact pluck, including trachea from larynx to bifurcation, and both lungs.  Additional samples include bilateral caudal deep cervical and costoaxillary lymph nodes, spleen, stomach, ileum and heart.
Link to SHIC project description, with a full list of desired samples: https://www.swinehealth.org/hemorrhagic-tracheitis-standardized-submissions-to-help-find-etiology-supported-by-shic/
Link to hemorrhagic tracheitis webinar (April 2020): https://iastate.app.box.com/s/lvwkqcenddb29pusgy3sa7f6xo75zn4f
For more information or to participate in the project, contact Dr. Josepha DeLay, AHL: 519-824-4120 ext. 54576 or jdelay@uoguelph.ca.  For assistance with on-farm sampling, please contact Dr. Tim Blackwell, OMAFRA: 519-820-2680 or tim.blackwell@ontario.ca.  AHL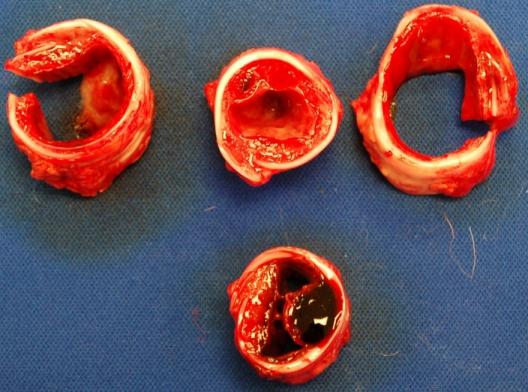 Figure 1. Tracheal cross-sections from multiple finisher pigs with necrohemorrhagic tracheitis. Note severe submucosal hemorrhage and edema, with resulting reduction in tracheal luminal area.