OAHN Update - December 2020
Mike Deane and Melanie Barham

Animal Health Laboratory, University of Guelph, Guelph, ON
AHL Newsletter 2020;24(4):5.
The Ontario Animal Health Network has been busy throughout the fall, releasing many new reports and updating our resources.  Read on to find links and descriptions of what we have been working on.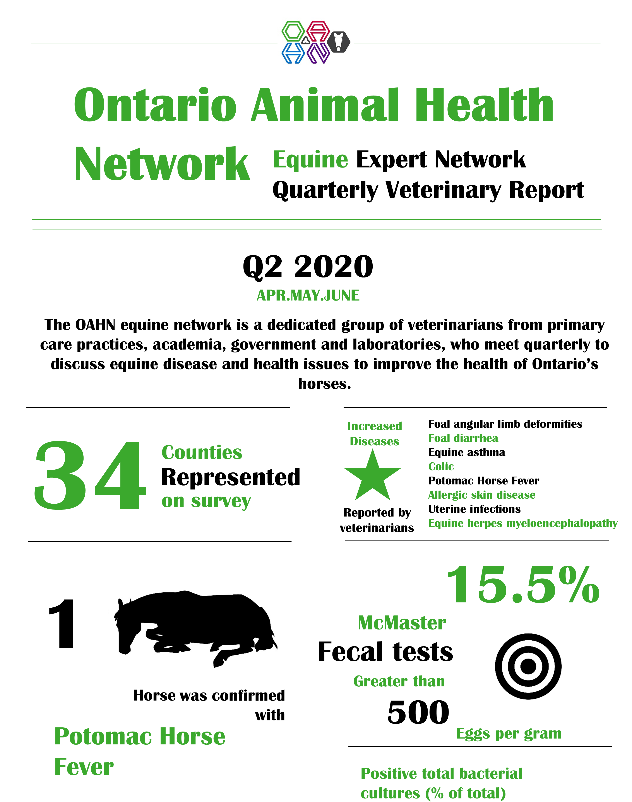 New Reports

We have published new reports for the equine, companion animal, poultry, swine, and bovine networks.  All of the veterinary reports feature summaries of quarterly lab data and survey results, as well as focusing on other animal disease and health issues.

The equine network created an infographic that summarizes all the laboratory and survey data that was gathered and discussed on the network's quarterly call.  The veterinary report also provides information about insect bite hypersensitivity.

The companion animal network's veterinary report features a focus on leptospirosis – providing tips for managing lepto patients – as well as pet pigs.

The swine network report has information about the CanSpot ASF surveillance tool which has been launched as a pilot project, and information about PED in Ontario, as there were seven new sites of PED in Q2.

 

The bovine network's vet report features a case report on sorghum feed-associated nitrate toxicosis in a group of Holstein heifers, as well as an emerging pathogens report on bovine kobuvirus.

The poultry network focused on viral hepatitis in turkey, as well as breaking down the lab data and survey results.  You can view all of the reports by going to OAHN.ca, choosing the network, and scrolling down to the reports (veterinarians must be registered to view veterinary reports).

Updated Covid-19 Resources

We continue to update our covid-19 and mental health resources for veterinarians. We currently have a comprehensive list of resources related to all new developments involving covid and animals, as well as species-specific resources.

OAHN canine import study: Dogs needed!

Despite COVID-19 travel restrictions, significant numbers of dogs continue to be imported into Canada in 2020.  We continue to seek importers and dogs to participate in our study looking at pathogen shedding in recently imported dogs from Asia.

Any such dog examined by a veterinarian within 48 hours of arrival in Ontario is eligible to participate and receive free testing for a number of canine pathogens and antimicrobial-resistant bacteria.  Up to 10 dogs from a single shipment can be included. Please contact the project lead, Dr. Scott Weese, for more information.  Also check out the new OAHN canine importation and rescue resource page!

OAHN Website: Take a look at the newly updated OAHN website at OAHN.ca!  Featuring a more intuitive navigation and improved organization of OAHN network materials.