Update from Director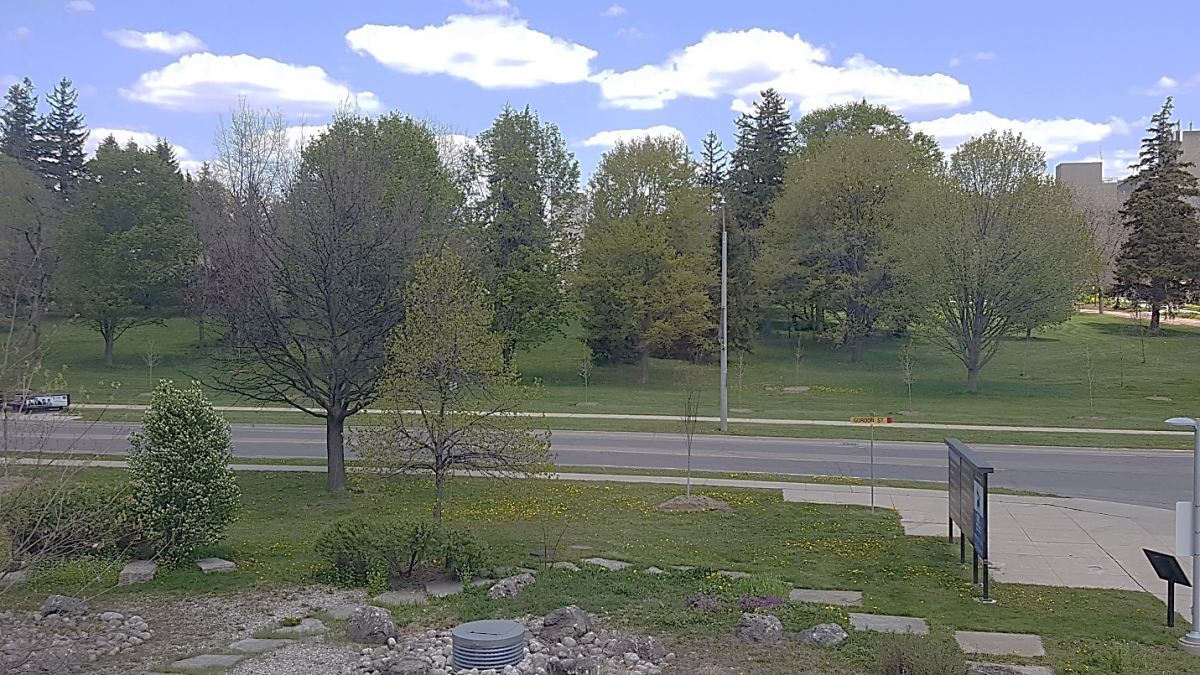 The view from the Director's office
The weather the past few days has been more summer-like than the spring foliage depicted in the photo above would suggest.  Work at the AHL this spring remains busy as usual, and most staff are working on site.  We continue to monitor Public Health updates for the best way to protect ourselves from SARS-CoV-2 infection, and have recently upgraded to medical masks (now readily available), as per U of G requirements.  Although most AHL staff have received their first vaccine dose, we continue to be very cautious of the high infectivity rate of variants and the risk of developing symptomatic COVID.  As a business situated in Guelph, AHL is fortunate to be able to participate in the Guelph Chamber of Commerce's COVID rapid testing program.  A voluntary COVID rapid testing clinic is held once a week in Building 89, together with Department of Pathobiology faculty, staff and students.  We are also participating in a University of Guelph wastewater testing pilot project, as this technique has shown high sensitivity for identifying infected individuals 5-10 days prior to becoming symptomatic.  As COVID case numbers in Ontario decrease, it becomes critical to maintain a high level of testing to detect positive people and conduct contact tracing if we are to emerge from this pandemic.  AHL is trying to do our part!
Please check out our 'Staff highlights' section on whole genome sequencing by Dr. Đurđa Slavić, AHL Bacteriologist.  Whole genome sequencing (aka next generation sequencing) is a relatively novel technology that has the potential to revolutionize how pathogens such as viruses and bacteria are identified.  Although it is currently slower and more expensive to perform than traditional culture and PCR, future modifications will no doubt render it more useful in a diagnostic setting.
For our equine practitioners, we now have PCR panels available for foal diarrhea and adult diarrhea testing; an equine respiratory panel is also in development.  Client feedback has indicated that panels are highly desirable to assist in diagnostic test selection, and we strive to meet this request. 
From all of us at AHL, we wish you a safe and healthy summer, with time off to relax with your families and friends.
Maria Spinato, Director
Animal Health Laboratory, University of Guelph, Guelph, ON.