9th Annual CBS Careers in Biology Event

Wondering what you will do with your graduate degree in biology? The annual CBS Careers in Biology event is an exciting opportunity for current graduate students and post-docs currently enrolled in CBS to meet with representatives from industry, government, academia and the non-profit sector to talk about the different career paths that await you in an informal panel discussion setting.
In 2021, the Careers in Biology event will be held virtually with sessions taking place over the week of April 26-30.
The full schedule in below. Registration is now closed.
Learn about Different Career Opportunities in the Life Sciences
The first three days of this week-long event will feature multiple sessions where you will have a chance to meet with professionals from industry, government, not-for-profits and academia to learn more about the types of career opportunities that await you.
Each one-hour session will feature a panel of 2-3 representatives from different organizations who will describe what their day-to-day role is like, share tips about finding a job in their field, and answer any questions you may have.
Panelists will be grouped according to departmental themes. All sessions are open to all event participants, regardless of their home department. Full speaker bios will be available to all registered participants prior to the event.
Careers in Biology 2021 - Speaker Line Up
(Details may be subject to change before the event)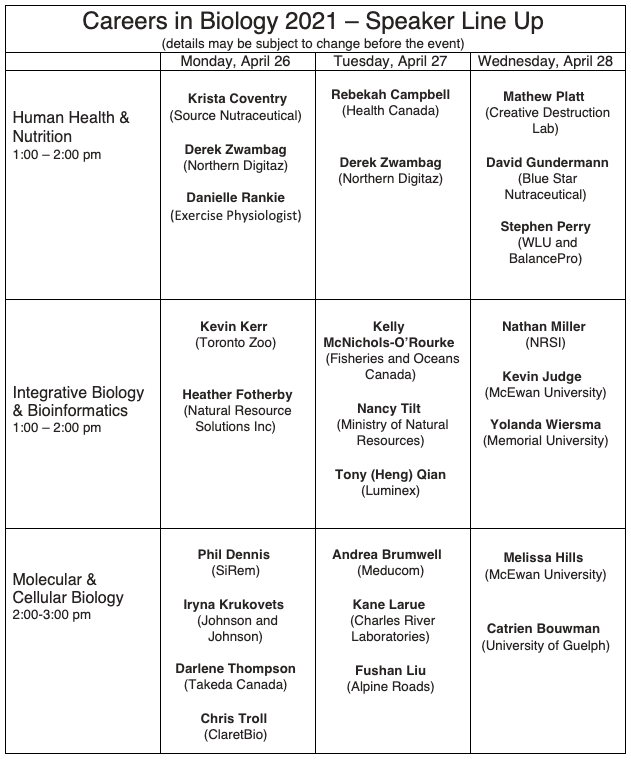 Build Your Skills with Professional Development Workshops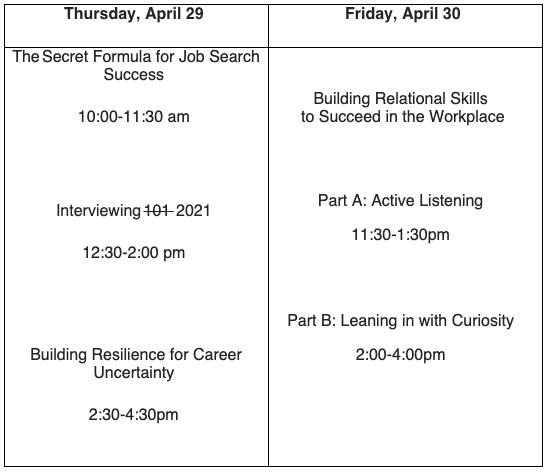 1. Conducting Effective Job Searches and Building Interview Skills
The way we seek and compete for jobs continues to evolve in today's world. These interactive workshops delivered by ELH Career Advisors a will provide you with strategies to finding a job that is right for you in today's market.
Thursday, April 29:   The  Secret Formula for Job Search Success  10:00-11:30 am       
Is your idea of a job search strategy submitting dozens -or hundreds- of generic resumes to postings you find online? If so, you're likely only seeing about 20% of available jobs, AND getting weeded out before a human ever sets eyes on your application! Join CBS Career Advisor Julia Leary to learn the employer-endorsed method for job search success.
Thursday, April 29: Interviewing 101 in 2021 12:30-2:00 pm
Job searching in 2021 requires a different kind of strategy. With virtual and asynchronous interviews becoming more common, you need to know how to foster meaningful connections and create lasting, positive impressions in a remote/virtual interview setting. Regardless of the interview format, employers want to see a combination of enthusiasm about working with them, and impressive evidence that you are a strong fit for the role. Join CBS Career Advisor Julia Leary in this interactive workshop to learn new tech tricks and tips, and how to create and deliver compelling stories during an interview.
2. Building Resilience and Relational Skills for the Workplace
This year's event will feature a series of special workshops led professional development experts and coaches Juli Fyfe and Jennifer Nash from Hoffman-La Roche.
Thursday, April 29: Building Resilience for Career Uncertainty 2:30-4:30pm
Career resiliency describes the ability to manage your own career success, your personal and professional development, and your ability to adapt to the changing business environment. Career resilience means that you assume responsibility for (i) managing your own career, (ii) maintaining your skill level, (iii) planning for your future skill needs, (iv) managing change by adapting to new organizational needs and directions, and (v) ensuring personal well-being and balance .
By the end of this 2 hour workshop, participants will have: 
Gain awareness of your own Resilience capability 
Explore some ways to support and build Resilience

Make some commitments to your career and self 
Friday, April 30: Building Relational Skills to Succeed in the Workplace
Innovation is communication. Communication, including the rare arts of listening and being curious, is more necessary than ever in our digital age as the pace of change accelerates exponentially, technology becomes more complex and entire industries get disrupted overnight with unforeseen business models.
Today's business environment today demands active listening in order to survive, to network, make the most of contacts, and develop collaborative strategies with startups, partners and customers around the world. But listening starts with being curious.
Join us for these 2 critical communication skills workshops (Parts A and B are recommended to be taken together).
Part A: Active Listening 11:30-1:30pm
Learning Objectives: Most people do not listen with the intent to understand. They listen with the intent to reply. In this workshop you will:  
Discover three levels of listening 

Practice deep listening  

Use listening to realize the principles of curiosity, learning, and attending to the other. 
Part B: Leaning in with Curiosity 2:00-4:00pm
Learning Objectives: Learn about curiosity in action! The state of being curious iinvites introspection, presents additional solutions and leads to greater creativity and impact when networking. In this workshop you will:  
Develop your curiosity using questions with purpose/intention 
Tap into your intuition, build trusted relationship 
Space for this set workshops is limited and the colleges is covering the cost for each participant. If you register but cannot attend, please notify sbates@uoguelph.ca as soon as possible, so that another person may take your spot at the workshop.