Science Complex Atrium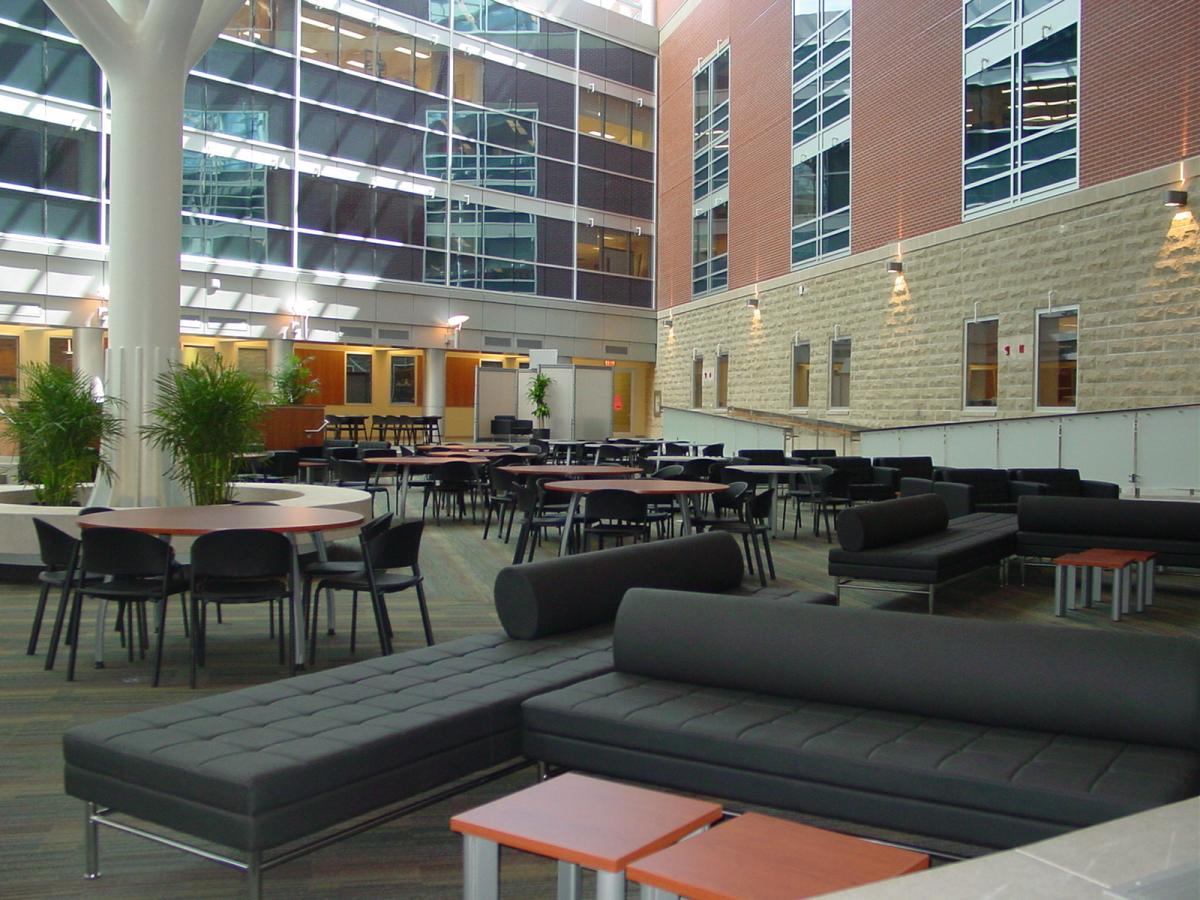 "The Atrium is a shared space in which the interactions and synergies between the Arts, Science and Technology are foregrounded. It serves as a student and faculty meeting place, and as a venue for presenting to the University community, and the community at large, the exciting intellectual, scientific, and artistic activities which are part of the daily life of the University of Guelph."
About
The Summerlee Science Complex is a state of the art classroom and research complex, built with the assistance of the Province of Ontario's Super Build program, primarily for student learning and scientific research. The Summerlee Science Complex Atrium is formed by the three wings of the building that house classrooms, teaching laboratories, research laboratories, meeting rooms, staff offices, and is a favorite gathering space for students, faculty and staff. It is equipped with wireless internet service and a custom designed sound system. The 12,000 sq.ft. Atrium can accommodate a sit down dinner for 180 or 500 for a reception. It is an ideal space to feature guest lectures with seating for up to 280 people and is wheelchair accessible.
Booking & Availability
Please contact Hospitality Services by email to request booking the Atrium. The booking request form is subject to the Rental Terms and Conditions . All internal and co-sponsored requests must have approval from the academic dean, vice-president, director or department chair. The University reserves the right to determine whether proposed events are appropriate for the Atrium.
Hours of Operation
The Summerlee Science Complex Atrium is normally open from 7:00 A.M.-10:00 P.M. Monday to Friday, and closed on weekends. Events which require the Atrium to be closed to the public may only be held as follows:
Fall and Winter Semesters
after 7:00 P.M. (Monday to Thursday)
after 4:30pm. (Friday)
as arranged (Saturday and Sunday)
Summer Semester
***NO EVENTS ARE ALLOWED DURING FINAL EXAMS***