Donor Spotlight
Why I Give To CBS
Denise MacGillivray, BSc. Bio-Medical Science & Toxicology '94
What has inspired your long-time support to the University of Guelph, and specifically the College of Biological Science (CBS)?
I consider my time at the University of Guelph as one of the best and most personally transformative periods in my life. It was my first time living away from home, and the number of new people, new ideas and new perspectives I was exposed to was amazing! The Biomedical Toxicology program was quite small at that time and the variety of courses and lab experiences was unlike anything that my friends were doing in other programs at the University of Guelph, or at any other Universities. Being part of a small, tight-knit program and a member of the college gave me a great social experience as well, and this above all is what has inspired me to support the college for all these years.
When thinking about the areas you can support at U of G, why does student assistance consistently stand out among the options?
I had always assumed that I would pursue a university degree as a first step in moving into a career, and I was fortunate to have had access to the financial means to makes this possible. It was not immediately obvious to me that this was not the case for everyone, and this is the primary reason I continue to support the University and CBS - I sincerely believe that everyone should have the opportunity to pursue a university degree should they wish to.
If someone was thinking about supporting the University of Guelph but was on the fence, what would you say to them?
I am extremely proud to be an alumna of the University of Guelph and I take advantage of several opportunities to remain engaged with the school and with the College of Biological Science in particular. While I thoroughly enjoy the time that I get to spend with students and share my personal and professional journey, I also recognize how fortunate I have been in being able to leverage my university degree into a successful career, and to now find myself in a position to donate more than just my time. The fact that my annual gift allows others to have access to the rich experiences the University can provide is particularly rewarding.
Looking to support CBS or another area of U of G? Please visit www.alumni.uoguelph.ca/give to make a gift today. If you have any questions or would like to speak to someone about your giving, please contact Jill Randall, Alumni Advancement Manager, CBS at jillrand@uoguelph.ca.
---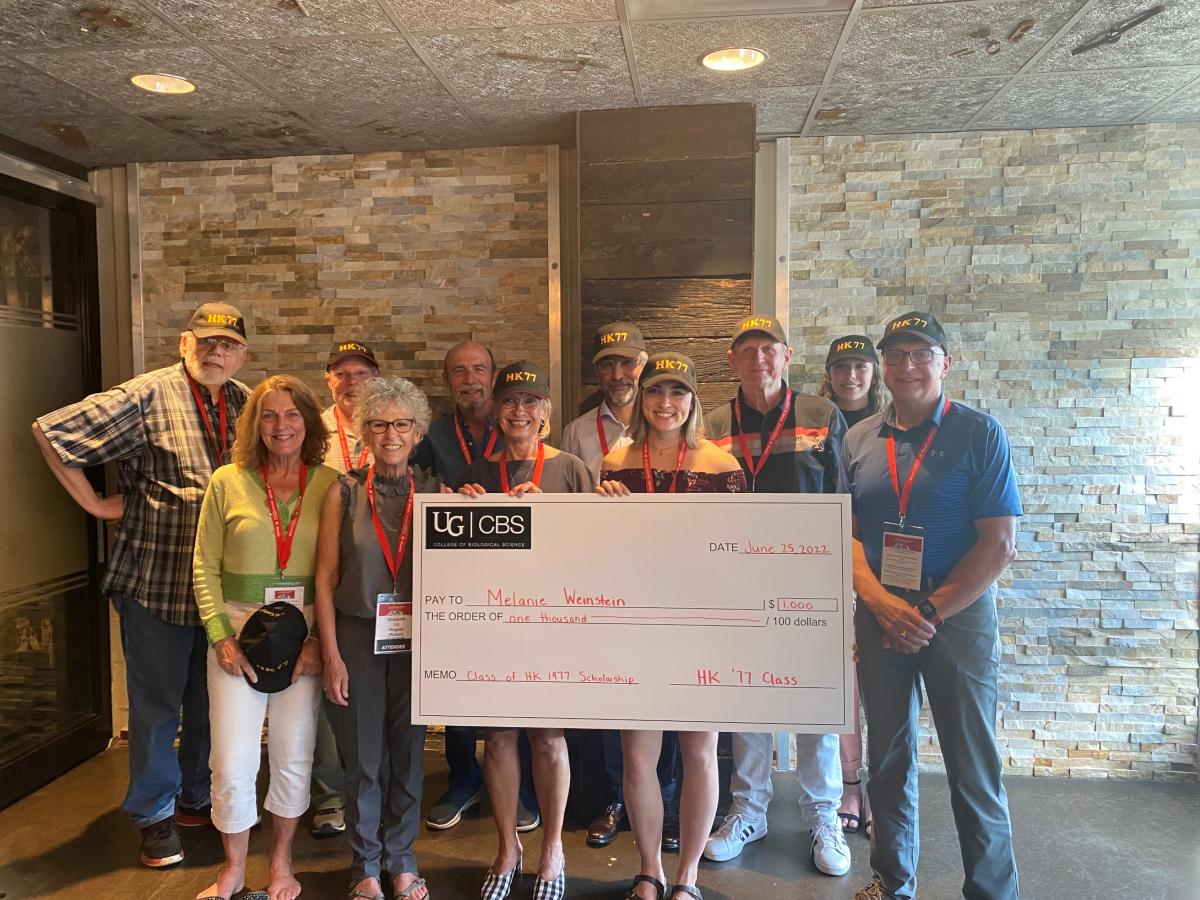 In 2017, the Human Kinetics class of 1977 decided to gather for their first official reunion – forty years after graduation. As they started to plan their gathering, excitement began to rise among classmates. The nostalgia of their time at the University of Guelph, intertwined with fantastic memories from such formative years of their lives, lead the classmates to reflect upon their time on campus. When sharing stories of their lives and the impact the university had on their careers, they decided they wanted to give back to the institution that brought them together.

In celebration of their 40th anniversary, the HK class of 1977 decided to launch a class project to fund a yearly scholarship for one Human Kinetics student per year. Their goal was to provide a student majoring in Human Kinetics with a $1000 scholarship towards their education. Selection of the recipient would be based upon highest cumulative average and be awarded in the winter semester. That year, they launched their class project and worked hard to fundraise towards their goal. Over the course of five years, they were able to work together to reach endowment level, which provides a yearly scholarship in perpetuity for generations to come. Their dedication to their goal became more prevalent during the COVID-19 pandemic after seeing the hardships students faced due to lack of jobs and increasing costs of living and education.

"No amount of thanks will ever be enough for all of your hard work and generosity for your creation of this scholarship and your support of our students." – Coral Murrant, Professor & Chair, Human Health & Nutritional Sciences
This year, the class of 1977 was able to reunite to celebrate two major milestones: the first being their 45th anniversary. The excitement of being able to reunite in person with classmates was astounding, but the class of HK'77 was ready to celebrate even more. Their class project was the first of its kind for the College of Biological Sciences – not only did it reach endowment level, but it was ready to be given out to its first winner the year of their 45th anniversary. As the class gathered that evening, undergraduate student Melanie Weinstein was invited to celebrate her scholarship award with the class. The class of HK'77 was able to see their hard work pay off and that moment has inspired the group to continue to fundraise in the coming years in hopes of being able to provide two yearly scholarships for human kinetics students.
The catalyst for this project was the reconnection of friends and gratitude for the University of Guelph. This inspired a passion for fundraising in the class of HK'77 and their efforts have encouraged other reunion groups to begin class projects of their own within the College of Biological Sciences. Coral Murrant states, "Their leadership in this space has now set a standard that has inspired other classes to explore class projects of their own. Their legacy has spread further than you will know".
Interested in creating a lasting legacy? Please contact Jillian Randall (Alumni Advancement Manager, CBS) at 226-821-3659.