15th Annual Graduate Student Symposium, Tuesday, April 23rd, 2019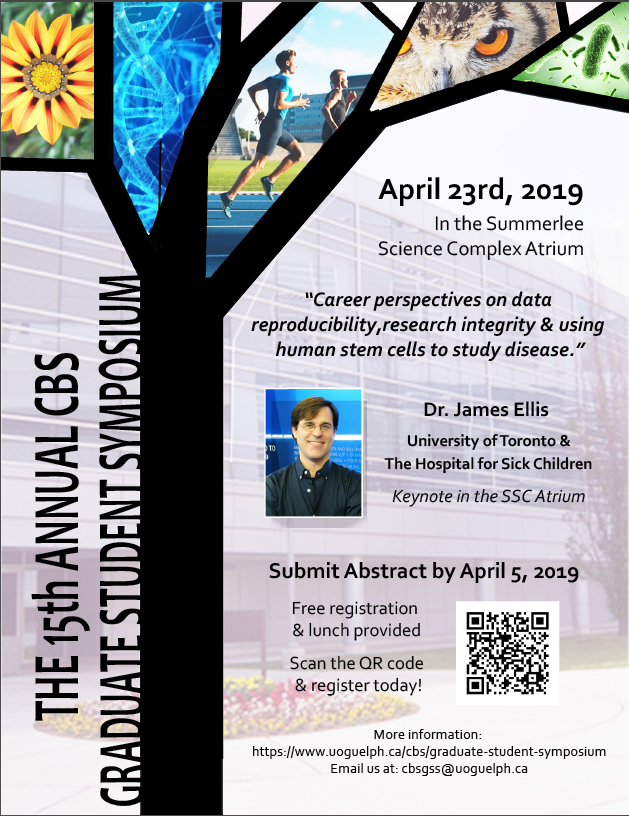 This year's one day Graduate Student Symposium (GSS) will include a keynote address, social events and student-based symposia to showcase graduate student research taking place across the college.
The sessions will provide the opportunity for students to present their research to a diverse audience of fellow CBS members from the Departments of Human Health & Nutritional Science, Molecular & Cellular Biology and Integrative Biology. The day will conclude with a poster session and refreshments.
This year we are please to announce Dr. James Ellis as our plenary speaker. The title of his presentation is "Career perspectives on data reproducibility, research integrity, and using human stem cells to study disease".
Dr. Ellis obtained a B.Sc. in microbiology from McGill University and a PhD from Mount Sinai Hospital, where he investigated the mechanism of retroviral integration and gene targeting. He also completed a postdoctoral fellowship at the National Institute for Medical Research in London, England, where he characterized the human beta-globin locus control region.
In 1994, Dr. Ellis began his research program at SickKids studying blood gene therapy for sickle cell anaemia. His current focus is on retrovirus silencing and using Induced Pluripotent Stem (iPS) cells to model disease, including autism spectrum disorder. Dr. Ellis is also a member on the federal Panel on Responsible Conduct of Research (PRCR).
Dr. Ellis's keynote address will explore both his current research program as well as the evolving issue of research integrity. Dr. Ellis's unique combination of experience and expertise promise to provide an enriching and thought-provoking talk!
The event takes place April 23, 2019 in the Summerlee Science Complex Atrium. Please contact us for more information.
---
Thank you to the sponsors of the CBS Graduate Student Symposium 2019!
The organizers of the GSS 2019 would like to thank the College of Biological Science, Bio-Rad, the Canadian Society for Molecular Biosciences, U of G Graduate Students' Association, Guelph Campus Co-op, Sarstedt, U of G Student Affairs.