Congratulations 2017 CBS Award Recipients!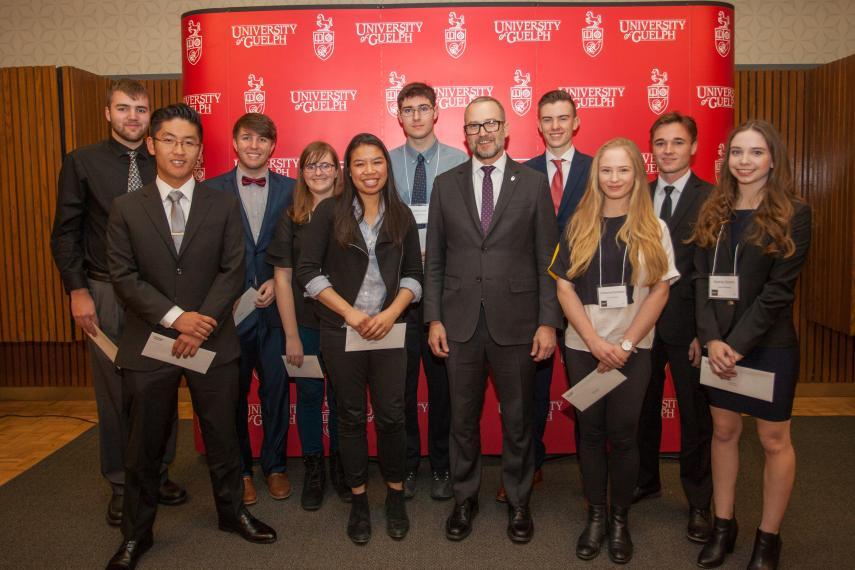 On Tuesday, November 21st, 2017 College of Biological Science hosted the 3rd annual CBS Student Awards Banquet in honour of our CBS award recipients. Joined by staff, faculty and generous donors, the College honoured CBS undergraduate and graduate students for their outstanding achievements in research, academics and community service. 
Congratulations to all of our awards recipients!
For photos from the event, please use the following link: https://uoguelphca-my.sharepoint.com/personal/cbsdean_uoguelph_ca/_layouts/15/guestaccess.aspx?folderid=015acdfbf86594aef9f2862197d47a531&authkey=AScDy1MhZzzkBllUA0a0BfQ&expiration=2017-12-30T19%3A16%3A06.000Z&e=99f076af62264cb282e95cf4681bcdca
Undergraduate Award Recipients:
Alex Peepre Memorial Scholarship- Laura Spatafora
Analytical Biochemistry Scholarships - Kenna Whitnell
Analytical Biochemistry Scholarships - Sara Matthews
Athletic Club Scholarship for Human Kinetics - Mina Mikhael
Boyd (W.H.) Scholarship - Sarah Palmeter
Brian L. Walker Memorial Scholarship -Stefanie Davenport
Bruce Holub Prize -Hannah Neizer
Bruce Sells Medal of Academic Excellence- Andrew Worling
Bryant Family Research Scholarship - Mikayla Tamblyn
Bryant Family Thesis Research Scholarship - Mara McHaffie
Canadian Society for Exercise Physiology (HHNS Internal Award)- Abbigale Spencer
Catherine & Brian Berg Memorial Bursary – Jacob Hurley
CBS Access Scholarship  - India Annamanthadoo
CBS Access Scholarship -  Fiona Moloney
CBS Gold Medallist Award - Nia King
CBS Student Council Academic Achievement Scholarship - Rhiannan Pinnell
CBS Student Council Extracurricular Achievement Scholarship – Alexzandra Hughes-Visentin
CBSAA Student Scholarship - Benjamin Solomon
Chair's Prize in Human Health and Nutritional Sciences- Nia King, Sarah Palmeter
Chair's Prize in Human Health and Nutritional Sciences – Stefanie Davenport
Chemical Institute of Canada Silver Medal in Biochemistry – Sabrina Glavota
Dr. and Mrs. Benjamin Lu Scholarship - Elyssa Holt
Dr. and Mrs. Kenneth F. Gregory Scholarship- Megan Conner, Sabrina Glavota
Dr. David Porter Memorial Prize in Physiology - Catherine Tran
Dr. Erika Gaertner Scholarship in Botany - Jarrett Blair, Andrew Borrelli
Dr. Ken Fisher Prize for Histology and Embryology - Amanda Diong
Dr. Mary Beverley-Burton Travel Scholarships - Aaron Hudson, Candace Park, Zummara Tanwir
Dr. Peter Eyre Pharmacology and Toxicology Prize - Catherine Tran
Dr. R.M.W. Stevenson Microbiology Scholarship - Kurt Schroeter
Frances Sharom Biochemistry Scholarship - Sabrina Glavota
Fred Ramprashad Scholarship- Devon Stober
Frederick Hutt Entrance Scholarship - Lydia Conrad, Daniel Dibucchianico
Gaskin Medal in Marine & Freshwater Biology -Jessica Klack
Gibco/BRL Microbiology Research Excellence Prize – Lorian Fay
Gordon McNally Memorial Award – Allison Caswell
Grace Olivia Glofcheskie memorial Scholarship - Andrea Cimino
Hagen Undergraduate Scholarship – Vishali Balasubramaniam, Bernice Lau, Sagar Patel, Abbigale Spencer, Catherine Tran, Nicole Wildish
Harry B. Barrett Scholarship in Bird Studies – Samantha Lau, Grace Thornton
HK/HB Alumni Association Graduation Prize - Keara Maynard
Honours Biochemistry Scholarship- Michael Jones, Julia Steckner
Hugh D. Branion Memorial Scholarship - Robert Northcott
Hung-So Chow Yuen Leadership Scholarship – Crystal Gong
Isabella Anderson Conway Scholarship- Hana Dibe
Jack K. Barclay Physiology Scholarship- Megan Brenkel
John T Powell Scholarship – Sidra Sarfaraz
Keates (Dr. R.A.B.) Biochemistry Scholarship - Sabrina Glavota
Keith Ronald Undergrad Scholarship - Jordan Widmaier/p>
Kenneth James Berg Memorial Scholarship- Tinya Wang
L. Norman Gibbins Memorial Fund – Alysa Visser
Lionel Bradley Pett Scholarship - Julia Bryson, Tristan Derry, Caleb Sypkes
McNeil Consumer Healthcare Diversity and Inclusion Scholarship in Science – Crystal Gong
Monroe Landon Memorial Scholarship - Sarah McDonald
Peter Mann Award for Embryology - Benjamin Fuller
Kyra McCannell
Robert Orr Lawson Second Year Microbiology Incourse Scholarship – Parneet Kaur/p>
Robert Orr Lawson Third Year Microbiology Incourse Scholarship - Heather Chen
Ronald Ko Scholarship- Michelle Hotchkiss
Shackleton (H.O.) Memorial Scholarship – Dibanos Fantessa
Shutt Memorial Award - Laura Tempelhagen
Society of Chemical Industry Prize in Biochemistry – Caitlin Sande
Stephanie Betts Memorial Scholarship -Jessica Purbrick
Tony Anthony Prize - Charlotte Apps
Uffelmann Connor Family Scholarship in Nutritional and Nutraceutical Sciences- Amar Laila
Upjohn & Pharmacia Medal in Microbiology -Emily Mercer
Graduate Award Recipients:
Arthur Richmond Memorial Scholarships – Michael Elza, Nia Hughes
Baker (Prof. A.W.) Memorial Bursaries – Sarah Dolson /p>
CFUW Scholarship for Women in Grad Studies – Paula Miotto
Dr. Donald Robert Phillips Molecular and Cellular Biology Scholarship- Claire Martin, Sarah Timpano
Elgin Card Scholarship in Terrestrial Animal Ecology – Erin Siracusa
Hagen Graduate Scholarship – Hailey Hunter
Harold H. Draper Graduate Prize – Paula Miotto
Middleton Graduate Teaching Assistant Prize – Erin Siracusa
Norman James Scholarship in Aquatic Animal Ecology- William Jarvis
Pharmacia Molecular and Cellular Biology Graduate Award – Mara Goodyear
Roche Molecular Biochemical Award of Excellence – Love Sandhu
Dean's Scholarship Award Recipients:
First Year Recipients:
Tristan Derry
 Emily Fowler
 James Goetz
 Matthew Manson
William Mawhinney
 Catherine Peckham
 Sydney Swartz
 Eric Wells
 Chantelle Wong
 Michael Zhang
Second Year Recipients
Abanoub Aziz Rizk
Julia Bryson
Nicole Doran
Emily Farr/p>
Liana Iannucci
Alexandra Khozin
Abdallah Omar
Michael Rosen
Benjamin Solomon
Lauren Wintraub
Third Year Recipients
Klara Beeney
Andrea Cimino
David De Lazzari
Andrew Horne
Despina Michailidis
Marisa Morrow
Benjamin Neilipovitz
Kush Patel
Rhiannan Pinnell
Jessica Purbrick
Caleb Sypkes
Share this page
News Topics