Working with local communities in NWT to examine the effects of fire on forest vegetation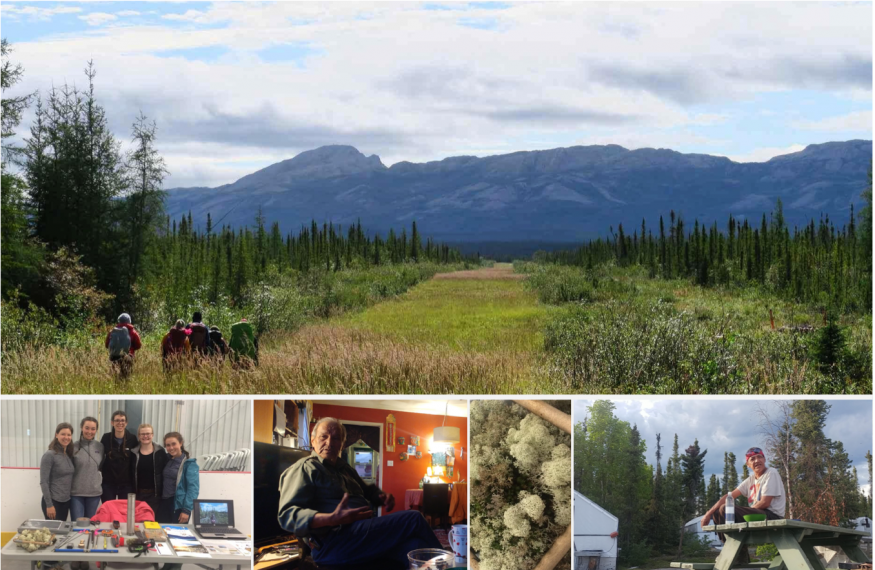 In 2014, 3.4 million hectares of forest land burned across the Northwest Territories at a cost of $56.1 million. In comparison, the 20-year average for the territory is 570,000 hectares of land burned with an approximate cost of $7.5 million a year. The main culprits for the scale of the 2014 fires were higher temperatures leading to very dry conditions; in fact, it was deemed the driest season in 40 years.
Although disconcerting to the eyes of the general public, forest fires play a critical role in northern boreal forests, such as being required for seed germination by some plants. What is of concern, however, are increases in the intensity, frequency and extent of forest fires, which could lead to imbalances in naturally occurring fire-followed-by-regeneration processes.
Kristen Bill, an M.Sc. student in the College of Biological Science, is studying how fire activity driven by climate change may be impacting the dynamic boreal forest floor vegetation in areas of the Northwest Territories. Specifically, she is recording the types of lichens and mosses that can be found at varying times post-fire and at varying soil moisture levels in order to better understand how these ecosystems are affected by fire. Vegetation, such as lichens, is an important food source to animals including the threatened woodland caribou, which is an important cultural and subsistence component of many northern communities.
Bill is an enthusiastic advocate of community-driven research and was fortunate to have elders in the town of Behchoko, N.W.T, share their knowledge and support her project. She and her crew of four research technicians from the University of Guelph stayed there for seven weeks last summer while they conducted their field surveys in the surrounding area.
"Elders have a rich understanding of the land and notice changes," said Bill when asked about the importance of connecting with the local community. An elder also encouraged the research team to attend the T'licho Youth Summit that was held in Behchoko. There they hosted a booth featuring their research which generated interest in the local youth who were considering pursuing careers in the environmental field.
Engaging with the community presented some challenges, however, for locals and researchers alike. The slower pace of life and work in the North required some flexibility on the part of the crew from southern Ontario who was operating under a tight schedule. From the point of view of locals, on the other hand, a common request is for visiting researchers to spend more time building relationships within the community, and to involve them in conducting field work.
With a busy summer of field work behind her, Kristen Bill continues to work towards narrowing the gap between communities and scientists, this time in Hamilton, her hometown. She will be reaching out to schools to present her research, in hopes that it will stir interest and curiosity in northern ecosystems and the challenges that they face.
Kristen Bill is a member of the Biodiversity Resilience Network (biodiversityresilience.com) and works under the supervision of Dr. Merritt Turetsky, Associate Professor in the Department of Integrative Biology at the University of Guelph. Dr. Turetsky's research group studies carbon, nutrient, and energy cycling within ecosystems located primarily in the Arctic and Boreal regions of Alaska and northwestern Canada.
Share this page
News Topics