Dr. Anne Innis Dagg attends screening of The Woman Who Loves Giraffes at U of G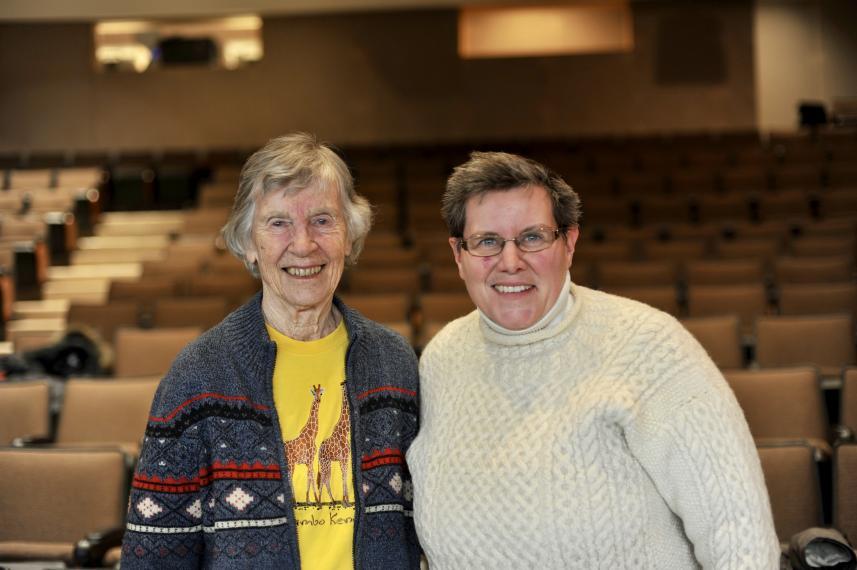 A central theme of the film addresses Dr. Dagg's time in the Department of Zoology, now the Department of Integrative Biology, at the College of Biological Science. Despite her impressive record of academic publications and student attestations as to the quality of her teaching, Dr. Dagg was denied tenure. By multiple accounts in the film, she did not conform to the college leadership's idea of a tenured professor. There was no place for a groundbreaking woman scientist studying the behaviour and biology of animals in the wild.
"This event allowed us to engage with the ongoing dialogue around the numbers of women in science and academia," said Dr. Jonathan Newman, dean of the College of Biological Science and host of the film screening. "It also gave us the opportunity to listen to the personal experiences of audience members who have been deeply inspired by Dr. Dagg's extraordinary life."
As CBS continues to be actively engaged in the work of expanding opportunities for underrepresented groups on campus, it is important to acknowledge that part of this work is recognizing and confronting errors of the past.
After the screening of the film, Dr. Newman announced the creation of the Dr. Anne Innis Dagg Summer Research Scholarship in recognition of her pioneering research on, and significant contributions to, the study of giraffe. The scholarship will be awarded annually to one female undergraduate student majoring in either Zoology or Biodiversity.
Share this page
News Topics