Creation of an open accessible textbook helps undergraduate students gain marketable skills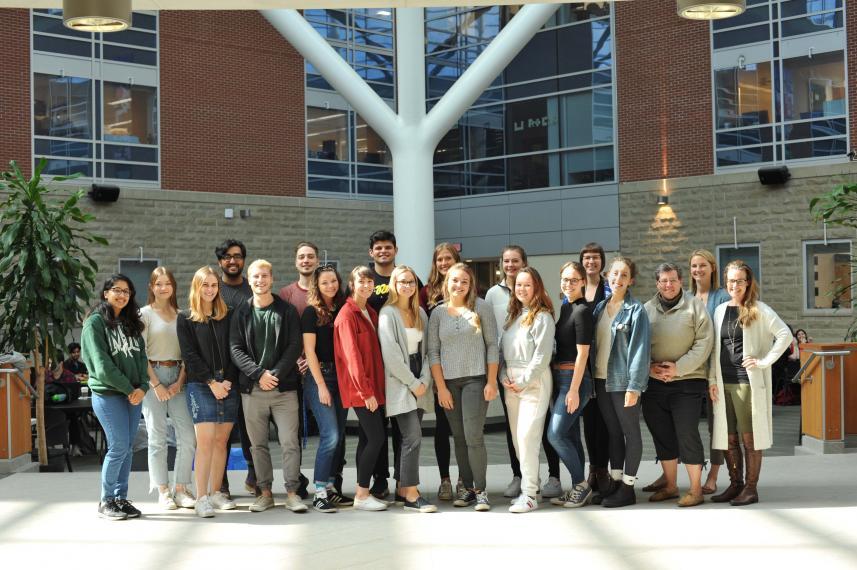 A new course in the Department of Human Health and Nutritional Sciences (HHNS) is encouraging undergraduate students to build their skillset while helping to improve the learning experience of future physiology students.
Profs. Justine Tishinsky, Coral Murrant and Kerry Ritchie, with the help of Ali Versluis (Open Educational Resources Librarian) are leading a team of undergraduate students to create a free, open educational resource (OER). The team is coordinating the design of the resource, currently envisioned as a textbook, which will integrate interactive elements such as games and videos, to support to two human physiology courses, HK*2810 and HK*3810. Students who have already finished one or both of these classes can take part in creating the OER in the HK*4510: Teaching, Learning and Knowledge Transfer course.
"In this collaborative environment, the students work closely with the project team," says Tishinsky. "Students are encouraged to be open and creative throughout the project. We really want to see their ideas and approaches reflected in the final product – who better to create a textbook for students than the students themselves?"
Engaging in experiential learning projects such as this can help provide students with practical knowledge that applies to their future endeavors, whether that be graduate school or the workplace.
Since the project began in Fall 2018, 47 students have participated in the project. These students gained experience that will help them prepare for their careers, including translating knowledge, understanding copyright and intellectual property, managing complex and dynamic projects, as well as developing advanced research and communication skills.
"Not only did I gain a deeper knowledge of physiology, I also learned to collaborate effectively and developed excellent time management skills," says Caitlin Curylo, who completed the course in Fall 2018. "This project helped shape my career path and taught me skills that I continue to use in the workplace."
The first two cohorts of students worked to carefully select, draft and create freely available and openly licensed content that promote comprehension with the existing physiology curriculum. The next two cohorts of students are continuing to build, supplement, and organize the content into Pressbooks, an open-source publishing platform available through McLaughlin Library.
"Developing an accessible resource for future students has been an incredibly rewarding and empowering experience," says B.Sc. student Abigail Hofstra, who recently completed the course. "Instead of simply providing course feedback, I used this opportunity to make changes that will enhance students' learning."
Grades aren't the only thing that is considered for those applying to HK*4510. The instructors want to bring together a diverse and passionate group of students so that the OER reflects a range of learning styles and perspectives.
To learn more about the physiology e-textbook course please contact Prof. Justine Tishinsky.
Share this page
News Topics