Dr. Stephen Seah awarded UGFA Distinguished Professor Award for Excellence in Teaching
The University of Guelph Faculty Association is honouring Dr. Stephen Seah, associate professor in the Department of Molecular and Cellular Biology, with a Distinguished Professor Award for Excellence in Teaching.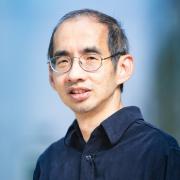 In his more than 20 years teaching at the university, Dr. Seah has built a reputation for the care and compassion he shows to his students, his innovative approaches to teaching challenging subjects and the enthusiasm that he brings to the classroom.
"Students' evaluations of his teaching performance have been consistently strong for all courses," writes Dr. Baozhong Meng, professor in the Department of Molecular and Cellular Biology, in his nomination letter. "This is attributable not only to his genuine passion for teaching but also to the extensive effort he has made in finding creative ways to enhance teaching and the student learning experience."
As concepts in microbiology and molecular biology can be challenging for students to grasp, Dr. Seah uses a "concept-delivery-test-apply" approach to break down the information. He starts by identifying key concepts for students, uses figures and diagrams to show the information, tests students' understanding, then asks them to apply that knowledge. To support students in visualizing concepts, he often incorporates props (such as Lego models), images and videos.
Dr. Seah has also played a significant role in improving the learning experience for students at the department level, restructuring and refining the Microbiology curriculum, leading the creation of a third-year microbial physiology and genetics course, and improving co-op programs within the department.
He is a sought-after mentor, having supervised six PhD students, 12 master's students and 38 undergraduate students completing their research projects. Many of his graduate students have been recipients of prestigious awards and scholarships and all have begun successful careers after graduation.
Since 2019, Dr. Seah has mentored and supported students as one of the faculty advisors for the university's iGEM team, a competition in which undergraduates from many disciplines compete to use synthetic biology to solve real-world problems. Under his leadership, the Guelph team won the gold medal in 2019 for developing a sensor that can detect antibiotics in food products and silver medal in 2022 for engineering a biopesticide.
The University of Guelph Faculty Association gives out up to seven Distinguished Professor Awards for Excellence in Teaching every year, one for each college. Members of the UGFA are nominated for excellence in areas such as classroom instruction, course design, innovative teaching methods, and planning and policymaking about teaching.
Dr. Seah and the other award winners will be recognized at a ceremony hosted by the Faculty Association in the fall.
Share this page
News Topics