Go ENG Girl: 2020 - Saturday, October 17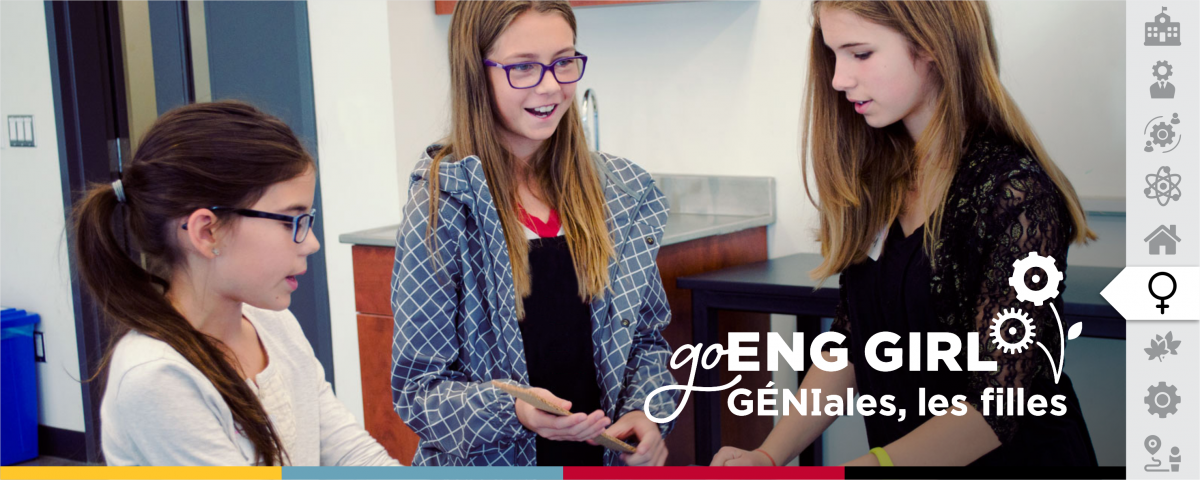 Go ENG Girl 2020:
This year University of Guelph Go ENG Girl 2020 is coming to you, virtually!  Our Women in Engineering and Science (WiSE) club are designing the challenges in a pre-packed Go-ENG-Girl treasure box for easy pick up or delivery!  During the online event, our WiSE undergrad facilitators will guide everyone through games and activities to showcase what engineering has to offer.  Special guest speakers will share their stories of passion, inspiration and success in the field of engineering during the morning event.
The University of Guelph has a long history with Go ENG Girl. Since 2005 Go ENG Girl has invited girls from grades 5 to 8 to campuses with their parents to learn more about engineering through a series of fun hands-on activities and exhibits.  Our Engineering professor Valerie Davidson, as the NSERC Chair for Women in Science and Engineering helped found the Ontario Network of Women in Engineering (ONWiE), a network of 24 schools of engineering from across Ontario, and throughout Canada. Its purpose is to encourage young girls across the country to pursue careers in engineering. 
We have a limited supply of kits so make sure to register early -- registration begins in August 2020.  In early October we will arrange for pick up or shipping of your materials kit.  Go-ENG-Girl-boxes are sponsored by the College of Engineering and Physical Sciences, ONWiE and Creative Encounters with Science as an Actua Network member.   
Date: Saturday, October 17, 2020
Event Schedule:
8:45       Registration
9:00       Welcome
9:15       Breakout rooms – Building activity
10:15     Break and mini-social
Parents are welcome to join for Featured Speaker and Discussion Panel:
10:30     Featured Speaker (Alyssia Sanchez, 4th year Biomedical Engineering student -- A day in the Life of an Engineering Student)
10:45     Discussion Panel – Bring your questions for faculty, coop coordinator and current students!
 
This year's Go ENG Girl has been a popular event! Sign up on our waiting list (by registering below) and we will contact you with the next STEM opportunity!
If you require special assistance or have any additional questions please contact: events@registrar.uoguelph.ca  |  519-824-4120 Ext. 58713
For more information about this event and other degree programs, please visit Undergraduate Admissions.
Parents!
Please complete the parental permission form upon registration for Go Eng Girl.