Roaming Profiles FAQ
What is a user profile?
The primary purpose of a Windows user profile is to store user-specific application settings such as browser bookmarks, configuration settings, website cookies, and others. It is also commonly used to store folders that are not stored on a network drive including 'Downloads', 'My Documents', 'Desktop', 'My Music', and others.
How can I see my profile?
You can look at your profile by opening your "My Computer" and browsing to C:\Users\<your username>\. Be aware that some folders for application settings are hidden. An I.T. staff member can assist you to look at these files if required.
What does it mean that I have a 'roaming' profile?
A 'roaming' profile means that your application settings and documents follow you from computer to computer so your experience remains consistent. In order to accomplish this, your user profile is copied from a central storage server when you log in and then synchronized with the server when you log off.
Why does it take so long to log in?
Most delayed login problems are caused by your a large roaming user profile. A larger profile will delay the login process as it copies from the server each time you login. For each 1GB of profile data, a login can be delayed by up to 2 minutes.
How can I see what is taking up space in my profile?
All SOE computers have a software package named 'WinDirStat' installed which can be used to assess the space taken by your profile. After opening the program, select 'A folder' on the 'Select Drives' window and enter 'C:\Users\<your username>' in the box as shown below: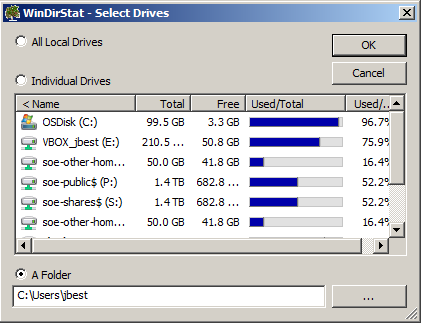 After clicking okay, the software will analyze your profile and present you with a list of the largest folders. You can use this information to move large files to your H drive or USB key.
Can I restore my profile to its default (empty) state?
Yes, a member of our I.T. staff will be happy to help you restore your profile to its default state. This process will remove all files and settings from your account but will not affect anything stored on your H drive. Please email soeithelp@uoguelph.ca with "Profile Reset" in the subject and a time when you will be logged off of all SOE computers (e.g. before you arrive or during a lecture).
NOTE: This process will remove all application settings and files from your profile. Make sure you have backups of all bookmarks, saved passwords, and files before proceeding.
I have Dropbox installed and it's taking up a lot of space! What do I do?
The School of Engineering does not officially support Dropbox because of its effect on user profile size. When installed, Dropbox will copy the user's entire Dropbox folder into the profile. If your Dropbox is large, this will drastically slow down your login and logoff times.
Removing Dropbox requires permissions that were not necessary for the initial installation. If you wish to uninstall, please email soeithelp@uoguelph.ca and an I.T. Staff member will be happy to remove Dropbox from your profile on your behalf.
NOTE: Removal of Dropbox requires that you be logged off from all SOE computers. Please indicate in the email a time between 8:30am and 4:30pm when you will be logged off (e.g. before you arrive or when you have a lecture).