Engineering Students Impress Judges and Draw Crowds at Annual Design Day Event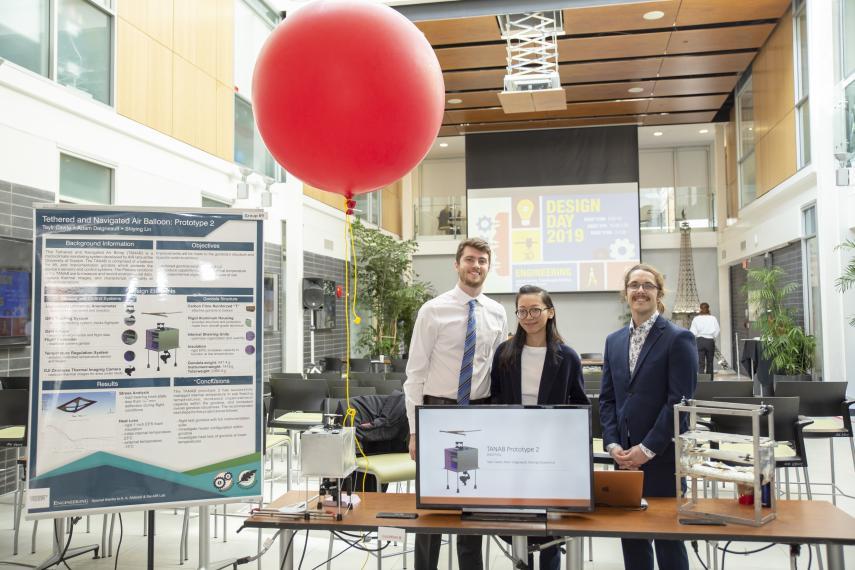 Just over a week ago, the School of Engineering hosted their annual exhibition event, Design Day 2019. Aimed at celebrating the achievements of our engineering students in 7 disciplines, Design Day brings together students and their families, faculty, staff, alumni, and industry professionals.
The event kicks off with Engineering and Design III (ENGG*3100). The top four groups of third-year engineering students present their creative solutions to common problems in everyday life. This year's presenters included: a modified fish ladder design, a sterile hand drying station, removal of microplastic from wastewater sludge, and a solution aimed at improving current concussion diagnostic protocols.

---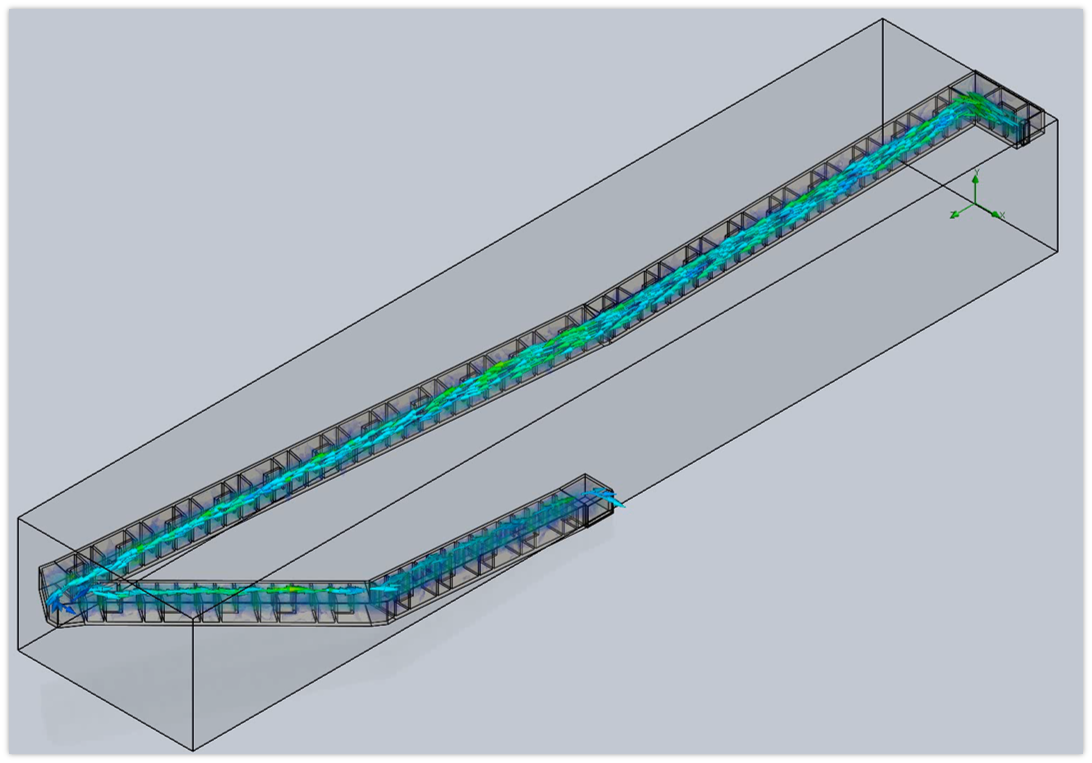 Group 1:
Modified Fish Ladder Design to Support Migration
Rebecca Bar, Chris Barber, Zofia Holland, Janna Ormond and Justin Salvucci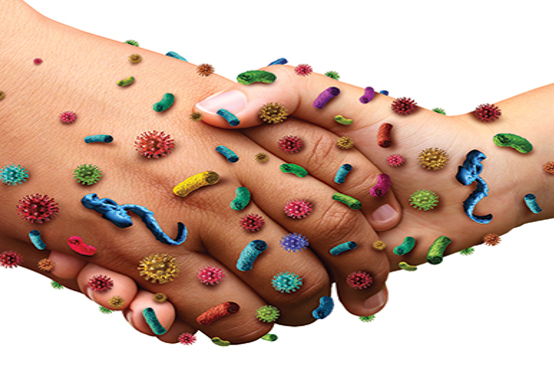 Group 2:
Sterile Hand Drying Station in Health Care Facilities
Benjamin Ecclestone, Ian Major, Mitchell Sheets, Victor Huong and Callahan Doughty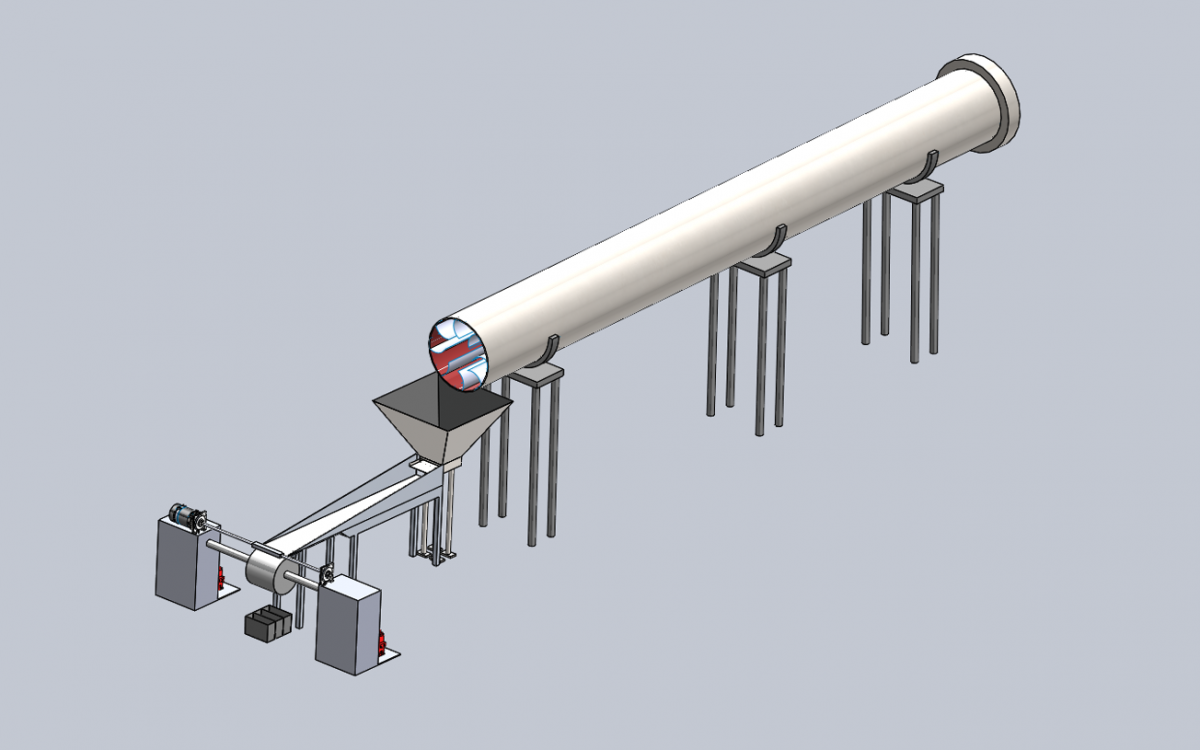 Group 3:
Removal of Microplastic from Wastewater Sludge
Blair Thompson, Scott Ackerl, Jordan Balfour, Abhinav Chatterjee and Ali Asif

Group 4:
Improved Concussion Diagnostic Protocol
Kaitlyn Peters, Brendan Callaghan, Daniel Domaracki, Cameron Young and Nikan Momenbeitollahi
---
To up the ante, the groups are all vying for the top prize of $3000 with consolation prizes of $2000, $1000, and $500. The groups wowed the judges this year with their design ideas all aimed at improving life through innovating solutions.
The second event of Design Day has Engineering and Design IV (ENGG*41X) students presenting their final capstone projects. Spread throughout the first floor of Thornbrough Building, student teams set up their design projects in the form of large posters, physical prototypes, plans, apps, machines and more, all ready to address the judges.
One judge couldn't help but notice the designs have come a long way. John Van de Vegte, an engineering specialist from OMAFRA, noticed "an increase in the level of actual working prototypes from previous years," and that it was great to see that the "level of technology implemented is also increasing."
41X projects are to improve life through designing a solution to solve an open-ended problem. This year's projects included: agriculture designs, solutions aimed at improving the environment, robotics and artificial intelligence, healthcare and accessibility.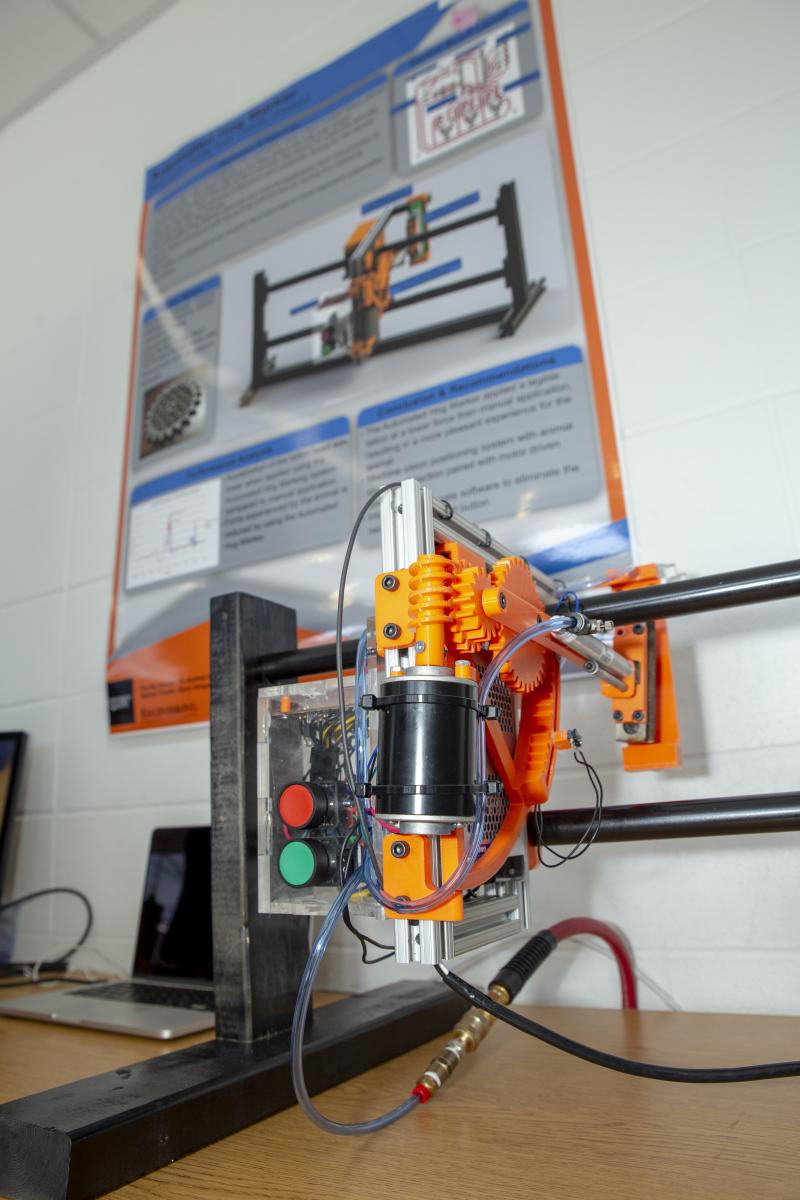 One of the agriculture-themed projects was an Automated Hog Marker (pictured at left), aimed at seeking to reduce the physical strain on farmers – and trauma on the animals. The automated tattooing machine removes the farmer from this taxing job of stamping every pig to be shipped, increasing efficiency.
With Artificial Intelligence (AI) at the forefront of technology, it wasn't a surprise to see AI represented in Design Day 41X projects. The 'Air-I Hockey Table' was sure to draw a crowd as visitors and judges volunteered to go up against an AI player in a classic game of air-hockey. With the table's machine vision technology and quick reflexes, it proved to be a worthy opponent.
Representing the healthcare solutions was a team that designed an Infection Monitoring Bandage, aimed at helping clinicians identify early signs of infection. Through temperature and pH sensors incorporated within the bandage, information is transmitted to a smartphone device application via Bluetooth, displaying relevant information about the wound to the medical professional.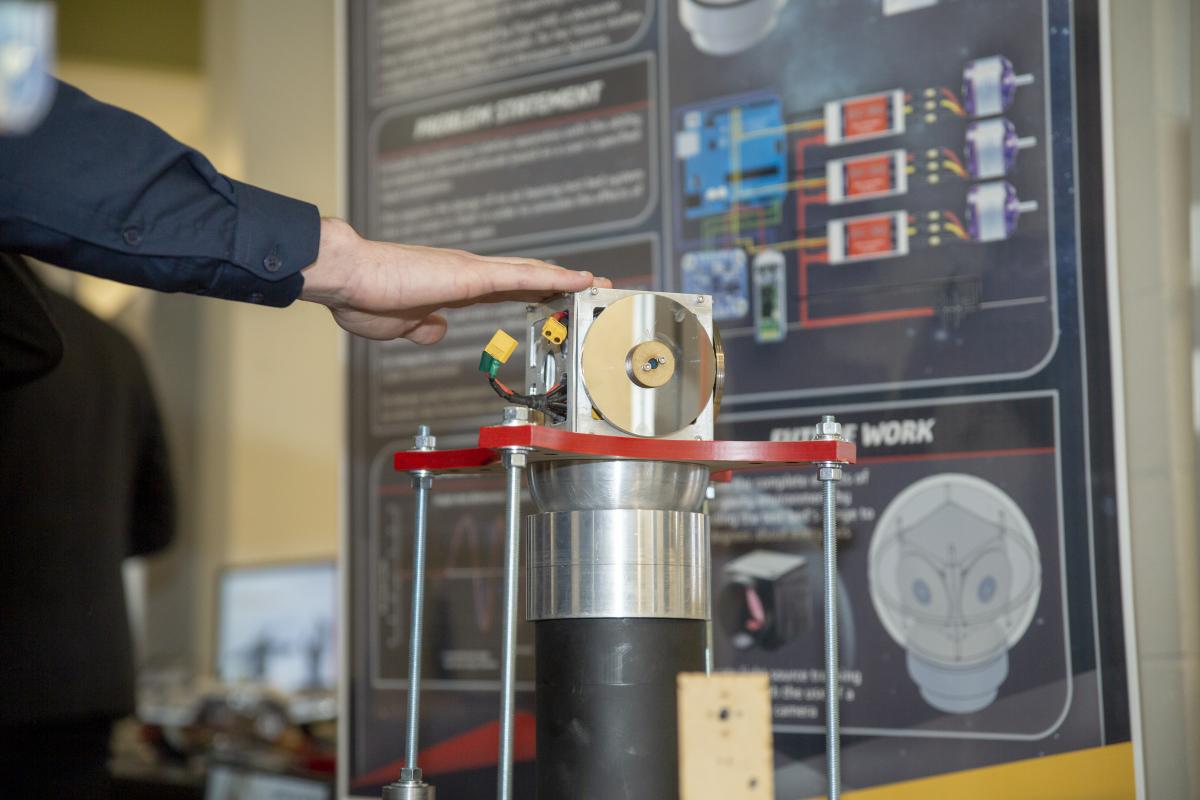 Another project that sparked interest is the CubeSat (pictured at right) – a miniature satellite composing of a zero gravity attitude control system with an air bearing test bed. The CubeSat can rotate in 3 degrees of freedom (3DoF), simulating the effects of zero gravity and friction in outer space.
In each of the Engineering Design courses, teams get the opportunity to work together to use a combined knowledge to solve a problem – much like in a real world scenario. Prof. Ping Wu, instructor for this semester's 41X Design course adds, "The interdisciplinary approach of the capstone project encourages students to use these differences to their advantage through collaborative work. All projects can be viewed on the 41X Projects Page."
Closing off Engineering Design Day is a Dragons' Den style event, where student teams from second-year design (ENGG*2100) create a toy following a given theme – this year's theme was 'Science Fiction'.
"Engineering and Design II is a very fun (yet challenging!) course for our students" says Dr. Andrew Gadsden, one of this year's instructors for second-year design, "Students learn how to reverse engineer a system, create complicated 3D models in SolidWorks, and most importantly, design and fabricate a toy that fits inside a large egg. It is one of those courses that students remember well past graduation, and helps make our Engineering program unique."
The task comes with a set of constraints: all parts must fit inside a 10cm tall Kinder Egg while disassembled; 75% of the overall weight must be 3D printed material; and it must be able to store energy and then incorporate a release mechanism in the form of forward motion, shooting a projectile, or flying. Keeping to the theme of sci-fi, the six competing groups presented their creations to a panel of judges.
---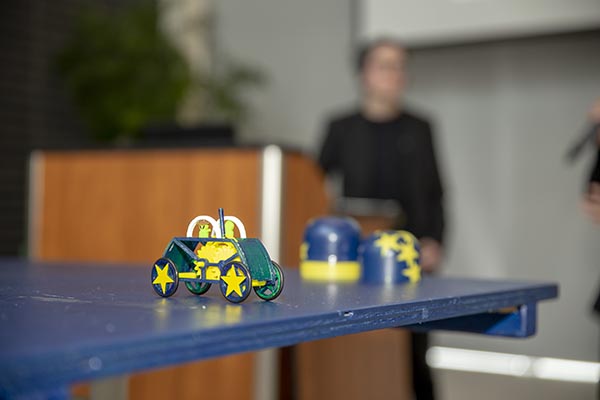 Group 1: Hatchoid Toys
Tshering Choki, Kunzang Lhaki, Lily Taylor Stackhouse and Allison Zyba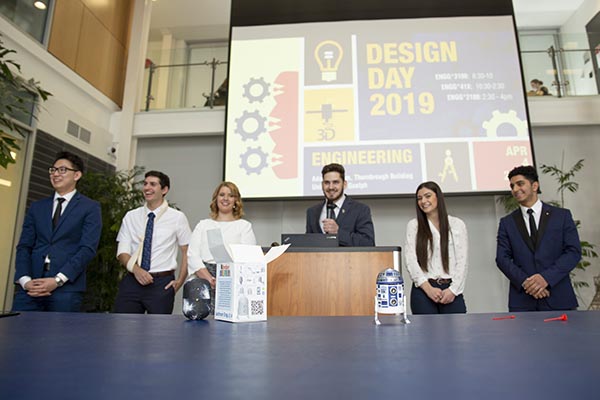 Group 2: Lechner Engineering Co. R2D2
Darby Barnard, Jason Cao, Tony Habib, Marcus Lechner, Zachary Minuk and MacKenzie Regts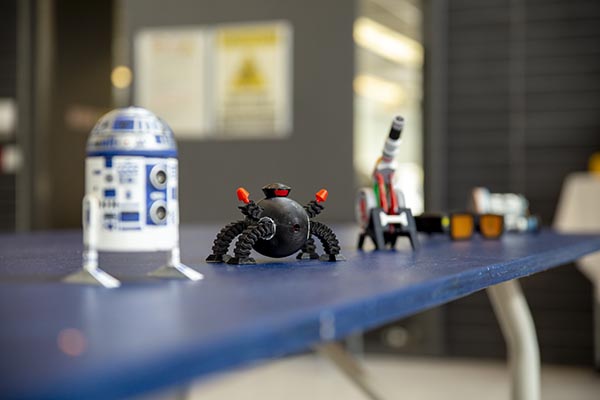 Group 3: The Oni-Droid
Hamza Atta, Julia Hawkins, Sydney Lepard, Samantha Moneypenny and Emily Park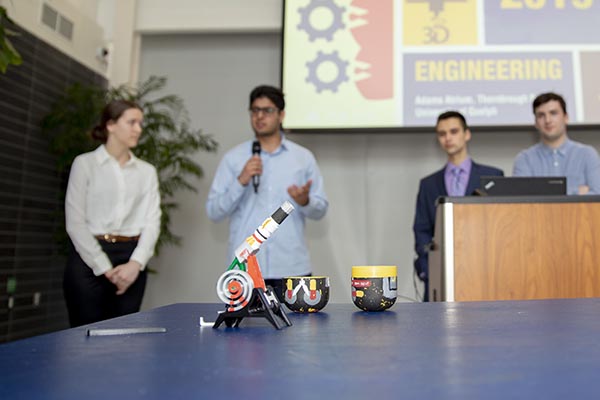 Group 4: Galaxy Toys AV-7 Cannon
Shahzaib Asher, Yaseen Balbaa, Veronica Birk, Luca-Bogdan Burlacu, Troy Campbell and Jepson London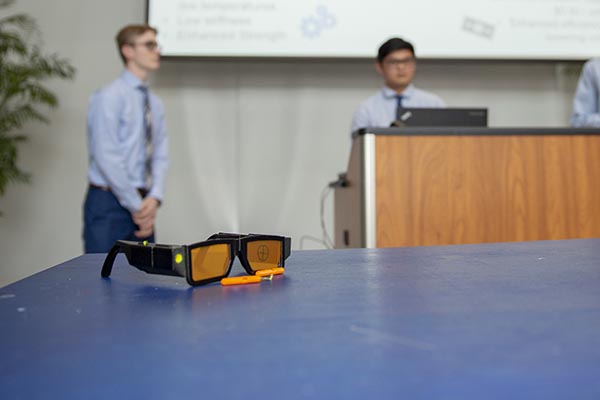 Group 5: NextGen Spyglasses
David-Alan Gross, Ben Kuepfer and Jayrone Quilaton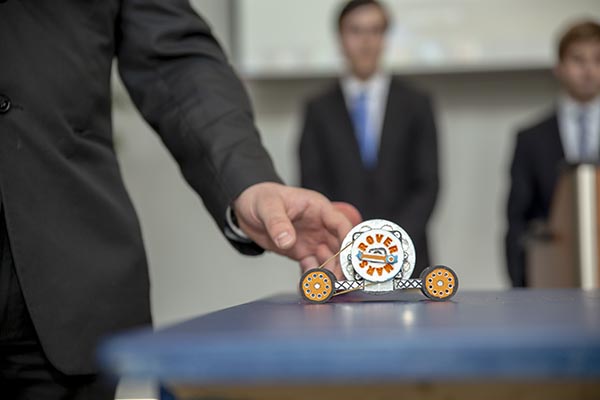 Group 6: Mars Rover
John Brown, Brett Buining Andrew Gall, Joshua Galliera and Omar Tannous
---
The first toy, Hatchoid, was a spring-powered 3D printed car with interchangeable 'passengers'; the second toy was an R2D2 toy that had a spinning mechanism and a shooting projectile, controlled by the user's mobile device or an activation sensor; next was The Oni-Droid and the AV-7 Cannon which shot spring-loaded projectiles with accuracy; the NextGen Spyglasses – a pair of glasses with a lever like trigger, stored energy through using a spring, then shooting a projectile out the arm of the frames; the last toy of the day was the Mars Rover, a space themed vehicle that utilized rotational energy and inertia to propel it forward using the weight of coins.
The School of Engineering has made design the foundation of study. Engineers create – and what better way to exaggerate that than a celebration of design in engineering. Our engineering graduates take our goal to Improve Life with them as they graduate and enter the World – designing solutions to make the places we live better for all.
Prizes
Following are the results for the Engineering and Design II and III events:
Engineering and Design II
| | |
| --- | --- |
| 1st Place ($3000) | Group 2: Lechner Engineering Co. - R2D2 |
| 2nd Place ($2000) | Group 3: The Oni-Droid |
| 3rd Place ($1000) | Group 5: NextGen Spyglasses |
Engineering and Design III
| | |
| --- | --- |
| 1st Place ($3000) | Group 1: Modified Fish Ladder Design to Support Migration of American Shad |
| 2nd Place ($2000) | Group 3: Removing microplastic from wastewater sludge |
| 3rd Place ($1000) | Group 4: Improved current concussion diagnostic protocol |
| 4th Place ($500) | Group 2: Sterile Hand drying station for health care facilities |