U of G's Gryphon Racing team gears up for Formula SAE international competition in Michigan With 2019's New Car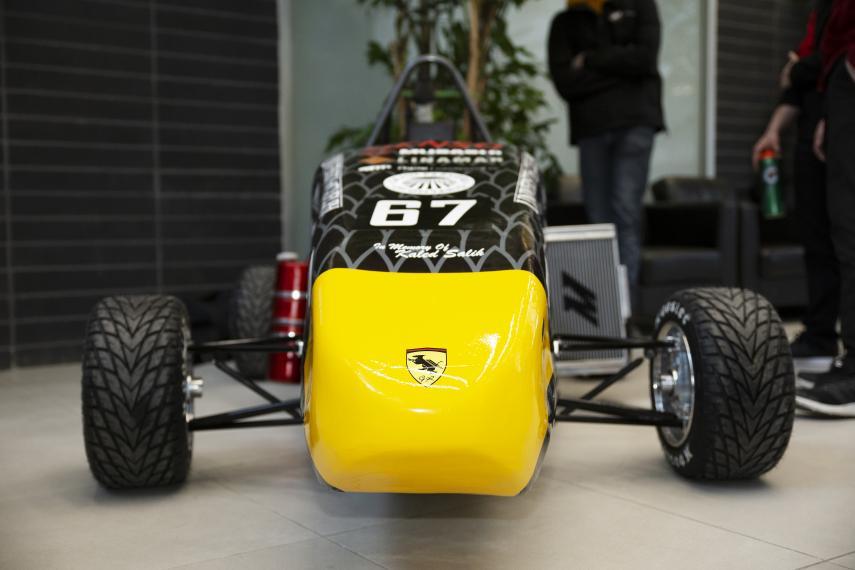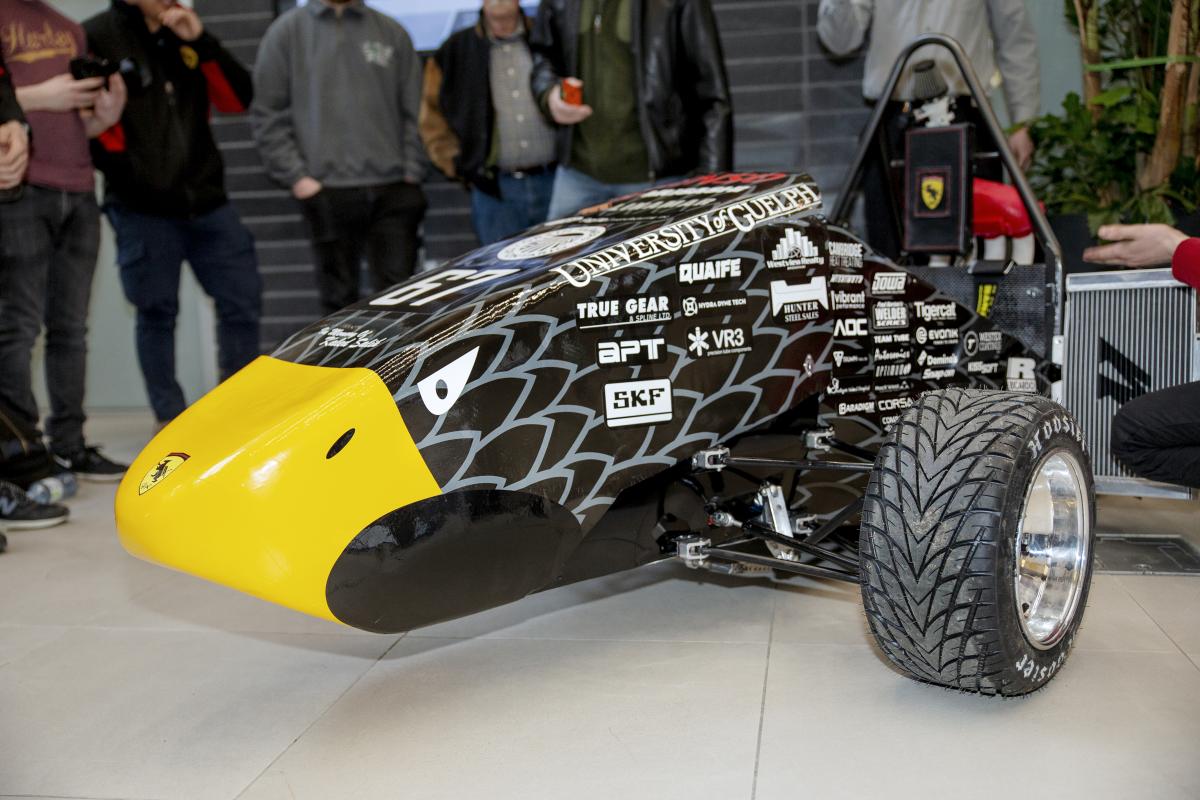 Hidden under a cloth of concealment lies a masterpiece of collaboration. A tour de force in which engineering study is meticulously put into practice. A moment that marks the beginning of Spring each year means a fresh new car design for the University of Guelph's Gryphon Racing team, and this year's car didn't disappoint.
Each year, thousands of students from around the World take part in Formula SAE – an annual competition, hosted by the Society of Automotive Engineers (SAE), that puts engineering students to the test in their field. Using in-class knowledge and applying it hands-on in a real-world scenario, students design, fabricate, test, and compete with their custom built, open-wheeled, high-performance race car.
Dr. Franco Vaccarino, University of Guelph President, has been an advocate of the team since he came to Guelph, so much so that the team has made him an honorary member. "The University of Guelph is incredibly proud of our Gryphon Racing Team and the dedication and hard work of all the team members each year." he said of the team. "The efforts and successes of our students are a great example of the power of 'knowledge in action', as they take the foundations built here at the University of Guelph and apply them to reach new heights!"
In a few short weeks, our Gryphon Racing team will be travelling to Michigan International Speedway for the annual competition with this year's car: GRC-19. The concept behind the FSAE competition is that students have been contracted by a fictional manufacturing company, to design and develop a prototype formula-style race car. The goal is to create a vehicle that best meets all the design and performance requirements, to be profitably built and marketed.
Following a technical inspection, each design is evaluated in various events by a panel of judges: the 'static events' cover design, cost/manufacturing analysis, and presentation; and the 'dynamic events' including acceleration, skidpad, autocross, fuel economy, and endurance.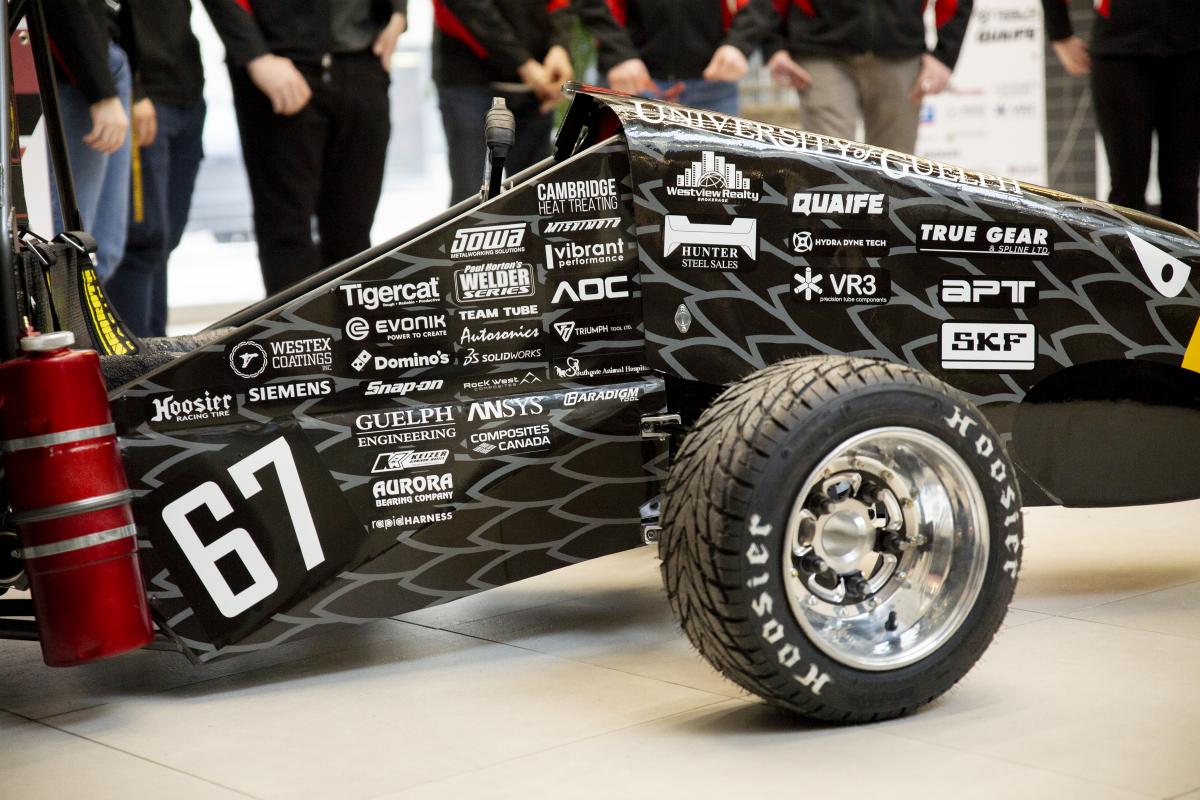 Improving on recent designs, the team has designed smaller diameter rims and an entirely new chain based drivetrain layout, which will decrease the weight of the vehicle, in hopes of creating a lighter and faster car than ever before. The rims are currently in the testing phase, and will be ready for 2020. Guelph finished FSAE 2018 in 63rd place overall – but placing in an impressive 14th place for the acceleration event – something the team wishes to continue to improve on.
This year, 120 international teams have registered to compete in Formula SAE 2019, all vying for that top contender position. "I am delighted to be an honourary member of the Gryphon Racing Team and look forward to seeing the results of this year's Formula SAE competition." says Vaccarino.
Now in its 17th year, Gryphon Racing has about 45 members, both undergraduate and graduate students – a big expansion from the first team of only 4 students in 2002.
The team's co-captain and ergonomic lead is Lianna van der Zalm, a 4th-year Biological Engineering student. "[I really enjoy] being able to escape from the busy lifestyle of school and focus on working with a team of dedicated students to design, build and compete with a car completely made by us" she said of the experience.
The Guelph Gryphon Racing team has an advantage of applying knowledge, concepts, and ideas from 7 engineering disciplines offered at the University of Guelph. From the physical construction of the prototype (Mechanical Engineering) to ergonomics (Biomedical and Biological Engineering) to the inner workings of the car (Computer Engineering and Systems & Computing). All areas of engineering are considered when designing the best possible car to represent the University of Guelph.
Although students work on the car in their spare time and don't receive any academic credit for the efforts, they can't help but relish in the true benefits of being members of the Gryphon Racing Team. "We're working with industry, developing together to transition from student to professional" said Michael Sayadeth, a third year Mechanical Engineering student, whose involvement includes working on the design and manufacturing of the vehicle's frame. Sayadeth goes on to add that "being able to apply an engineering mindset to a project outside of class", is something he enjoys most about being part of the racing team.
Atli Eyvindson, a fifth-year Mechanical Engineering student at the University of Guelph, and captain of the School's Gryphon Racing Team, added: "[working on the Formula SAE car] is like co-op – it gives you the opportunity to practice in a real-world setting". Many students go on to have co-op placements and careers with the team's sponsoring companies as well.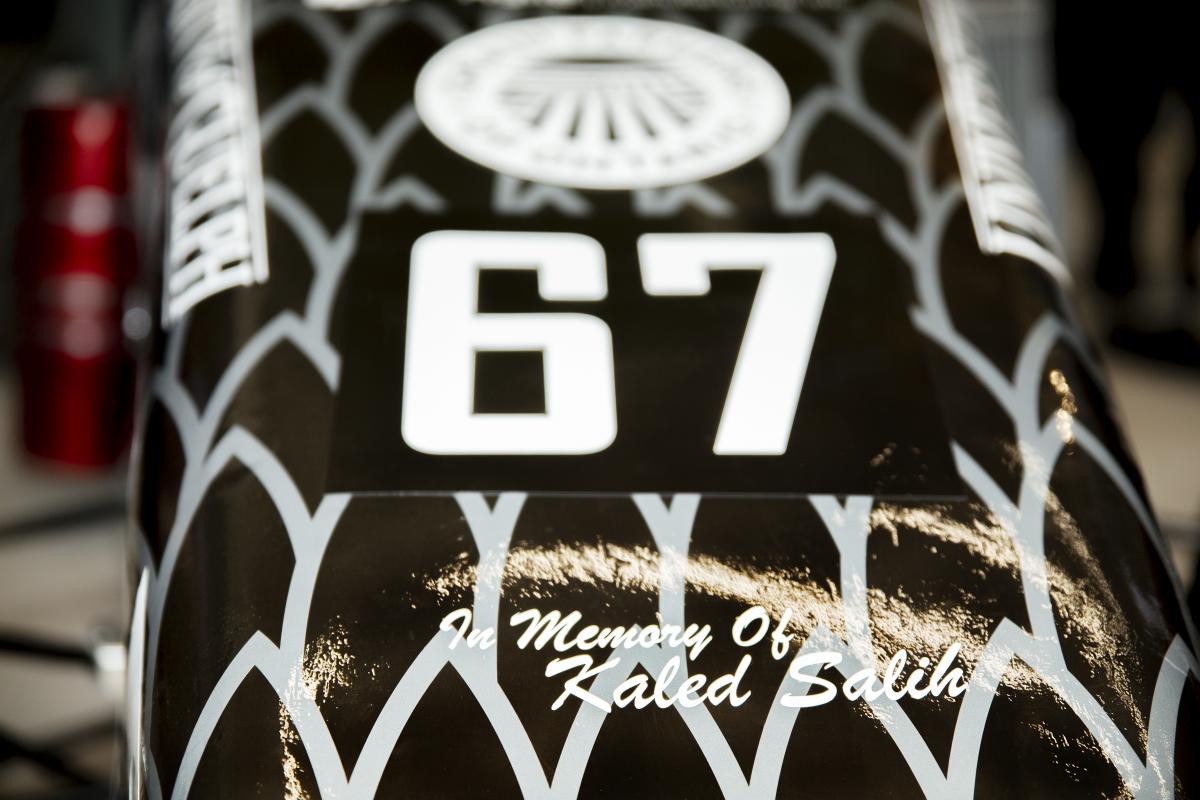 One couldn't help but notice the subtle, yet respectfully placed dedication on this year's car; 'In Memory of Kaled Salih' gracefully adorns the front hood of the 'Gryphon-styled' race car. Former Gryphon Racing team member Salih, tragically drowned last summer while touring in Thailand. A dedication on this year's car is a small but much deserved token of appreciation for everything he had brought to the team.
Each year the team evolves and reinvents itself. New members join and veteran members graduate. The car too has evolved in both design and construction. "We try and build on our successes" in terms of both the car and how the team functions, said Dr. John Runciman, Interim Director of the School of Engineering and long time faculty advisor to the team. "We have a lot of history here" and there is a sense of continuing something that others have also contributed to. We have former members who still come by the shop to offer support and advice, in some cases years after graduating. It has a strong sense of community.
The team is now looking forward to the arrival of drier weather and the chance to begin running and testing their new car. During this phase, they will be using it in closed parking lots on campus while the drivers hone their skills and adjustments are made to the car. By the middle of May, they will be racing in Michigan.
Follow Gryphon Racing!
Facebook: @GryphonRacing
Twitter: @UoGFSAE

---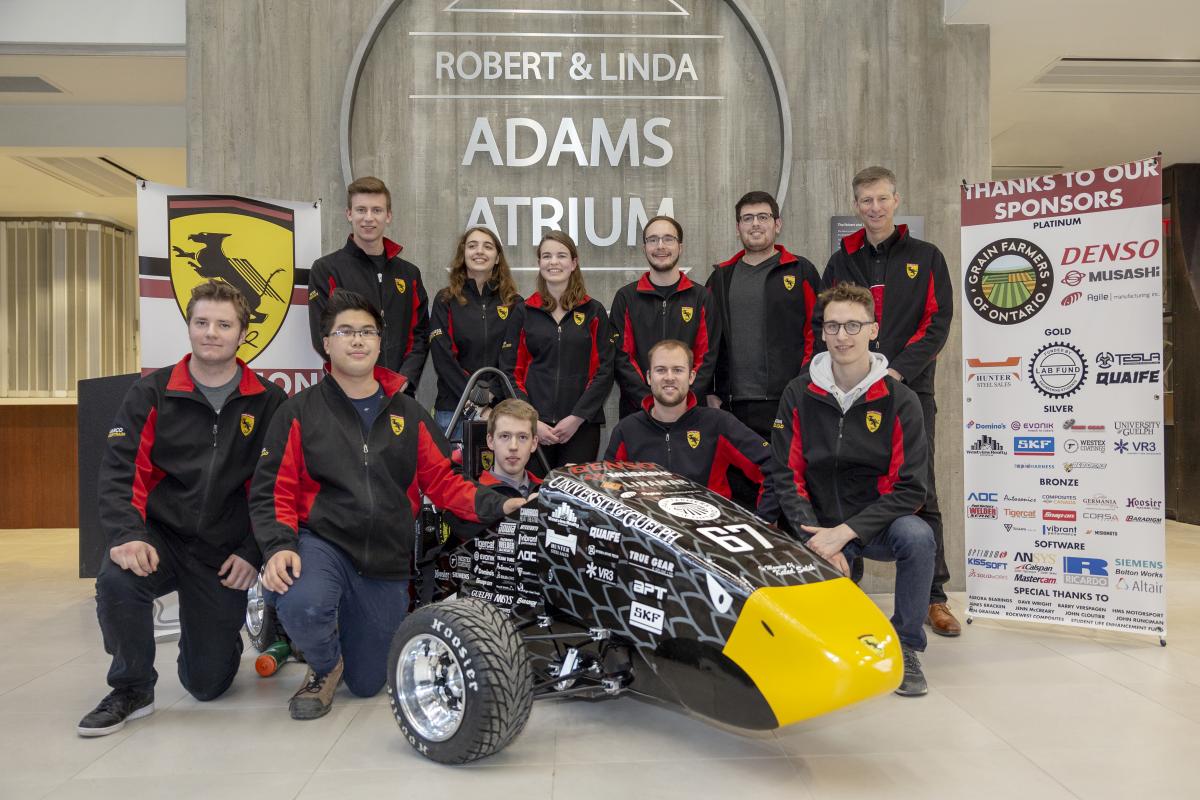 Formula SAE 2019 Event Details:
Date: May 8 – 11
Location: Michigan International Speedway
Event Details: 2019 Formula SAE