Hospitality and Tourism Management (BComm program)

---
Students in Lang's Hospitality and Tourism Management major choose one area of emphasis to study: Hotel and Lodging; Restaurant and Foodservice; or Tourism Management. Your choice prepares you to assume a leadership role in an industry with a current shortage of professionals. You will be exposed to the latest principles and practices of hotel operations; foodservices; and tourism policy, planning and development. You will graduate with a Bachelor of Commerce degree, expanding your career possibilities even further by giving you a foundation of transferable business skills in human resources, marketing, accounting and finance.
This major focuses on experiential learning, where theory is applied to real-world situations. You can create your own independent study course, study in another country while on a semester exchange, and attend numerous networking events with industry leaders. Students in the co-op option will participate in a paid one-year work term, in Canada or abroad.
Restaurant Operations Management: Students gain a hands-on understanding of scheduling, purchasing, costing, nutritional analysis, and food safety while working at the student-run Pj's Restaurant.
Hospitality and Tourism Industry Consultation: A project-based course where students work with actual clients in the foodservice and hospitality industry to recommend the best courses of action for their business.
Destination Management and Marketing: Students examine the implications of developing a tourism industry within specific domestic and international communities.
---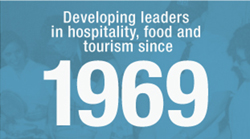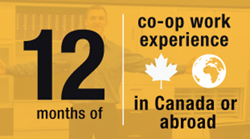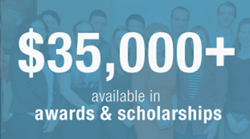 ---
Join our renowned student community

Life as a university student is about more than the lecture hall.
At Lang, we want you to experience the student life we're known for, and that means joining clubs, staying active and discovering Guelph both as a place for top-notch education and a community you can be proud of.
Learn more about student life in our Hospitality and Tourism Management major.
---
Build your career
Graduates of the School of Hospitality, Food and Tourism Management are employed by some of the most recognizable brands and companies in the world.
Marriott Hotels
Earls Restaurants
Hilton Hotels
Blue Mountain Resorts
CBRE Hotels
Four Seasons Hotels
Oliver & Bonacini Restaurants
Royal Caribbean International
Job titles of recent hospitality and tourism management graduates:
Hotel/restaurant manager
Event planner
Destination tourism planner
Resort recreation director
Conference manager
Hotel investment analyst
---
Meet our alumni
Many business leaders have graduated from the University of Guelph's Bachelor of Commerce program. Meet some of our Hospitality, Food and Tourism Management alumni.
View the full list of our notable alumni