First-year students compete in stock pitch competition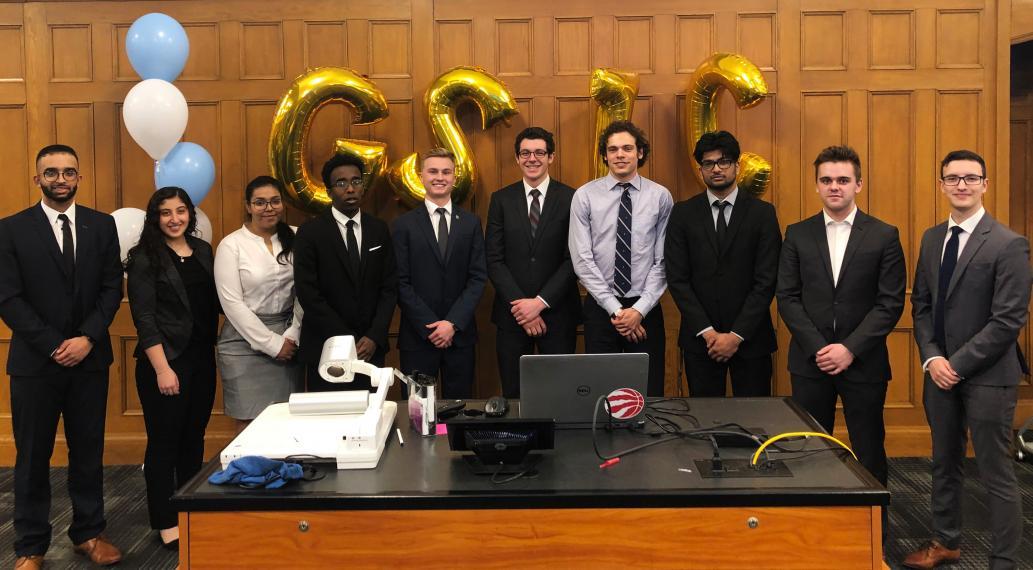 The Guelph Student Investment Council (GSIC) hosted their second annual Battle of the PA event on Thursday, March 28th, a stock-pitch competition featuring first-year GSIC analysts.
The competition included all ten first-year analysts, who created and pitched their very first stock pitches. The first-year analysts joined the team in October, with a few months to gain as much knowledge and information as possible before their big pitch.
Congratulations to the 2019 winners: Joel Duffy (Bachelor of Commerce, Management, Economics and Finance) and Fizzah Khan (Bachelor of Engineering).
This year's event also featured several GSIC alumni and faculty members from the Economics and Finance department. After the pitch competition, attendees concluded the event with a social at the University Club, where several GSIC members received distinguished awards. The GSIC team was also proud to recognize Lang Business professor Nikola Gradojevic for his outstanding commitment to GSIC.
"I'm very proud to see how much GSIC has progressed in my four years of being involved," said Ryan Padum, internal manager for GSIC. "Our team not only succeeded in investment analysis and running a portfolio this year, but we also took our talents to the National scale, successfully competing and placing at national competitions."
Earlier this year, the GSIC team successfully competed at both the 2019 Battle on Bay competition and the 2019 Odette Border City Financial Case Competition, where they placed third at both competitions.
"With the announcement of the Gordon S. Lang School of Business and Economics last week, I am certain that Lang Business will be a powerhouse in the finance world in the years to come, through our performance in the classroom, within case competitions, and in the work force," continued Padum.
Congratulations to GSIC on an incredibly successful year.
---
The Guelph Student Investment Council is a finance club on campus that runs a concentrated portfolio operating in the small and mid-cap North American market. Through a recent donation from Fidelity Investments Canada, the finance club received $100,000 to invest in the stock market.
Share this page
News Topics