Lang celebrates teaching award winners at inaugural teaching and learning seminar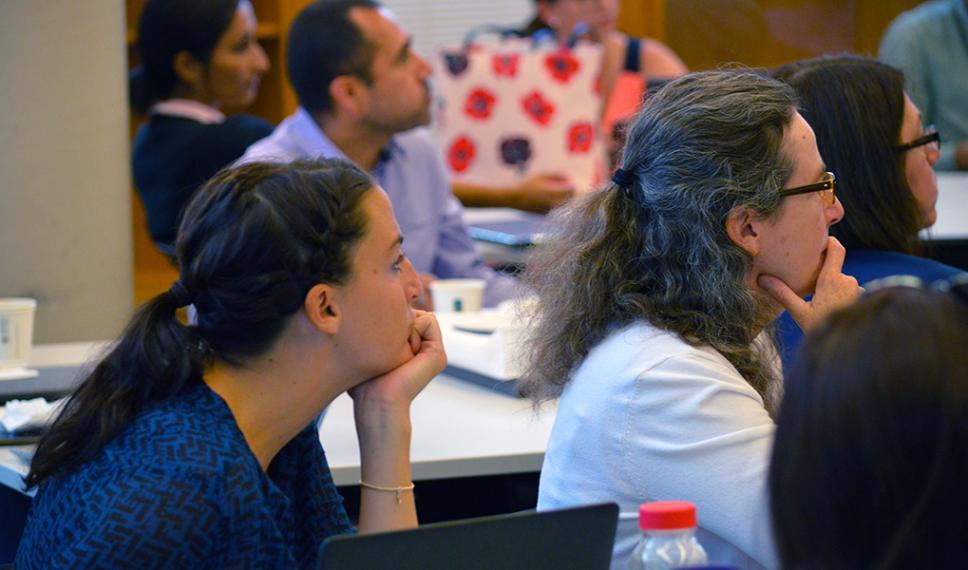 Last week, the Gordon S. Lang School of Business and Economics hosted its inaugural Teaching and Learning Seminar, part of a new ongoing series of seminars that will focus on sharing new ideas around innovative teaching and learning practices.
The seminars are an extension of Lang's commitment to active learning to foster supportive and challenging learning environments for Lang students.
The inaugural seminar was led by Owen Wooding, an expert on the use of technology in the classroom. It explored the effective use of student response systems in the classroom, which can be used to provide formative feedback to both the students and the instructor on how well they are learning and understanding course content.
The event was also a chance to recognize two Lang faculty members with the MacPherson Teaching Awards of Excellence. These awards recognize excellence in teaching and learning across a variety of areas, including classroom instruction, graduate teaching and supervision, course design and curriculum development, producing learning materials, and the development of innovative teaching methods.
Congratulations to this year's recipients, Ilias Tsiakas and Ruben Burga.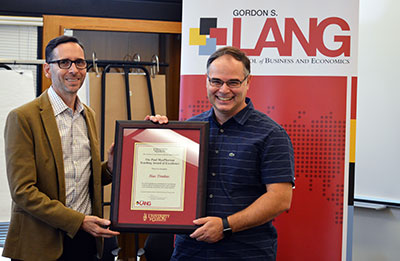 Tsiakas was recognized for teaching and learning excellence in his commitment to 'learning by doing' both inside and outside the classroom. He effectively incorporates case studies in his classes and works with students to solve real problems. Outside the classroom, Tsiakas acts as a faculty advisor for the Guelph Student Investment Council (GSIC), a group of finance and economics students who trade on the TSX and other major exchanges with a $100,000 investment from the Fidelity Investments Canada Student Opportunity Fund.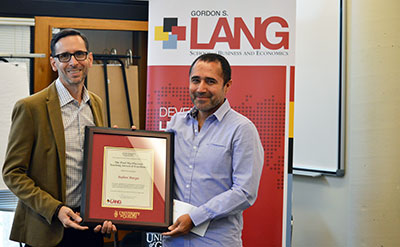 Burga was recognized for his commitment to teaching and learning excellence in course design and curriculum development. He demonstrates his commitment to active learning in the design of all his courses, including his use of live case studies in MGMT*3020: Corporate Social Responsibility. Over the last two years, Burga has also taken a lead on designing and delivering experiential learning opportunities through the Campobello field course.
---
The Gordon S. Lang School of Business and Economics values pedagogies that foster student engagement. Lang faculty and instructors are committed to providing a supportive and challenging learning environment, in which students apply theory to real-world problems, work collaboratively, and develop essential and transferable skills. Learn more about Lang Teaching and Learning Initiatives.
Share this page
News Topics