Desires, Fears and Success: Jennifer Smith and HeForShe at U of G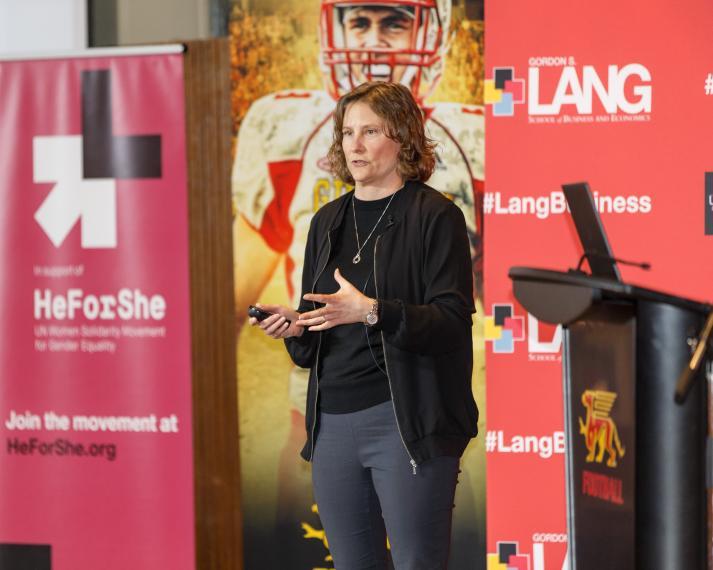 On Wednesday, March 11th the Gordon S. Lang School of Business and Economics teamed up with Gryphon Football and the College of Engineering and Physical Sciences to host the third annual HeForShe at U of G.
The annual event is dedicated to the UN-led HeForShe campaign and celebrates the strength and resilience of our community. As part of the event, an inspiring female leader is invited to campus each year to provide a keynote for staff, faculty, students and the community.
The third annual event was a record year, including 280 registered guests for the public event, over 340 pledges to the HeForShe campaign, over 100 gender equality workshop attendees, and $15,000 given to student and community leaders to support gender equality.
This year's event featured Jennifer Smith, Senior Vice President of Technology and Operations at Cineplex Digital Media. As keynote, Jennifer shared her powerful story of strength and resilience, leading the audience through her challenging journey as a woman in the engineering and technology industry. Towards the end of her keynote, Jennifer shared stories of those who stood by her as an ally as she navigated the male-dominated industry, inspiring the audience to stand up and be an active ally for gender equality.
"I am proud and grateful for the people who stood by me throughout my journey. I have a list of people who supported me, and I'm confident that everyone here can and will be that person for someone else," – Jennifer Smith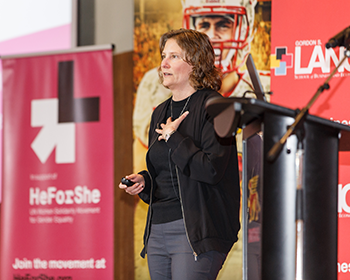 At the event, U of G student and member of Gryphon Football AJ Allen addressed the crowd and spoke about the importance of breaking down stereotypes and joining the conversation around gender equality. Joined by several members of Gryphon Football, AJ called on his teammates and the audience to stand together with women as agents of change to achieve gender equality.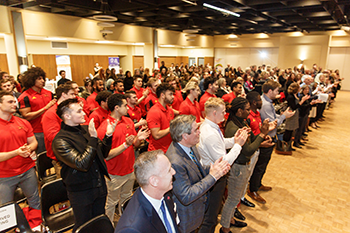 In addition to Jennifer's keynote, the event was also a chance to announce the recipients of several HeForShe-inspired scholarships and awards, including:
Jennifer Smith Resilience Scholarships: two $5,000 scholarships awarded to a female business student and engineering student to recognize their tremendous strength and resilience throughout their lives
HeForShe Ally Scholarship: a $2,500 scholarship awarded to a University of Guelph student who has demonstrated through their actions and support that they are an ally committed to gender equality
HeForShe Impact Award: an award to recognize a local Guelph-Wellington organization that actively promotes and improves gender equality through initiatives within their organization and the community
The recipients of the Jennifer Smith Resilience Scholarships were Emily Kaldis (Bachelor of Commerce) and Joelle Tiangco (Bachelor of Engineering).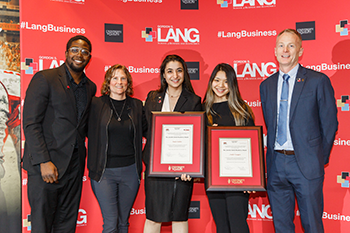 The recipient of the inaugural HeForShe Ally Scholarship was Bailey Fuller, who was recognized for her tremendous work and support within inclusion, equality, and equity on campus. Bailey is a student at the U of G's Ontario Veterinary College in the Doctor of Veterinary Medicine program.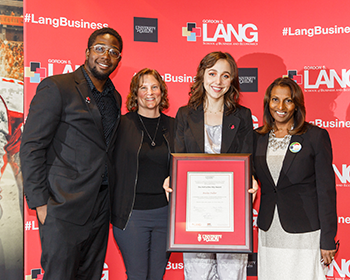 The recipient of the inaugural HeForShe Impact award was Rhyze, a program led by Innovation Guelph that cultivates women's entrepreneurial spirit and guides them to elevate their businesses. In addition to receiving the award, a $2,500 donation was made to Guelph Women in Crisis on their behalf thanks to the generous support of the Angel Gabriel Foundation.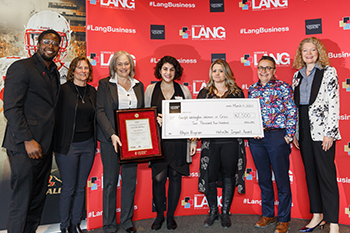 Leading up to the event, students from the Lang School facilitated several workshops for staff, faculty and students to engage in an honest conversation about inclusion and gender equality. Over 100 people participated in the workshops with the bold objective of breaking down barriers and stereotypes.
The Lang School would like to thank Gryphon Football and the College of Engineering and Physical Sciences for their support with the event. A special thank you to Jennifer Smith, the community, local organizations, and community leaders for being part of the 2020 HeForShe at U of G.
---
In previous years, HeForShe at U of G had the honour of hosting the Lisa Lisson, president of FedEx Canada, and award-winning journalist Amanda Lang.
About Jennifer Smith
Jennifer is an engaging executive with deep expertise in bringing products and services to market. Over the past two decades, her career has spanned technologies from satellite communications to laser projectors, markets from media and entertainment to military and customers from NASDAQ to Disney.
In her current role as Senior Vice President of Technology & Operations at Cineplex Digital Media, a key growth division of Cineplex, Jennifer is responsible for strategy development and operational execution of the technology, product, data and customer success teams. Dedicated to helping retailers and brands build impactful customer experiences in the rapidly evolving digital-out-of-home market; capitalizing on the trends in IoT, mobile and data analytics to create seamless customer journeys between online and offline places.
She is a change agent, profit and market share driver, who builds high-performance teams in high growth, rapidly changing environments. Jennifer is personally passionate about STEM fields and advocating for STEM career choices among young women. She is a recipient of Top 40 Under 40, Entrepreneurship and Innovation, Alumnus and other industry awards.
About the HeForShe Initiative
HeForShe is a solidarity campaign for the advancement of gender equality, initiated by the UN. Its goal is to achieve equality by encouraging all genders to partake as agents of change and take action against negative stereotypes and behaviours. Grounded in the idea that gender inequality is an issue that affects all people—socially, economically and politically—it seeks to actively involve men and boys in a movement that was originally conceived as "a struggle for women by women".
Share this page
News Topics