Lang student sees opportunity in online learning and starts her own business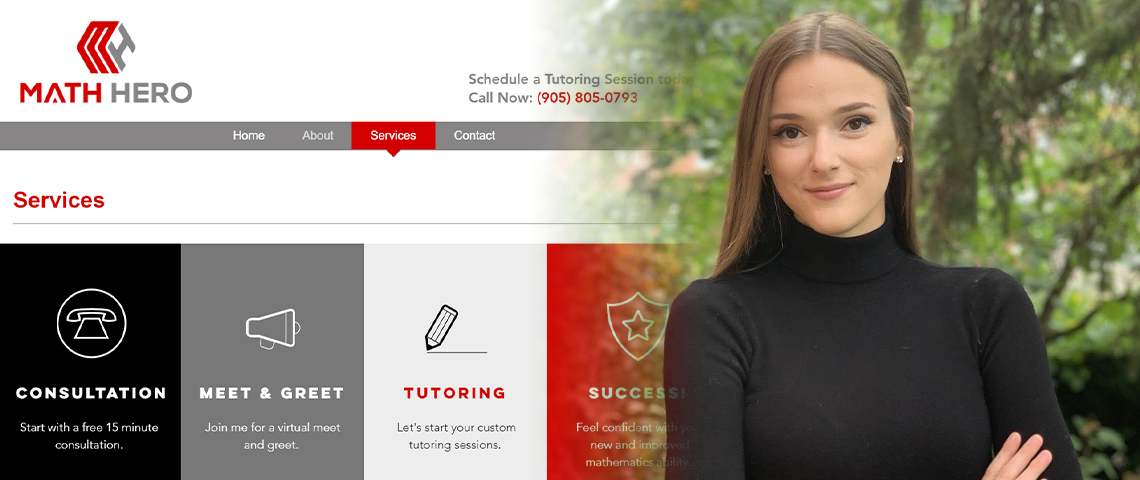 Facing an unprecedented and challenging summer for student placements and internships, fifth-year marketing management student Michelle Kozdras decided to take control and launch her own summer service: Math Hero.
Math Hero is a virtual mathematics tutoring service that aims to provide services that go beyond traditional tutoring services. Through the platform, students receive one-on-one virtual tutoring sessions aimed to stimulate education, confidence, and prepare students for the upcoming year.
With students of all class levels learning from home and restrictions on in-person gatherings, Michelle recognized that it would be a great time to scale the online service this summer and help students prepare for the next school year.
"My entrepreneurial journey started because of my passion for mathematics and a dream of starting my own business," said Michelle. "With the current need for online learning, I knew that my online tutoring service could fill a void and provide the best experience for my clients."
With the support of the U of G's E-Coop Hub Incubator Program, Michelle launched Math Hero in time for the summer and will provide online tutoring services at the elementary and secondary school levels, as well as a program for University of Guelph students in Business Mathematics (MATH*1030).
For more information about Michelle's business, visit 

https://www.mathhero.ca/
---
After many co-op placements were postponed because of the impact of the COVID-19 pandemic on the economy, U of G's Co-op and Career Services teamed up with the John F. Wood Centre to develop the E-Coop Hub Incubator Program. The program provides students with entrepreneurial education and experience during the pandemic. An extension of the Wood Centre's  successful Hub Incubator Program - which supports early-stage business ideas with high-potential, but unproven business models – the E-Coop Hub Program will enable ten co-op students to spend the next 4 months receiving mentorship, education, and financial support to help them bring their business idea to life.
Share this page
News Topics