Lang launches new MSc program with a focus on entrepreneurship and innovation.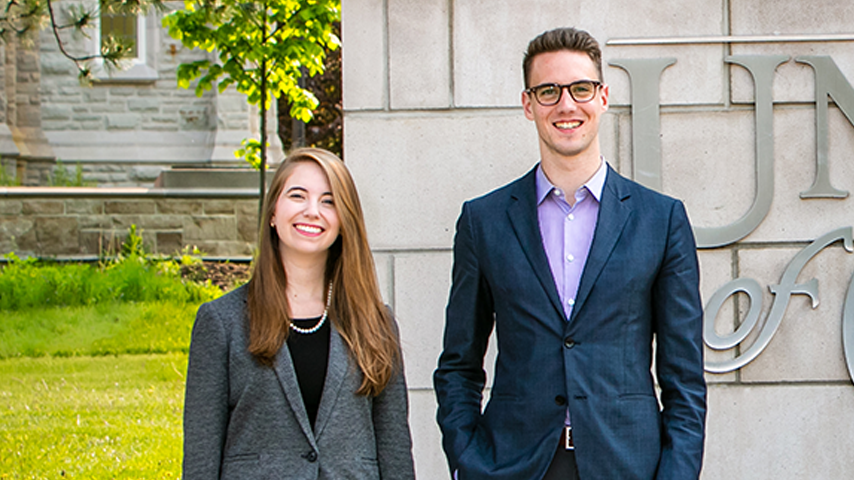 The new MSc in Management program includes a STEM-focused field for students hoping to build a career as an entrepreneur or as an commercialization expert.
The newly created Master of Science (MSc) in Management program will include a new field in Innovation, Commercialization and Entrepreneurship (ICE), ideal for students from a wide range of fields, including STEM-related disciplines.
The creation of the ICE field aligns with Lang's focus on innovation and entrepreneurial training and will provide students with the skills and abilities needed work in a knowledge-based economy. Graduates can expect to work in sectors such as agriculture-food science, environmental and natural sciences, and engineering among others.
"The MSc in Management, and the ICE field in particular are critical additions to the MSc programming in the Lang School. The world is facing significant challenges right now that will require people with the skill to turn scientific and technical ideas into realities. Students graduating with a degree focused on innovation, commercialization and entrepreneurship will be uniquely positioned to translate ideas into marketable solutions."

Sean Lyons, associate dean, research and graduate studies.
The new field complements Lang's already strong focus on entrepreneurship and innovation through the John F. Wood Centre for Business and Student Enterprise. The Wood Centre provides entrepreneurial programming, training, funding and mentorship for the U of G campus community who wish to start a business.
In addition to the ICE field, students enrolled in the MSc in Management program can also elect to specialize in Management Research or Accounting.
Students within the Management Research field will gain an understanding of evidence-based management - an emerging focus in management studies that involve the generation of principles based on research evidence, which are translated into practices to solve organizational problems. The program's focus on evidence-based management makes it fundamentally different from general degrees such as an MBA or other graduate programs in management.
"Evidence-based management is an emergent field in management studies that involve the generation of principles based on research evidence," says Davar Rezania, chair of Lang's Department of Management. "This evidence is crucial in making important decisions to solve organizational problems."
Students in the management research field complete a thesis, ideal for those looking to gain scholarly research skills for careers in management or to pursue their PhD in management and leadership studies.
Students within the Accounting field master the skills needed in financial and managerial accounting while fulfilling the requirements of the first four modules of the CPA's Professional Education Program. Lang's accounting program is accredited by the CPA of Ontario.
Lang's new MSc program replaces the Master of Arts in Management program which was launched in 2016.
For more information on the MSc in Management program, including admissions information, visit the program information page.

---
Meet our Students
Lang graduate students are creating a network of researchers, and practitioners who are committed to a sustainable future
Learn more about Lang's Net Impact graduate student group
---
Share this page
Find related news by keyword
News Topics