Noted politician and diplomat Stephen Lewis emphasizes need for ethical and responsible leadership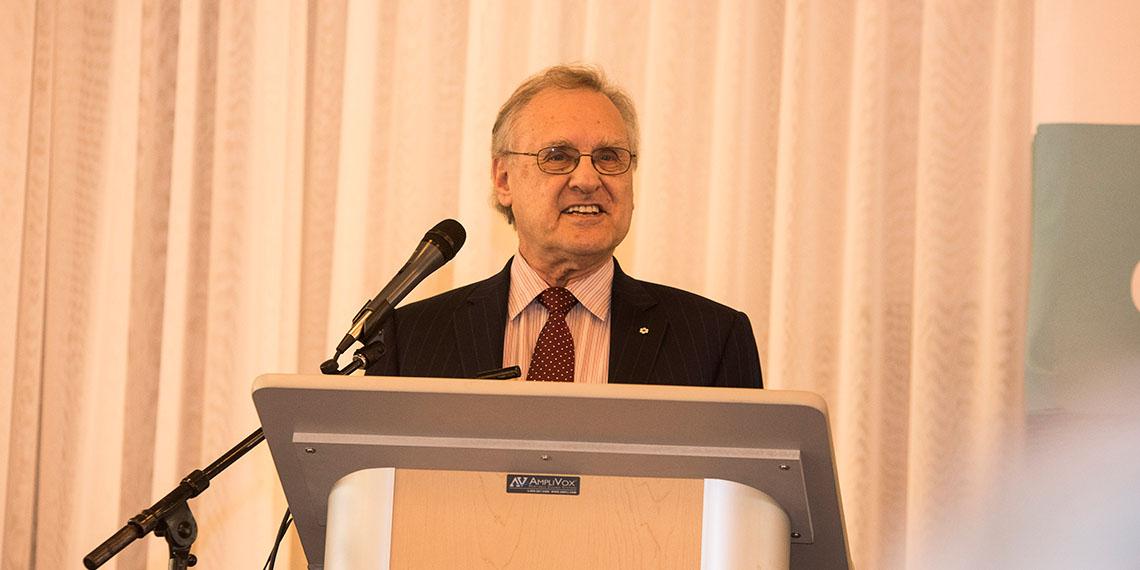 Stephen Lewis has spent much of his career in the public eye fighting to make the world a fair, equal and just place, a battle that continues to become increasingly challenging and crucial to the future of the planet and its people. This was the message he shared with MA Leadership students and alumni at the Luminary Leader Speaker Series event held on Thursday, marking the conclusion of the MA Leadership residential week.
Lewis framed his address around the UN's Sustainable Development Goals (SDGs), emphasizing climate change and global warming, global public health and gender equality. He passionately encouraged attendees to use the leadership skills gained through the program to support these goals.
"The Sustainable Development Goals embrace the needs of all nations, Canada, other wealthy nations and impoverished countries," he said. "All of us have a tremendous obligation to stand up for change."
Attendees were reminded of the atrocities happening around the world, which are easy to overlook in peaceful democratic nations like Canada. When speaking about the SDGs he reflected on his time spent abroad where he witnessed firsthand the consequences of corrupt leaders in some of the world's poorest countries. He specifically referenced the absence of health care and medications for Tuberculosis and HIV/AIDS and the extreme sexual brutalities committed against women, calling gender equality "the single most important issue on the planet." He also spoke to the lack of global government support of climate change policy.
"Leadership is not cerebral, it's a matter of taking convictions into the community," he said. "We need to show that Canadians have a conscience and a voice."
Lewis encouraged attendees to remember their personal principles and use them as a foundation in their future leadership endeavors. He stressed the importance of supporting organizations, large and small, that work to achieve the SDGs, as well as being compassionate leaders who honour personal relationships.
"Leadership rests strongly on principles," he added. "A set of principles gives you an anchor."
Learn more about our MA Leadership program.
Share this page
Find related news by keyword
News Topics