AHL User's Guide and Fee Schedule - May 1, 2021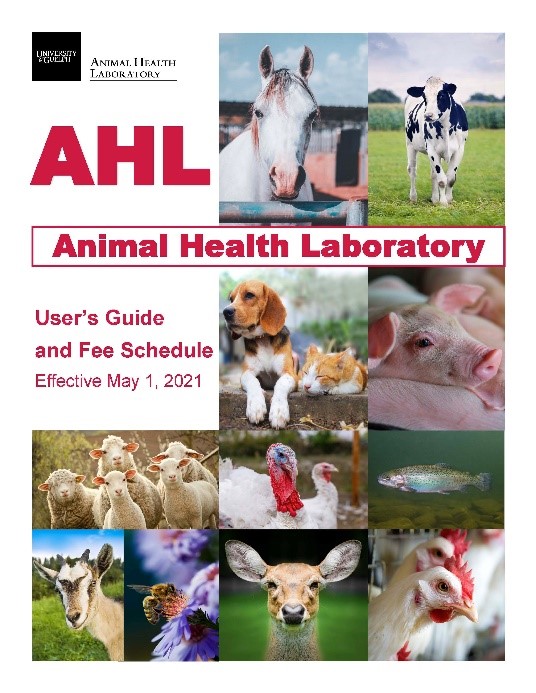 Includes test information, new tests, new test panels, and more!
Mobile friendly!
Available on-line at https://www.uoguelph.ca/ahl/
Test information is linked to LabNotes to facilitate test selection and interpretation of results.
New tests since May 2020:
Anaplasma marginale

and A. centrale duplex qPCR

Renibacterium salmoninarum

qPCR (Bacterial Kidney Disease)

Swine dystrophin genotyping

African Swine Fever PCR Surveillance

Rotavirus, group A,B,C – Sequencing

Avian metapneumovirus (AMPV) – ELISA

Ureaplasma culture, semen

Bacterial count, total viable in fish feces

Bovine comprehensive respiratory panel

Cryptosporidium

species PCR

Bovine astrovirus – PCR

Hatchery - excess mortality - Salmonella culture
Hatchery, reactor - Salmonella culture

Whole Genome Sequencing

Campylobacter fetus

sbsp venerealis – Bacterial culture

Salmonella

Dublin – qPCR.
Online fee schedule
Please note: The fee schedule is available only to veterinarians, veterinary organizations, and researchers. We have changed the login and all clients must now have a unique username and password.
Please visit https://www.uoguelph.ca/ahl/user/register to register.  (Internal University of Guelph clients – please email ahlinfo@uoguelph.ca for set up.)
Questions? ahlinfo@uoguelph.ca (519) 824-4120 ext 54530.
AHL Specimen Reception update
We hope everyone is enjoying the warmer weather.  Summer brings extra precautions when shipping parcels with perishable diagnostic specimens, so don't forget those ice packs!
The vestibule at AHL Guelph is available from 7AM to 10PM every day for drop-off of submissions.
Please remember that samples dropped off must be packaged to prevent leakage similar to sending by courier!  And also remember to include a fully completed submission form!  We don't like to play detective!
On our main AHL website page are 4 videos – a virtual tour of the lab and 3 videos related to filling out the submission form, packaging and splitting and preparing samples.  Please have a look!
Here are some pertinent points to consider during the summer months.  Although the couriers are somewhat more reliable now, there are still times when submissions can be delayed.  There will be concerns around critical temperature-sensitive testing unless extra precautions are taken.
From our Labnote 27: https://www.uoguelph.ca/ahl/submissions/ahl-labnote-27-submission-instructions
Separate serum from clot after complete blood clotting has taken place.

Always include a blood smear for all complete blood count (CBC) samples.

Use styrofoam insulating containers and freezer packs (Fig. 1).

Wrap samples in insulating material (e.g. paper).

Ship earlier in the week to avoid hold-overs on the weekend.
Figure 1. Styrofoam container, ice packs and packaging material for optimal transport of lab submissions.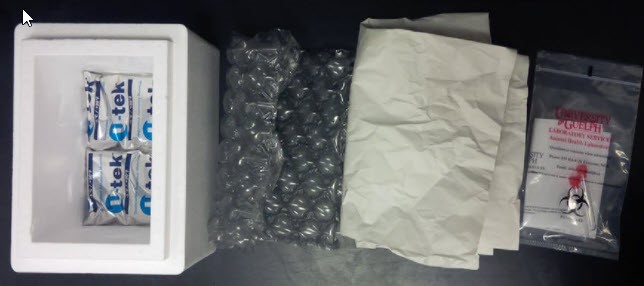 Thanks very much for your patience and understanding.
ahlinfo@uoguelph.ca   (519) 824-4120 ext 54530.
Jim Fairles, Jennifer Zoethout, Client Services and Specimen Reception.