AHL Newsletter December 2018
Click here for a pdf copy of the December 2018 AHL Newsletter.
AHL Holiday Hours, 2018/19
Season's Greetings from the staff of the animal Health Laboratory
Except for closure on Christmas Day, Dec 25, the AHL is open every day with limited services; the U of Guelph is officially closed Saturday, Dec 22 through Tuesday, Jan 1, 2019.
Guelph – Usual Saturday services = specimen reception, emergency mammalian PMs, full bacteriology set-up, as well as clinical pathology testing.
Guelph - Statutory holiday services and usual Sunday services include: specimen receiving, emergency mammalian PMs, and bacteriology set-up.
AHL-Kemptville - open December 24, 27, 28, and 31.
Guelph and Kemptville drop box and/or fridges are available 365/24/7 for specimen drop off.
For full details, please see our website – www.ahl.uoguelph.ca
---
Cold weather shipping reminder  
Jim Fairles
It's that time of year again when we need to start thinking about preventing samples from freezing. Specimens such as EDTA blood are rendered useless when frozen. Formalin will also freeze, which creates artifacts in fixed tissue. It can be difficult to protect samples shipped during the winter from severe cold. Even 10% neutral-buffered formalin will freeze in harsh winter weather conditions. To inhibit or reduce formalin freezing, add 1 mL of ethanol per 10 mL of formalin. Samples that should not be frozen should 
be shipped inside insulated containers with minimal cold packs. Use of room temperature cold packs will help prevent temperatures from dipping too low. If you have any concerns about the best way to ship critical samples, please contact the AHL.  ahlinfo@uoguelph.ca
---
Fish testing is expanding at the AHL
The AHL established a fish testing section in 2014, under the leadership of Dr. Hugh Cai. Since then, we have tested a wide range of samples covering disease diagnosis and surveillance, health checks, fish movement certification and fish export certification, and have reported several CFIA reportable diseases. Recently, Dr. Heindrich Snyman joined the AHL in Kemptville. Dr. Snyman has 5 years experience in fish pathology and he will deal with histopathology for research fish and aquarium fish and provide case coordination. Dr. Nikki LePage will continue as our consulting fish pathologist with a focus on commercial aquaculture fish. The AHL fish lab test spectrum includes:
* Gross and histopathology.
* Gill and skin scraping wet mount microscopy examinations.
* Bacterial culture and antimicrobial resistance testing, MALDI-TOF MS and DNA sequencing.
* PCR for infectious salmon anemia virus (ISAV), Koi herpesvirus (KHV), infectious hematopoietic necrosis virus (IHNV).
* PCR for viral hemorrhagic septicemia virus (VHSV), Myxobolus cerebralis (whirling disease pathogen). Both tests are ISO 17025:2005 accredited, as shown by the scopes posted on our website.   AHL
---
Premises ID and Client Portal  
Jim Fairles, Josie Given
In partnership with OMAFRA, the Animal Health Laboratory is now offering to help facilitate veterinary clinics and their clients in obtaining their Premises ID (PID). A single agreement with AHL is to be signed by the clinic stating that any premises information provided to the laboratory was done with the client's consent. Together, we can work to quickly and efficiently get the PID numbers added to your client database. Once the client has been assigned a PID, a PPR certificate will be either emailed (preferred) or sent by mail to the owner of the premises.
AHL is now rolling out a Client Portal.  Once your client PIDs are obtained, using the portal will standardize your diagnostic submissions (spelling of owner names, PID, farm name, trending, etc.)
Þ Create your submissions online, in-clinic, ensuring proper spelling, PIDs and demographics.
Þ Track the progress of your cases, edit/cancel up until the specimen is received at AHL.
Þ Advanced search capabilities, design reports based on Animal ID, farm, owner, etc.
Þ Know your case # prior to sending to AHL, track its progress as results are made available.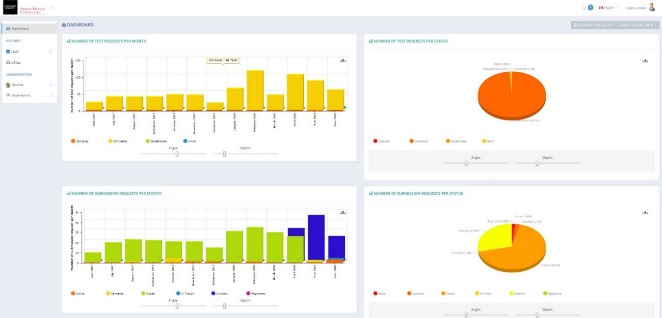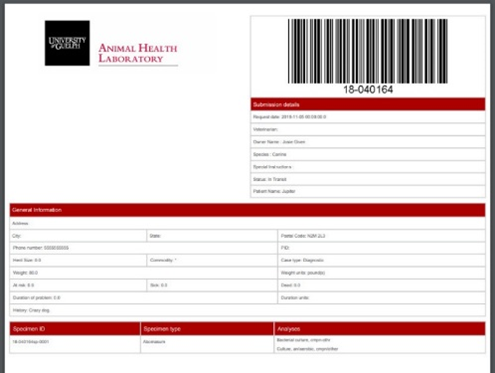 Contact Josie Given: 519-824-4120 ext 54320, or jgiven@uoguelph.ca to setup a training session today!
---
AHL Newsletter December, 2018 - Volume 22, Number 4
       Editor:  Grant Maxie, DVM, PhD, Diplomate ACVP
       Editorial Assistants:  Helen Oliver, April Nejedly
The AHL Newsletter is published quarterly (March, June, September, December) by the Animal Health Laboratory, Laboratory Services Division, University of Guelph.
Its mission is to inform AHL clients and partners about AHL current activities, and laboratory-based animal disease events and disease trends.  All material is copyright 2018.  Ideas and opinions expressed herein do not necessarily reflect the opinions of the University or the Editor.
Articles may be reprinted with the permission of the editor and with appropriate credit given to the AHL Newsletter.
Mailing address & contact information:
Animal Health Laboratory
Laboratory Services Division, University of Guelph
Box 3612, Guelph, Ontario, Canada  N1H 6R8
Phone: (519) 824-4120 ext. 54538; fax: (519) 821-8072
To receive an electronic copy of this Newsletter, please send your email address to us at holiver@uoguelph.ca
ISSN 1481-7179
Canada Post Publications number - 40064673
Contributors to this issue
- from the Animal Health Laboratory:
Marina Brash, DVM, DVSc, Diplomate ACVP
Andrew Brooks, DVM, PhD, Diplomate ACVP
Hugh Cai, DVM, MSc, DVSc
Michael Deane, BA
Josepha DeLay, DVM, DVSc, Diplomate ACVP
Jim Fairles, DVM, MBA
Josie Given, BA
Murray Hazlett, DVM, DVSc, Diplomate ACVP
Amanda Mansz, DVM, DVSc, Diplomate ACVP
Emily Martin, DVM, MSc, Diplomate ACPV
Felipe Reggeti, DVM, PhD, Diplomate ACVP
Kris Ruotsalo, DVM, DVSc, Diplomate ACVP
Nick Schrier, MSc
Durda Slavic, DVM, PhD
Maria Spinato, DVM, DVSc, Diplomate ACVP
Margaret Stalker, DVM, PhD, Diplomate ACVP
Kate Todd, DVM
Other contributors:
Luis G Arroyo LicMedVet., DVSc, PhD, DACVIM, Clinical Studies; Janet Beeler-Marfisi, DVM, DVSc, DACVP; Nancy Brochu, DVM; Brandon Lillie, DVM, PhD, DACVP; Christina McKenzie, BSc, DVM; Leonardo Susta, DVM, PhD, DACVP; Pathobiology, Michele Guerin, DVM, PhD, Population Medicine; OVC
Tim Blackwell, DVM, PhD; Csaba Varga, DVM, PhD; Andrew Vince, DVM, DVSc, Diplomate ACVP, OMAFRA
Talia Fletcher, DVM, Markdale, ON
Diana Gibbs, DVM, MSc, Burlington, ON
Mike Krystolovich, DVM, Guelph, ON
Rainee Stoddart, DVM, Barrie, ON
Our continued thanks to all of the non-author AHL clerical, technical, and professional staff who contribute to the generation of results reported in the AHL Newsletter.