AHL Newsletter, March 2016
For a pdf copy of the March 2016 AHL Newsletter click here
---
Specimen packaging videos  
Melanie Barham, Michael Deane
New!  Refresher videos for clinics submitting to the AHL.
After taking samples from your patient, you want to ensure your samples arrive in optimal condition to maximize the accuracy of your lab testing. The AHL is pleased to present a series of short videos for vets and staff who submit to AHL on our new YouTube channel. The videos feature handy tips on practical packaging of samples, as well as tips on avoiding sample degradation in transit. The videos are less than 2 minutes each, and can be accessed from any smartphone, laptop, or device with internet connection.
Check out the AHL YouTube channel now. 
https://www.youtube.com/channel/UC496n8JfABRI4l3eBgxzfTQ
Topics include:
---
Serologic evaluation – acute and convalescent titer testing at the AHL   
Jim Fairles
Serologic tests can play an important role in determining immune status or exposure of an animal to a particular disease agent. A four-fold (4X) rise in titer between acute and convalescent samples denotes seroconversion and is used as an aid in diagnosis. VN (virus neutralization) or HI (hemagglutinin inhibition) tests are biological tests and require time to complete. Samples received by Wednesday are set up and read the following week.
Acute and convalescent samples must be run and compared simultaneously.
Please make sure that acute samples are marked as such when sent to the AHL and whether a convalescent sample will follow. It is always best to hold the acute sample back in the clinic and send both at the same time. If aware, we will store acute samples until the convalescent sample is sent 3-4 weeks later. Please remember that the AHL charges for each VN test, e.g., if 5 animals require 5 VN tests (both acute and convalescent) this will result in 50 tests being charged (5 X 5 X 2). Please remember the costs when developing your testing plan.   
---
Premises identification (PID)   
Jim Fairles
Premises identification (PID) is vital to allowing traceability of animals throughout the agri-food chain, is a foundation of various Canadian animal identification programs, and is becoming mandatory in more circumstances, e.g., http://bit.ly/1OAEg38
"As of July 1, 2014 all movements of swine need to be reported to PigTrace Canada." "Registering with the Ontario Provincial Premises Registry (PPR) to get a premises ID (PID) is easy, free and voluntary."
PIDs have been used, and proved useful, in various recent disease situations, e.g., tracking PED (porcine epidemic diarrhea) cases in the recent outbreak, and in ongoing swine ARC&E (Area Regional Control and Elimination) programs for PRRSV and PEDV.
Use of PIDs is mandatory in the new round of OAHN projects (see p. 5, this issue).
From the Dairy Farmers of Ontario website: http://bit.ly/1UoFsOl  "... 94% of commercial dairy operation premises are identified in Canada. "  We strongly encourage entering PIDs on all AHL submissions.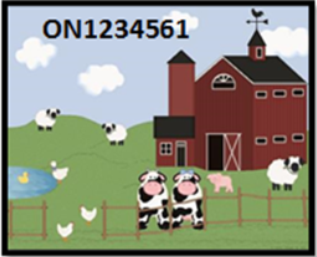 ---
Selected AHL outreach presentations, 2015
 Barham M. DSP and OAHN. OLPC - Ontario Livestock and Poultry Council, Guelph, ON. April 10, 2015.
 Brash M, Martin E, Turner P. Postmortem wet lab for the OAHN mink workshop for veterinarians, PAHL, U of Guelph, Guelph, ON, April 11, 2015.
 Brooks A. Poultry health update. OMAFRA Poultry Producer Update, St. Isidore, ON, Nov 2015.
 DeLay J, Ruotsalo K. Lunch with AHL pathologists—Getting the most for your diagnostic dollar. Annual OVMA Conference, Toronto, ON, Jan 30, 2015.
 Fairles J. AHL update presentation at the Centralia Swine Research Update, Centralia, ON. Jan 28, 2015.
 Fairles J. AHL bovine respiratory virology submissions update at 2 Merck Veterinary practitioner meetings (eastern and southwestern Ontario) June 17-18, 2015.
 Fairles J. AHL emergency management and procedures update at the Equine Foreign Animal Disease Simulation workshop. Campbellville, ON. June 23, 2015.
 Fairles J. AHL avian influenza outbreak procedures and experiences at the North American AI symposium. Am Assoc Vet Lab Diagn, Providence RI. Oct 22, 2015.
 Fairles J. AHL milk bacteriology update at Picton AH producer meeting. Picton ON. Oct 29, 2015.
 Maxie G. OAHN update, Ontario Livestock and Poultry Council, Guelph, ON, Aug 14, 2015.
 Maxie G, Barham M. Disease Surveillance Plan and Ontario Animal Health Network. "Staying ahead of the curve", 3rd annual DSP stakeholder mtg, Guelph, ON, Oct. 1, 2015.
 McEwen B. Veterinary Forensic Pathology I: State of veterinary pathology and a precedent setting case (Invited). Can Assoc Vet Pathologists, Annual Meeting, Saskatoon, SK. June, 2015
 Ouckama R, Brash M, Barham M. Ontario poultry health update, 2015 Poultry Producer Updates, OMAFRA & PIC, Brodhagen, ON. Dec 9, 2015
 Slavic D. HIPRA International Mastitis Course, Guelph, ON, Oct. 6, 2015.
 Spinato MT. "Update on small ruminant adult mortality project". SRVO, Small Ruminant Veterinarians of Ontario, Fall Continuing Education Mtg, Alliston, Oct. 28, 2015.
 Weber L, Brash M. Update on small poultry flock health and disease. Henstock II. Eden, ON. Nov 7, 2015.
---
Selected zoonotic pathogens and diseases from Ontario identified at the AHL, 2015 
Beverly McEwen, Durda Slavic, Davor Ojkic, Josepha DeLay, Hugh Cai, Margaret Stalker, Murray Hazlett, Andrew Brooks, Kristiina Ruotsalo, Jan Shapiro
Many new, emerging, and re-emerging diseases of people are caused by pathogens originating from animals, or are shared between people and animals. The AHL plays an important role in public health by identifying zoonotic pathogens in ~1,000 cases annually (Tables 1 and 2). As well, Echinococcus multilocularis was identified in 2 non-domestic animals from the same location and one dog.  These are numerator data reliant upon submission biases to the diagnostic laboratory and cannot be regarded as population prevalence estimates. Monitoring programs are not included. AHL
Table 1. Cases with selected zoonotic pathogens isolated and/or identified at the AHL, 2015
| | | | | | | | | | | | | | | | | |
| --- | --- | --- | --- | --- | --- | --- | --- | --- | --- | --- | --- | --- | --- | --- | --- | --- |
| Agent | Bovine | Swine | Equine | Ovine | Caprine | Chicken | Turkey | Canine | Feline | Other | 2015 | 2014 | 2013 | 2012 | 2011 | 2010 |
| Ascarids (T. canis, T. cati, T. leonina, Baylisascaris sp.) | 0 | 0 | 0 | 0 | 0 | 0 | 0 | 13 | 4 | 0 | 17 | 40 | 36 | 35 | ND | ND |
| Blastomyces dermatitidis | 0 | 0 | 0 | 0 | 0 | 0 | 0 | 15 | 1 | 5 | 21 | 22 | 17 | 10 | 10 | 5 |
| Bordetella bronchiseptica | 0 | 16 | 5 | 0 | 0 | 0 | 0 | 7 | 3 | 6 | 37 | 28 | 24 | 33 | 43 | 54 |
| Borrelia burgdorferi (Lyme disease), serology | 0 | 0 | 03 | 0 | 0 | 0 | 0 | 5 | 0 | 0 | 8 | 12 | 11 | 3 | 1 |   |
| Brucella sp. (non-abortus) | 0 | 0 | 0 | 0 | 0 | 0 | 0 | 0 | 0 | 0 | 0 | 1 | 0 | 0 | 0 | 0 |
| Campylobacter coli/ jejuni/ fetus subsp. fetus | 2 | 1 | 0 | 4 | 0 | 6 | 0 | 1 | 2 | 1 | 16 | 17 | 6 | 17 | 12 | 24 |
| Chlamydia sp. (C. abortus, except 1 C. psittaci in a bird) | 0 | 0 | 0 | 9 | 13 | 0 | 0 | 0 | 0 | 2 | 24 | 15 | 25 | 33 | 39 | 58 |
| Clostridium difficile | 1 | 6 | 2 | 0 | 0 | 0 | 0 | 1 | 0 | 0 | 10 | 11 | 11 | 19 | 40 | 31 |
| Coxiella burnetii (Q fever) | 4 | 0 | 0 | 16 | 24 | 0 | 0 | 0 | 0 | 0 | 44 | 55 | 28 | 36 | 99 | 115 |
| Cryptococcus sp. | 0 | 0 | 0 | 0 | 0 | 0 | 0 | 0 | 1 | 0 | 1 | 3 | 2 | 1 |   |   |
| Cryptosporidium sp. | 222 | 2 | 0 | 6 | 12 | 0 | 0 | 0 | 0 | 5 | 247 | 186 | 206 | 141 | 147 | 157 |
| Eastern equine encephalitis virus | 0 | 0 | 5 | 0 | 0 | 0 | 0 | 0 | 0 | 1 | 6 | 25 | 1 | 0 | 5 | 12 |
| Giardia sp. | 10 | 0 | 0 | 0 | 0 | 0 | 0 | 18 | 2 | 0 | 30 | 50 | 48 | 26 | 31 | 60 |
| Listeria monocytogenes | 3 | 0 | 0 | 5 | 3 | 0 | 0 | 0 | 0 | 1 | 12 | 23 | 15 | 18 | 18 | 19 |
| Methicillin-resistant Staphylococcus aureus (MRSA) | 0 | 1 | 24 | 0 | 0 | 0 | 0 | 2 | 1 | 0 | 28 | 17 | 8 | 24 | 49 | 74 |
| Methicillin-resistant S. pseudintermedius (MRSP) | 0 | 0 | 0 | 0 | 0 | 0 | 0 | 87 | 1 | 0 | 88 | 45 | 141 | 114 | 192 | ND |
| Rabies | 0 | 0 | 0 | 0 | 0 | 0 | 0 | 0 | 0 | 0 | 0 | 0 | 0 | 0 | 0 | 3 |
| Salmonella enterica | 71 | 98 | 3 | 3 | 0 | 45 | 48 | 7 | 1 | 56 | 332 | 221 | 308 | 281 | 256 | 256 |
| Streptococcus suis | 22 | 132 | 3 | 3 | 3 | 0 | 0 | 0 | 3 | 1 | 167 | 105 | 126 | 144 | 106 | 110 |
| Streptococcus equisimilis | 3 | 16 | 12 | 1 | 5 | 1 | 0 | 3 | 0 | 7 | 48 | 4 | 34 | 45 | 59 | 48 |
| Streptococcus zooepidemicus | 2 | 0 | 133 | 1 | 0 | 0 | 0 | 0 | 2 | 0 | 138 | 93 | 112 | 4 | 149 | 152 |
| Toxoplasma sp. | 0 | 0 | 0 | 8 | 2 | 0 | 0 | 0 | 1 | 0 | 11 | 18 | 11 | 8 | 24 | 22 |
| Verotoxigenic E.coli (VTEC) | 7 | 0 | 0 | 0 | 1 | 0 | 0 | 0 | 0 | 0 | 8 | 7 | 18 |   |   |   |
| West Nile virus | 0 | 0 | 1 | 0 | 0 | 0 | 0 | 0 | 0 | 18 | 19 | 6 | 44 | 36 | 34 | 7 |
| Yersinia enterocolitica | 2 | 1 | 0 | 0 | 0 | 0 | 0 | 0 | 0 | 0 | 2 | 6 | 4 | 2 | 1 | 2 |
| Total | 345 | 273 | 191 | 40 | 39 | 52 | 48 | 159 | 22 | 103 | 1,270 | 1,010 | 1,236 | 1,043 | 1,315 | 1,209 |
Table 2.  Leptospira spp. seropositive and IHC positive cases identified at the AHL, 2015
| | | | | | |
| --- | --- | --- | --- | --- | --- |
| Leptospira spp. serovar* | Bovine | Swine | Equine | Canine | Other & not specified |
| L. autumnalis | 10 | 1 | 12 | 47 | 0 |
| L. bratislava | 12 | 4 | 12 | 17 | 0 |
| L .canicola | 26 | 2 | 4 | 29 | 0 |
| L. grippotyphosa | 7 | 2 | 2 | 38 | 2 |
| L. hardjo | 20 | 1 | 4 | 4 | 0 |
| L. icterohaemorrhagiae | 34 | 2 | 8 | 38 | 0 |
| L. pomona | 29 | 3 | 6 | 10 | 0 |
| IHC or urine PCR positive | 0 | 0 | 0 | 0 | 0 |