AHL Newsletter March 2019

Click here for a pdf copy of the March 2019 AHL Newsletter.
Premises ID and Client Portal  
Jim Fairles, Josie Given
In partnership with OMAFRA, the Animal Health Laboratory will assist veterinary clinics and their clients in obtaining their Premises ID (PID). A single agreement with AHL is signed by the clinic stating that any premises information provided to the laboratory was done with the client's consent. Together, we can work to quickly and efficiently get the PID numbers added to your client database. Once the client has been assigned a PID, a PPR certificate will be either emailed (preferred) or sent by mail to the owner of the premises.
AHL also now has a Client Portal for online submissions. Once your client PIDs are obtained, using the portal will :
Þ Standardize your lab submissions (spelling of owner names, PID, farm name, etc.).
Þ Track the progress of your cases, edit/cancel before the specimen is received at AHL.
Þ Allow advanced searching, design reports based on Animal ID, farm, owner, etc.
Þ Provide a case # prior to sending to AHL & track its progress as results are released.
Contact Josie Given: 519-824-4120 ext 54320, or jgiven@uoguelph.ca to setup training!  AHL
---
Exotic, zoo, pocket pet, reptile, amphibian, and fish pathology at the AHL
The various AHL avian, exotic, and fur-bearing pathologists specialize in the gross and histopathology of non-domestic species, including mammals, pocket pets, birds, reptiles, amphibians, fish, and invertebrates. These animals are often affected by unique and species-specific diseases, necessitating a focused pathology service. The AHL has progressively established this specialized expertise and focus and we have tested a wide range of samples covering disease diagnosis and surveillance through to health checks. Given that these public display animals and pets are generally intimately associated with their caregivers, owners, and the general public, these animals also represent an important interface between animal and public health, and through laboratory testing and pathology screening act as a particularly critical indicator for potential zoonotic disease transmission.
Our clientele includes veterinary clinics, zoos and aquaria, other diagnostic laboratories, governmental institutions, and various universities. In September 2018, Dr. Heindrich Snyman joined the AHL in Kemptville. Dr. Snyman has a broad background in comparative pathology having worked with a variety of exotic, zoo, reptile, amphibian, fish, and invertebrate species, and his addition further expands the capacity of our comparative pathology service.   AHL
---
Discontinuation of botulism testing
As of May 1, 2019, the AHL will discontinue mouse inoculation test (MIT) for detection of botulinum toxins in all animal species except poultry and wild birds.  Our decision is based on anecdotal evidence since 2004 and review of AHL cases that were submitted for botulism testing in the last 3 years (70 in total). The MIT is able to detect toxins only in poultry and wild birds and no other species tested (i.e., equine and bovine).   AHL
---
AHL new tests and services available in 2018
---
AHL Newsletter
March, 2019 - Volume 23, Number 1
       Editor:  Grant Maxie, DVM, PhD, Diplomate ACVP
       Editorial Assistants:  Helen Oliver, April Nejedly
The AHL Newsletter is published quarterly (March, June, September, December) by the Animal Health Laboratory, Laboratory Services Division, University of Guelph.
Its mission is to inform AHL clients and partners about AHL current activities, and laboratory-based animal disease events and disease trends.  All material is copyright 2019.  Ideas and opinions expressed herein do not necessarily reflect the opinions of the University or the Editor.
Articles may be reprinted with the permission of the editor and with appropriate credit given to the AHL Newsletter.
Mailing address & contact information:
Animal Health Laboratory
Laboratory Services Division, University of Guelph
Box 3612, Guelph, Ontario, Canada  N1H 6R8
Phone: (519) 824-4120 ext. 54538; fax: (519) 821-8072
To receive an electronic copy of this Newsletter, please send your email address to us at holiver@uoguelph.ca
Contributors to this issue
- from the Animal Health Laboratory:
Marina Brash, DVM, DVSc, Diplomate ACVP
Emily Brouwer, HBSc, DVM, Diplomate ACVP
Hugh Cai, DVM, MSc, DVSc
Michael Deane, BA
Josepha DeLay, DVM, DVSc, Diplomate ACVP
Jim Fairles, DVM, MBA
Josie Given, BA
Murray Hazlett, DVM, DVSc, Diplomate ACVP
Mary Lake, AHT
Emily Martin, DVM, MSc, Diplomate ACPV
Davor Ojkic, DVM, PhD
Felipe Reggeti, DVM, PhD, Diplomate ACVP
Janet Shapiro, DVM, DipEqSurg, DipPath
Durda Slavic, DVM, PhD
Maria Spinato, DVM, DVSc, Diplomate ACVP
Margaret Stalker, DVM, PhD, Diplomate ACVP
Kate Todd, DVM
Other contributors:
Jeff Caswell, DVM PhD DACVP; Andrew Peregrine, BVMS, PhD, DVM, Diplomate EVPC, DACVM, Pathobiology, OVC.
Rex Crawford, DVM, Orangeville, ON
Tim Pasma, DVM, MSc, OMAFRA, Guelph, ON .
Our continued thanks to all of the non-author AHL clerical, technical, and professional staff who contribute to the generation of results reported in the AHL Newsletter.
---
Selected zoonotic pathogens and diseases from Ontario identified at the AHL, 2018 
Murray Hazlett, Durda Slavic, Davor Ojkic, Hugh Cai
Many new, emerging, and re-emerging diseases of people are caused by pathogens originating from animals, or are shared between people and animals. The AHL plays a role in public health by identifying zoonotic pathogens in > 1,000 cases annually (Tables 1 and 2). The number and percentage of cases identified as positive for leptospirosis decreased in 2018 in all species, although the total number of submissions tested increased slightly with increased submissions from cattle, horses and swine, and decreased submissions from dogs. These are numerator data reliant upon submission biases to the diagnostic laboratory and cannot be regarded as population prevalence estimates. Monitoring programs are not included.   AHL
Table 1. Number of cases with selected zoonotic pathogens isolated and/or identified at the AHL, 2018.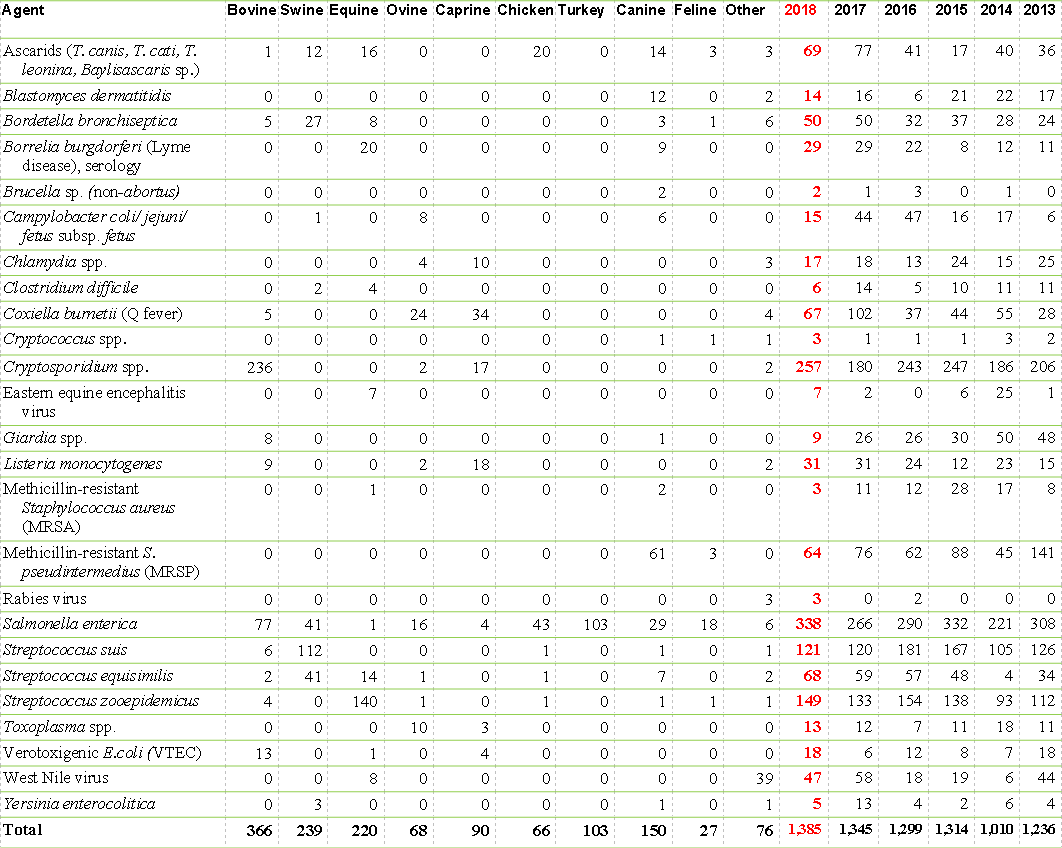 Table 2. Leptospira spp. seropositive, IHC-positive, or PCR-positive cases identified at the AHL, 2018.

---