Disseminated mycosis in a German Shepherd dog
Disseminated mycosis in a German Shepherd dog
Murray Hazlett, Lisa Ledger, Hugh Cai
Animal Health Laboratory, University of Guelph, Guelph, ON.
AHL Newsletter 2019;23(3):18-19.
A male 3-y-old German Shepherd was euthanized because of renal failure, vomiting, and uveitis. The dog had developed hind-end weakness over the previous 2 weeks. The dog was autopsied at the clinic and selected tissues (liver, kidney, spleen, small intestine) were submitted for histology. In the section of kidney, there was a large zone of infarction with mineralization and fibroplasia. Several other smaller infarcts were seen. There were scattered multinucleate giant cells present, and objects suspicious for fungal hyphae could be seen; these were verified as fungal hyphae with a silver stain of the section (Fig. 1). Morphologically they were suspected to be Aspergillus spp. Testing of formalin-fixed paraffin-embedded tissue scrolls for fungal PCR products was unfruitful, and the fungus could not be further identified.
A search of pathology cases since 2007 for fungal lesions in dogs reveals most are either associated with aspergillosis (7 cases) or blastomycosis (37 cases). Two other cases of disseminated mycosis likely associated with Aspergillus spp. were both in German Shepherds (Table 1).
Most cases of disseminated aspergillosis occur in German Shepherd dogs.1 Common clinical signs are vertebral pain, anorexia and wasting. CNS involvement, lymphadenopathy, and endophthalmitis are also reported manifestations.   AHL
Table 1. Mycoses in AHL canine pathology submissions.*
| | | | | |
| --- | --- | --- | --- | --- |
| Case | Fungus* | Breed | Age (y) | Location |
| 1 | Aspergillus | German Shepherd | 3 | Renal |
| 2 | Aspergillus | German Shepherd | 2.6 | Pulmonary |
| 3 | Aspergillus | German Shepherd | 7.4 | Brain |
| 4-8 | Nasal aspergillosis | 1 German Shepherd, 1 Golden Retriever, 1 Standard Poodle, 2 mixed breed | 1-9 | Nasal |
| Blastomyces – all cases | Blastomyces dermatitidis | 37 cases (12 disseminated or pneumonic) |   |   |
*Diagnosis usually based on fungal morphology in histologic sections.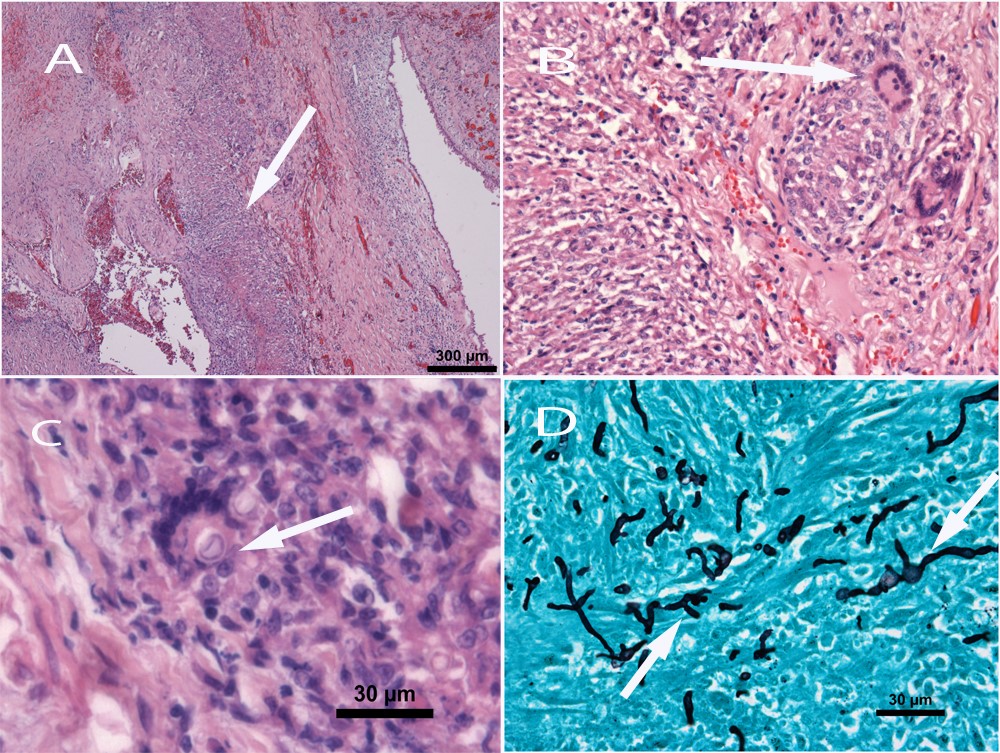 Figure 1. Disseminated mycosis in a German Shepherd dog. A. Loss of renal parenchyma with an intense infiltrate of mixed inflammatory cells (arrow). H&E. B. Areas of granulomatous inflammation with multinucleate giant cells (arrow). (H&E). C. Suspicious fungal hyphae in H&E section (arrow) confirmed with silver stain. D. Methenamine silver stain.
References
1. Day MJ. Canine disseminated aspergillosis. In: Green, Infectious Diseases of the Dog and Cat, 3rd ed. 2006:620.