FISH
Concurrent bacterial gill disease and nodular gill disease in rainbow trout fingerlings  
Heindrich Snyman, Nikki LePage, Kathleen Todd, Calvin Kellendonk, Patricia Bell-Rogers, Lisa Ledger, Qiumei You, Hugh Cai
During late February, a commercial aquaculture hatchery was experiencing increased daily mortality rates in a group of ~ 25 g, triploid, rainbow trout (Oncorhynchus mykiss) fingerlings. Fish were routinely raised in indoor fiberglass pens prior to being moved to outside concrete raceways in December of the preceding year. Throughout the initial growing period, mortality rates were stable until a low but steady increase was observed starting ~1 wk prior to submission.
Live fish (n = 18) were submitted to the AHL for testing. Fish had open mouths with flared opercula, patchy pale gills, and overlying tacky mucus on the gill surfaces. Some fish had eroded fins with skin ulcers overlying the operculum and lateral abdominal surfaces. Wet mounts of gill clips revealed large dense mats of slender filamentous bacteria with occasional scattered diatoms (Fig. 1). Histologically, widespread lamellar epithelial hyperplasia often spanned the entire length of individual filaments and resulted in extensive lamellar fusion and formation of interlamellar pockets with entrapped sloughed cellular debris (Figs. 2, 3). Interfilamentous spaces, remaining interlamellar spaces, and pockets, contained, dense colonies of ~0.5 µm wide and 2.0-5.0 µm long slender filamentous bacteria (Fig. 2) with abundant ~8-15 µm, irregular angular-to-polygonal, non-ciliated protozoa, with small eccentric magenta nuclei and fine granular basophilic cytoplasm (amoebic trophozoites) (Figs. 3, 4). These changes were consistent with a diagnosis of both bacterial gill disease (BGD) and nodular gill disease (NGD).
BGD is one of the most significant infectious diseases affecting freshwater salmonid aquaculture worldwide. The causative agent is Flavobacterium branchiophilum, a gram-negative, non-motile, slender filamentous bacterium. Disease outbreaks are especially common in intensively reared fry and fingerlings and often occur during early spring and summer when higher temperatures and rising precipitation are implicated as causative factors. Aerobic culture of gill surface swabs in our case however yielded a Flavobacterium sp. different from F. branchiophilum, confirmed by MALDI-TOF MS. The full sequence of the 16S rRNA gene of the isolate had 98.8% identity to an unidentified Flavobacterium sp. WB 4.2-31 (1460/1478 bp), and 98.7% similarity to a F. aquidurense (1459/1478 bp). Although other flavobacterial pathogens can cause similar or concurrent gill lesions, this has been historically uncommon in Ontario. Nonetheless, in recent years a small number of unidentified Flavobacterium spp., similar to our case, have been isolated in AHL submissions seen as bacterial gill disease. This suggests that strains other than F. branchiophilum could also contribute to the development of clinical bacterial gill disease.
NGD represents the second most common gill disease affecting Ontario rainbow trout aquaculture. Cochliopodium sp. is the most common cause in Ontario, although other pathogenic gill amoebas also exist in other production systems and fish species (e.g., Paramoeba sp., Thecamoeba sp., etc.). NGD follows a clinical presentation similar to BGD, although mortality and morbidity rates are typically lower. Concurrent infection with filamentous bacteria is not unusual as amoebas are particularly attracted to surface filamentous bacteria and cell debris, which act as a rich nutrient source for amoeba.
Co-infected cases will respond poorly to standard BGD antibacterial treatments (e.g., chloramine-T) and given the similarities in clinical presentation, appropriate laboratory testing (including gill wet mounts and histopathology) is a necessity to ensure an accurate diagnosis.   AHL
References
Ferguson H, et al. Systemic Pathology of Fish. Scotian Press..2nd ed. 2006. ISBN-10: 0955303702.
Ferguson H, et al. Gill diseases of fish in Ontario farms. OMAFRA fact sheet. 1994. ISBN 0-7778-2306-3.
Noga E. Fish Disease: Diagnosis and Treatment. Wiley-Blackwell; 2nd ed. 2010. ISBN-10: 0813806976.
Figure 1. Gill clip wet mount with mats of slender filamentous bacteria (asterisks).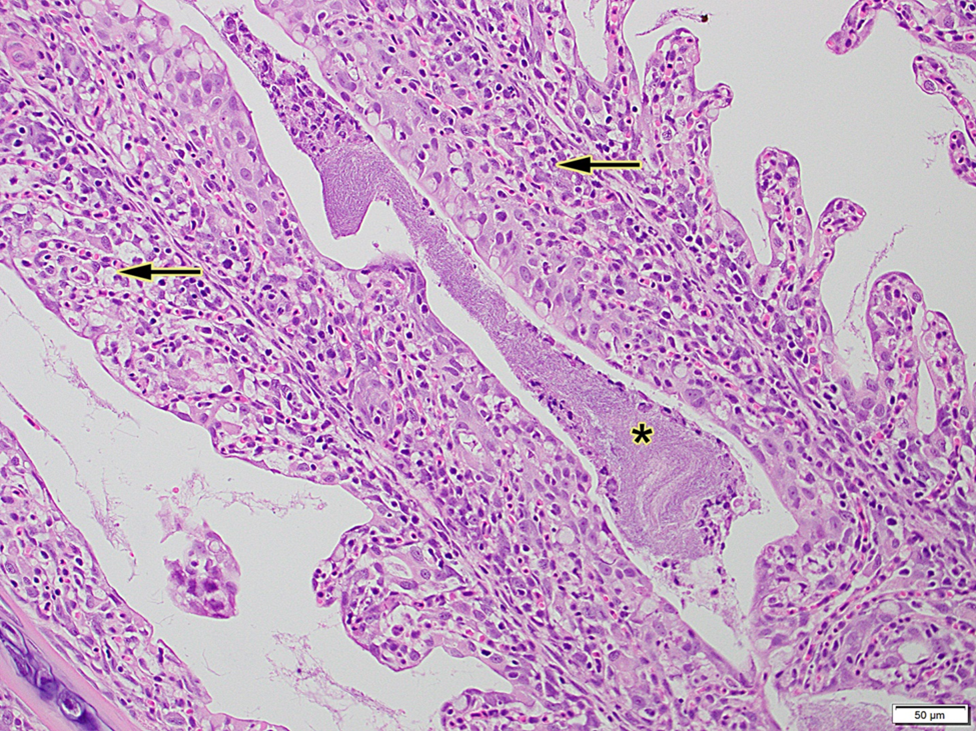 Figure 2. Histology of gills with widespread lamellar epithelial hyperplasia with fusion (arrow) and dense filamentous bacteria (asterisks).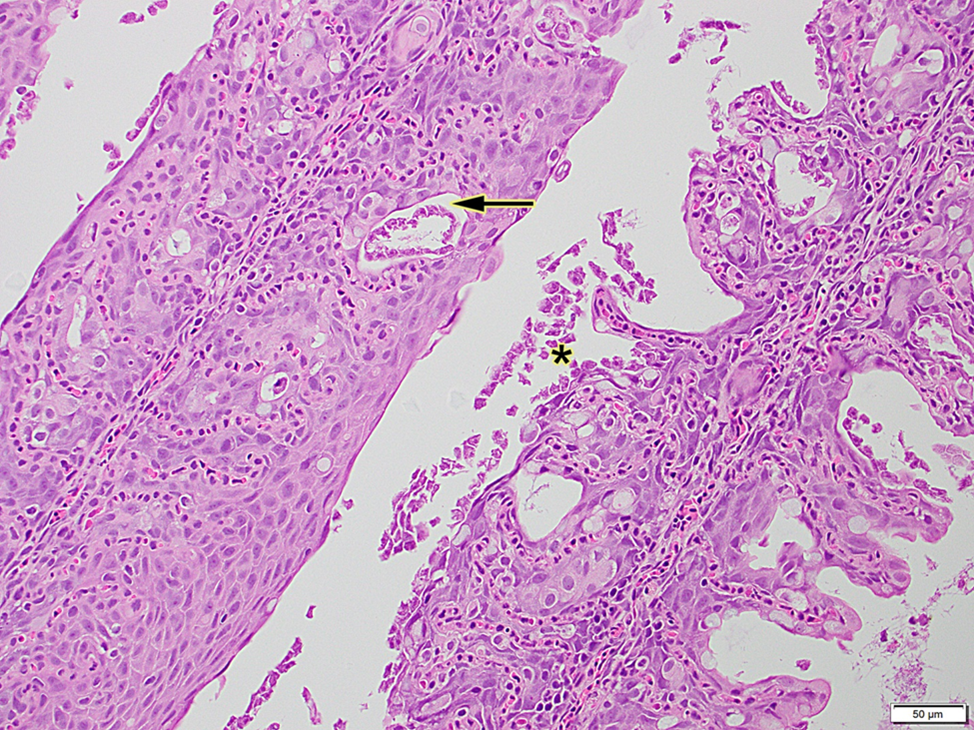 Figure 3. Histology of gills with widespread lamellar epithelial hyperplasia, fusion, and pocket formation (arrow) with interspersed amoebic trophozoites (asterisks).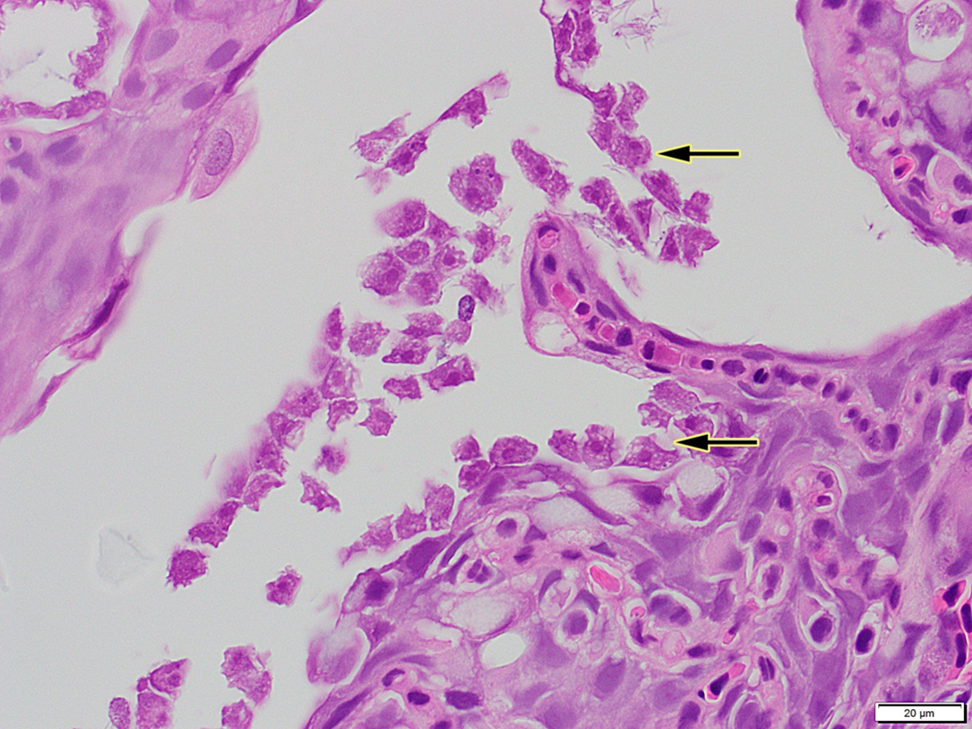 Figure 4. Histology of gills with amoebic trophozoites (arrows).