AHL Newsletter June 2019
Click here for a pdf copy of the June 2019 AHL Newsletter.
Dr. Maxie retires, May 31, 2019
After 22 years as AHL Director, including 12 years as co-Executive Director of Laboratory Services Division, Grant Maxie is retiring.
Beginning in Guelph as an intern in OVC right after graduation from the Western College of Veterinary Medicine in Saskatoon in 1969, Grant has been in and about Guelph for the past 50 years. After his internship, he completed his PhD in clinical pathology under the guidance of Dr. Ted Valli. He then undertook a 3-year stint as a hematologist within the International Development Research Center project in Kenya on trypanosomiasis (sleeping sickness of cattle) and theileriosis (East coast fever).
Returning to OVC as faculty in the Department of Pathology, he taught cardiovascular and urinary pathology for 5 years before moving to the Veterinary Services Branch of OMAFRA in 1982 as an anatomic pathologist, completing the ACVP boards in 1984, and becoming Guelph lab head in 1994. VLSB was transferred to the U of Guelph in 1997 as part of the Common Sense Revolution; Lab Services is administered within the Office of Research.
Retirement plans include continuing as editor-in-chief of the Journal of Veterinary Diagnostic Investigation, farming (hay-making, fence building), home repairs, travel, spending time with family, dancing, and the occasional round of golf.   AHL
---
May 1, 2019, AHL User's Guide and Fee Schedule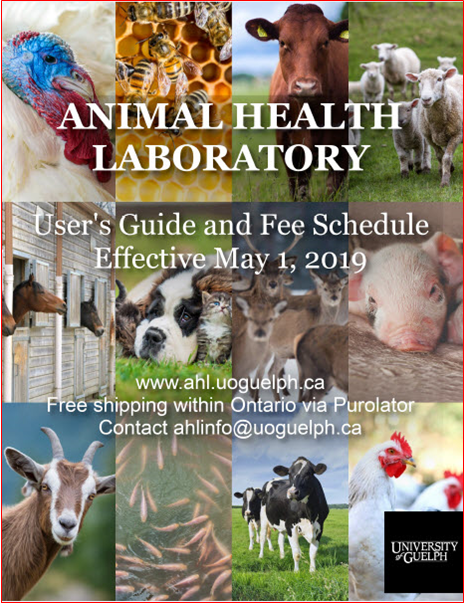 Includes more test information, new tests, new test panels, fee adjustments, and more!
Mobile friendly!
Available on-line at https://www.uoguelph.ca/ahl/
Test information is linked to LabNotes to facilitate test selection and interpretation of results.
Update on histopathology and postmortem tests at the AHL:
| | |
| --- | --- |
| Histopathology | Test code |
| - on food animal PM or mail-in |  pmfd |
| - on companion/other, 1-2 biopsies or tissues, equine abortion | histcm1 |
| - on companion/other, 3-6 biopsies or tissues  | histcm2 |
| - on companion/other, 7 or more biopsies or tissues, including AHL PMs | histcm3 |
 Additional fees may be applied for pathologists to sample large or complex specimens, IHC, tumor margins, >10 slides, and special stains. For immunohistochemistry (IHC) cases originating from external laboratories, please note that transportation (courier) fees will be charged for slide and block return to the submitting laboratory.
| | |
| --- | --- |
| Postmortem  | Test code |
| Postmortem, companion/other | pmca |
| Postmortem, companion/other, pocket-sized | pmpp |
| Postmortem, equine abortion, stillbirth, or <24 h neonate | pmea |
Please check the AHL Fee Schedule booklet or visit our website for full testing details https://www.uoguelph.ca/ahl/tests.
Client access is required.
For species categories, refer to the AHL website – Case definition for billing purposes - https://www.uoguelph.ca/ahl/billing-and-fees
---
Premises ID and Client Portal  
Jim Fairles, Josie Given
In partnership with OMAFRA, the Animal Health Laboratory will assist veterinary clinics and their clients in obtaining their premises ID (PID). A single agreement with AHL is signed by the clinic stating that any premises information provided to the laboratory was done with the client's consent.
Together, we can work to quickly and efficiently get the PID numbers added to your client database. Once the client has been assigned a PID, a PPR certificate will be either emailed (preferred) or sent by mail to the owner of the premises.
AHL also now has a Client Portal for online submissions. Once your client PIDs are obtained, using the portal will:
Standardize your lab submissions (spelling of owner names, PID, farm name, etc.).
Track the progress of your cases, edit/cancel before the specimen is received at AHL.
Allow advanced searching, design reports based on Animal ID, farm, owner, etc.
Provide a case # prior to sending to AHL & track its progress as results are released.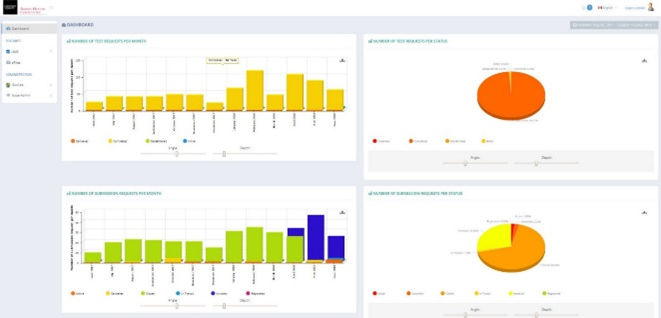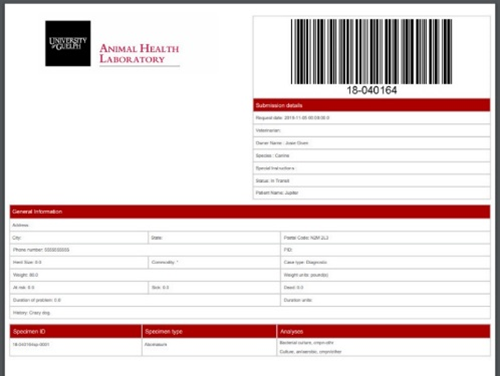 Contact Josie Given: 519-824-4120 ext 54320, or jgiven@uoguelph.ca to setup training!  AHL