HORSES
Atypical cutaneous nodular lymphoid hyperplasia ("pseudolymphoma") associated with Borrelia burgdorferi infection in a horse 
Margaret Stalker, Stefan Keller, Lisa Ledger, Murray Hazlett, Tiffany Richards
Three punch biopsies were received from a 5 x 3 x 1 cm raised mass on the left hindlimb of a 12-y-old Hanoverian mare, located near the base of the hamstrings (Fig. 1). On histologic examination, the biopsies revealed nodular-to-diffuse dermal infiltrates of lymphocytes forming discrete follicular structures, often with prominent germinal centers and eccentrically positioned peripheral mantle zones of smaller mature lymphocytes (Fig. 2). The presumptive histologic diagnosis was atypical cutaneous nodular lymphoid hyperplasia. Additional clonality testing targeting the equine B lymphocyte immunoglobulin heavy chain locus (IGH) revealed polyclonal rearrangements with 2 different primer sets (FR2/FR3), supporting the diagnosis of a reactive rather than a neoplastic process. Interestingly, this was the second such biopsy we have received from 2 unrelated horses from this practice over the last 2 years.
A literature search of this unusual cutaneous lesion revealed two published reports, the first a single case report from a horse with multiple dermal papules developing at the site of previous removal of an engorged tick.1 This horse subsequently tested positive by serum ELISA and western blot for Borrelia burgdorferi, and a PCR assay using primers targeting the B. burgdorferi ospA gene, run on formalin-fixed paraffin-embedded (FFPE) tissue, was also positive. The lesions in this horse resolved following a 30-day course of doxycycline therapy.
The second was a conference abstract reporting 19 cases of so-called "pseudolymphoma", a term borrowed from the human literature to describe this non-neoplastic lymphoproliferative process.2 One of the 19 cases was also positive for B. burgdorferi, again using PCR primers targeting the ospA gene. Based on these reports, we ran a screening qPCR assay for Borrelia spp. on the FFPE from both of the AHL equine biopsy cases, targeting a 75-bp fragment of the 23S rRNA region of B. burgdorferi. Both cases were positive for Borrelia spp., however only the recent case was confirmed positive on the second-step confirmatory qPCR test targeting the B. burgdorferi OspA gene. Subsequent serologic testing of the mare was also positive on the equine Lyme disease multiplex assay.
In humans, development of cutaneous pseudolymphoma has been associated with various localized antigenic stimuli, including injected irritants/foreign substances such as drugs, vaccines or tattoo ink, arthropod bites, and infectious agents including B. burgdorferi, although most cases remain idiopathic. The veterinary practice submitting these 2 equine cases is located in an area of eastern Ontario experiencing a significant expansion of tick populations, including Ixodes scapularis, the vector of Lyme disease, and several ticks were anecdotally removed from the mare over the course of the preceding autumn. This case highlights an unusual manifestation of an emerging disease in Ontario.   AHL
References:
1. Sears KP, et al. A case of Borrelia-associated cutaneous pseudolymphoma in a horse. Vet Dermatol 2012;23:153-156.
2. Malatos JM, et al. Histologic and immunohistochemical characteristics of 19 cases of equine cutaneous pseudolymphoma and the association with Borrelia burgdorferi. Proc Am College Vet Pathol Ann Mtg, Vancouver, BC, Nov, 2017.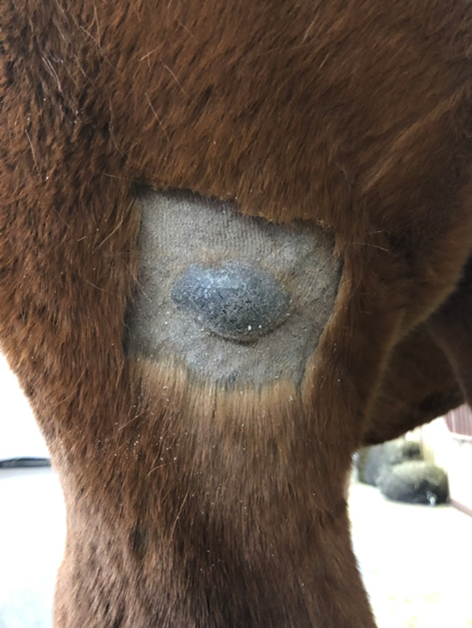 Figure 1. Skin lesion, left hind leg.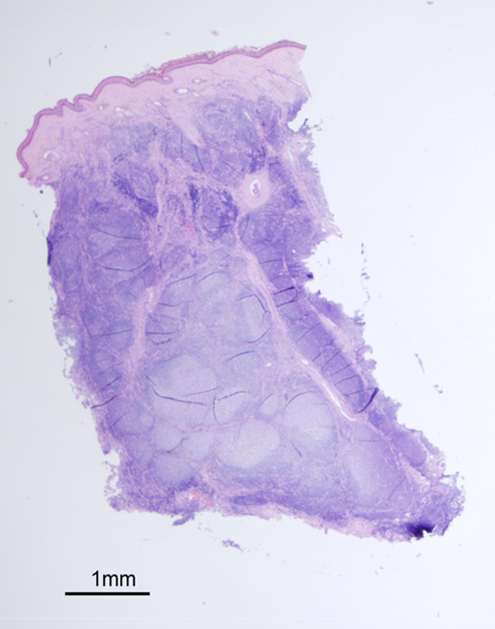 Figure 2. Histology of skin lesion.