Ontario Animal Health Network
OAHN Update - June 2019
OAHN wishes to acknowledge the extensive contributions of AHL Director Dr. Grant Maxie to the network. As program director for OAHN since its inception in 2013, Dr. Maxie was instrumental in establishing the networks, "steering the ship" along the way, and guiding OAHN to its current stable and productive state. He provided a wealth of knowledge and experience, and was incredibly supportive of all of the new ways we approached communication of animal health news to our members and followers. We wish him the best in his retirement, and hope he keeps up with the new and exciting projects we have planned for the future.
---
New Infographics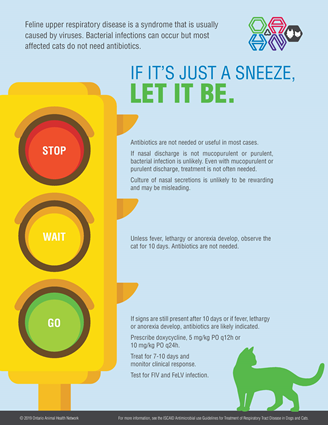 The OAHN Companion Animal Network has recently released new infographics about Feline Upper Respiratory Tract Disease and Antibiotics, Laboratory Submissions, Itchy Dogs: Topical Treatments and Culture-Critical Cases. Additionally, the network has updated its Echinococcus multilocularis infographic to reflect the most  up-to-date data and figures about EM in Ontario.
The OAHN Equine Network has created an in-depth infographic looking at equine herpes myeloencephalopathy. The infographic covers prevention, risk of disease, clinical signs, diagnosis, treatment, and reducing the spread of EHM. There was a confirmed case of EHM in the Regional Municipality of York in April.
---
OAHN Small Flock Poultry Veterinary Seminar
On April 6, the OAHN Poultry Network organized and hosted a Small Flock Veterinary workshop at the Animal Health Laboratory . The day consisted of expert presentations on small flock health and management, followed by wet labs in the PM room, where vets were given the opportunity for some more applied work. The day was a huge success, with 40 veterinarians from around Ontario attending, with Dr. Victoria Bowes, board-certified poultry veterinarian and diagnostic avian pathologist, as keynote speaker. Thanks to everyone from the OAHN Poultry Network for making this day a success, and thanks to all of the vets for attending.
---
New Reports
The Q1 2019 network reports for most networks have been posted to the OAHN site—just select the species you wish to view under "Network Reports". Some highlights include:
Companion Animals: Vets are seeing less respiratory disease and more multi-drug resistant bacterial infections; "New" canine distemper strains; encephalitis from raccoon roundworm; rabies update.
Swine: Keeping ASF and other diseases out of your barn; OAHN Swine erysipelas project update; more PEDV and PDCoV on farms in Ontario.
Bovine: Ureaplasma abortions in 2019; veterinary surveillance; OAHN research project; case report on malignant catarrhal fever.
Poultry: Veterinary survey highlights; antimicrobial prescription changes.
We have lots of new reports, lab data, and resources. Be sure to check out OAHN.ca