HORSES
Actinobacillus equuli ssp. equuli valvular endocarditis in a horse
Murray Hazlett, Adam Chambers, Bruce Duncan, Durda Slavic
A 3-year-old male Standardbred horse with a history of recurrent illness including colic with weight loss was euthanized. At autopsy there was an organized 15-cm thrombus in the right jugular vein (Fig. 1A) that histologically was septic, containing neutrophils and bacteria. Large numbers of needle punctures were present in the left jugular. An irregular 2 x 3 cm vegetative proliferation was found on the right atrioventricular valve (Fig. 1B), and microscopically there was fibrosis and inflammation within the right AV valve. The large vegetative mass on the valve was composed of fibrin with enmeshed neutrophils and large colonies of bacteria.
Hemorrhagic striae were present within the serosa of the small intestine (Fig. 1C). There was typhlocolitis (Fig. 1D) with severe mucosal edema and ulceration from the cecum to the right ventral colon, with formed feces in the descending colon. Bone marrow had hyperplasia of the neutrophil series, likely the result of chronic inflammation. Multifocal embolic pneumonia was seen histologically.
The right AV valve was cultured, and large numbers of A. equuli subsp. equuli were isolated. Testing of the colon for Potomac horse fever, Clostridium difficile, Salmonella spp., and coronavirus was negative. There was a suspicious PCR reaction for ruminant rotavirus B.
A. equuli subsp. equuli is commonly found in the equine oropharynx and intestinal tract, and is associated with septicemia in foals and sometimes adult horses. In adult horses, it has been associated with cellulitis and peritonitis.
There have been several reports of A. equuli valvular endocarditis in horses as well as in septicemia in humans and pigs. In this case, because of the septic thrombus "upstream", it was felt that the A. equuli colonized the heart valve from repeated hematogenous showering. The embolic pneumonia may have been from the jugular thrombus, the heart valve, or both. Contamination of the thrombus may have been from oral fluid or feces from the horse.
It is uncertain if the typhlocolitis was associated with dysbacteriosis associated with treatment with antibiotics, or if the repeated jugular injections were an effort to treat the colitis. The colitis was of some duration, as there was submucosal fibroblast activation and some fibroplasia in response to the ulceration and edema.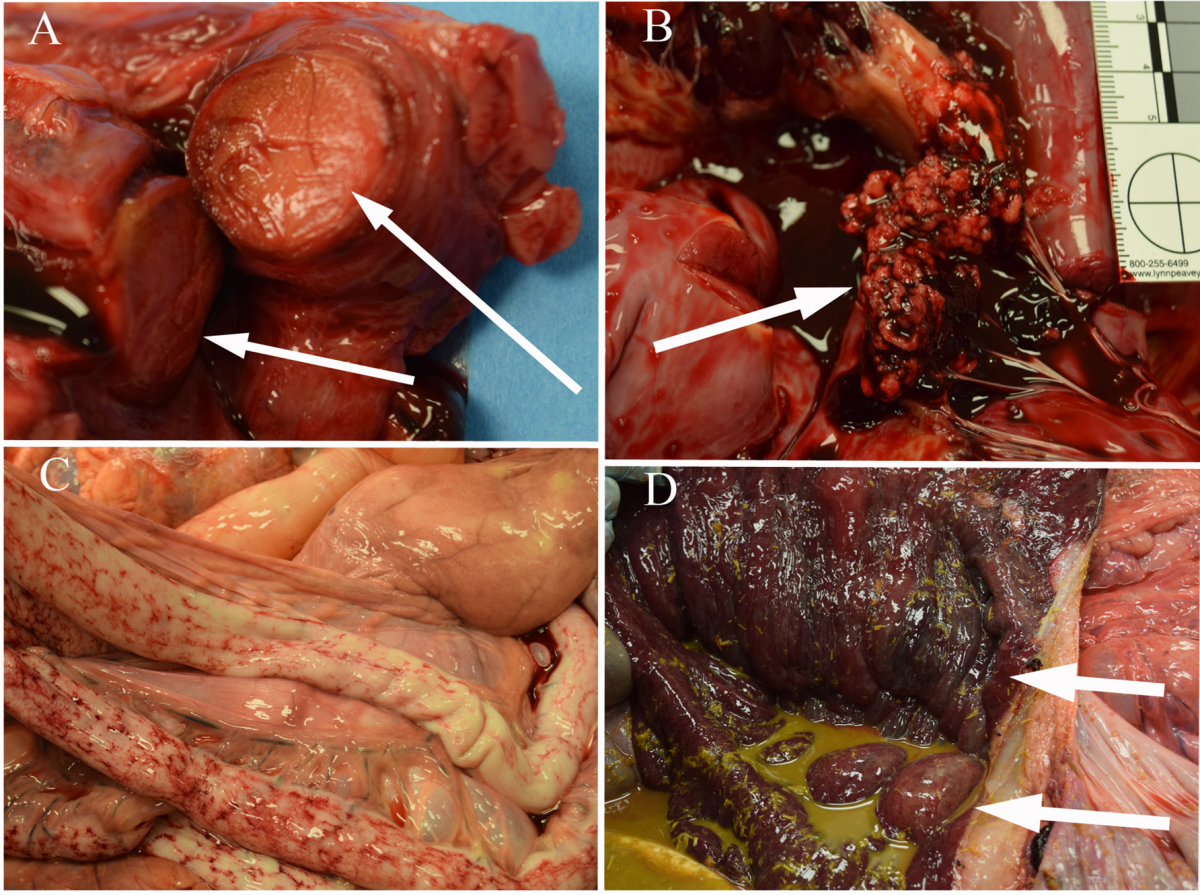 Figure 1. Actinobacillus equuli ssp. equuli valvular endocarditis in a horse. A. Organized thrombus in the right jugular vein (arrows). B. Vegetative mass on the right AV valve of the heart (arrow). C. Unusual hemorrhagic striae on the small intestinal serosa. D. Colonic ulceration and edema (arrows).