Ontario Animal Health Network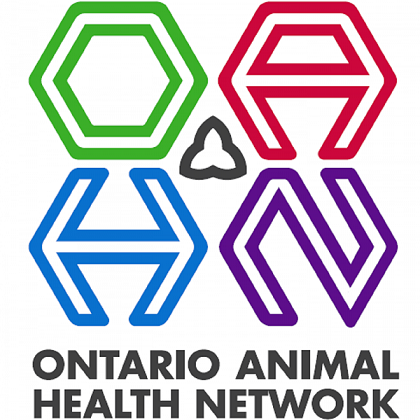 "Your comprehensive source for animal health information."
OAHN Update, September 2017
This past summer, we were focused on spreading the word about vector-borne diseases through our social media accounts. We regularly posted educational and news articles about ticks, Lyme disease, and mosquito-borne diseases that can affect people in Ontario. In addition, we put together a Vector-Borne Disease resource page, which includes a lot of these links. Check it out, and let us know if you have more resources to add. In addition to our vector-borne focus, we have been publishing Ontario rabies map updates every week. Follow us on Facebook and Twitter for news items every day as we collate the news for you in one place.  We also have a page compiling alerts on the Porcine Epidemic Diarrhea (PEDV) in Western Canada (you must be logged in to view).
Don't use social media?  Check out animal health links of the week in the OAHN News Section.
---
Focus on raw food
We have published a new podcast series on Raw Food Diets, featuring Dr. Scott Weese and Dr. Adronie Verbrugghe from the OVC —we approach the subject from an infectious disease perspective, and a nutritionist perspective. You can access the podcast series here.  We also have completed our Bee Series, where we discuss bee resources in Ontario, lab resources, Niagara College's beekeeping program, and more. Click here to listen.
To check out all of our podcasts, go to OAHN.podbean.com. In addition to the podcasts, we have put together a Raw food resources page, which includes links to CDC information, disease fact sheets from PHAC, and much more.
---
Benefits of registering on OAHN.ca
If you're a veterinarian in North America, or if you're an RVT in Ontario, you are eligible to register for OAHN. ca.
Registering for OAHN.ca gives you access to:
· Veterinary reports and resources
· Clinical impression summaries from quarterly veterinary surveys
· Quarterly lab data summaries
· Condemnation data
· Veterinary courses (such as our small flock veterinary course)
· Disease updates meant only for veterinary professionals (e.g., CSHIN PED Outbreak Updates)
---
Disease fact sheets
OAHN regularly publishes disease fact sheets and infographics throughout the year, for all species and diseases that affect animals in Ontario. Recently, we published a fact sheet entitled: Bats, Birds, Insects and Snails - A Recipe for Potomac Horse Fever. Check out this fact sheet for information on what Potomac horse fever is, how it's spread, how it's diagnosed, treatment, and vaccines. 

The Fish Network created two infographics about whirling disease, for fish farmers and recreational water users. If you haven't heard of whirling disease, it is a fatal, infectious disease that affects freshwater finfish. Overall death of infected fry and fingerlings can reach 90%. Susceptible species include salmon, trout, and char, all found in Ontario. It has not been found in Ontario, but cases have been recorded this year in Alberta.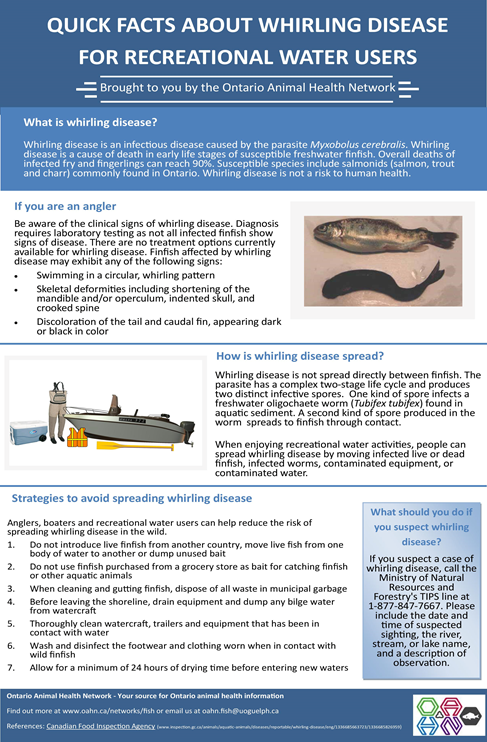 ---
*New blog posts*
Each month we will be posting new blog-style articles on OAHN.ca. So far we have discussed how we find our news articles, and how veterinarians are involved with OAHN. We will be posting new articles about National Disease Surveillance, and how producers interact with OAHN.
---
Do you ask your clients for their Premises IDs?  Check out how fast and easy it is to do by registering your vet clinic: https://www.ontarioppr.com/home_en.html