AHL Newsletter September 2017
In memoriam: Brent Hoff, DVM, DipSAMed, DVSc, DipTox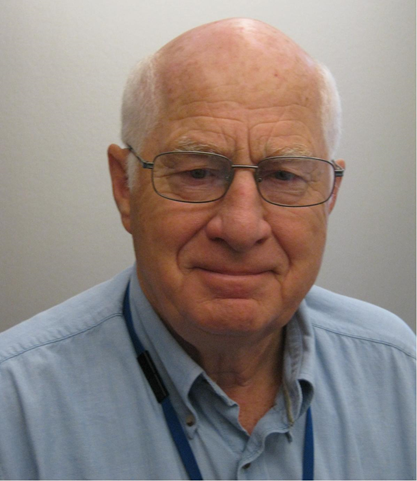 Many of our readers will have heard of the death, on June 29, 2017, of Dr. Brent Hoff, retired AHL clinical pathologist/toxicologist. 
Brent was an OVC 1969 DVM graduate who went on to earn several more degrees, including a DVSc and a Diploma in Toxicology. As a practitioner, he was the owner of the Taunton Road Animal Hospital in Oshawa. He became the OMAFRA Vet Lab Services clinical pathologist in 1983 after gaining his DVSc in clinical pathology, and latterly was the AHL clinical pathologist and toxicologist until his retirement in 2013. In addition to being well-known to veterinarians in Ontario, he was an enthusiastic participant in the veterinary toxicology community in North America.
Brent had multinational veterinary experience in Canada, Norway, New Zealand, and the Turks and Caicos, and provided terrific client service in all of these pursuits. He was also an accomplished woodworker, and an instrument-rated commercial pilot.
Since retirement, Brent worked part-time for the AHL as toxicologist and mentor to Dr. Felipe Reggeti, our current clinical pathologist/toxicologist. Brent loved toxicology and was looking forward to more contract work with us on his return from New Zealand this spring, but his plans were cut short by cancer.
A celebration of Brent's life was held in Guelph on August 20, and included a wide spectrum of family, veterinary colleagues, and other friends. Brent had a very full and fulfilling life, and enriched the lives of others. He will be missed!   AHL
---
Disease surveillance in non-commercial poultry flocks: project ends Friday September 29, 2017
Since October 1, 2015, the University of Guelph and OMAFRA, through the Animal Health Laboratory (AHL) and the Ontario Animal Health Network, have been conducting a baseline surveillance study to determine the most common infectious diseases found in small flocks in Ontario. AHL-Guelph and AHL-Kemptville have been accepting submissions of sick/dead birds for postmortem analysis and further testing.
This 2-year project will end as of Friday September 29, 2017. After this date, all small flock submissions to the AHL will be charged based on the published AHL Fee Schedule.   AHL
---
Update on anthrax testing at the AHL
Hugh Cai, Maria Spinato, Patricia Bell-Rogers
The AHL has validated and implemented a real-time PCR for the detection of Bacillus anthracis from clinical samples. The published assays (Ciesik et al., 2015) detect B. anthracis by targeting the chromosomal marker and a lethal factor. The assays were found to be sensitive and specific at the AHL. A commercial kit using similar principles was also validated at the lab. AHL pathologists will perform a rapid screening antigen ELISA on suspect samples to rule out anthrax. The sample will then be forwarded to the Molecular Biology Lab for PCR confirmation.   AHL
---
Urinalysis quiz - see Companion Animals page for more information
A.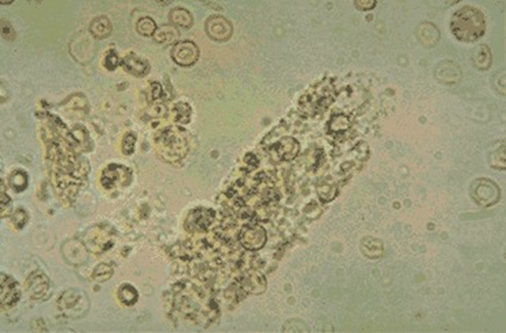 B.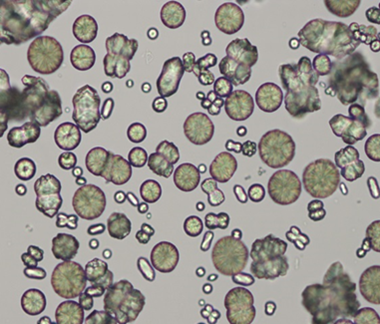 C.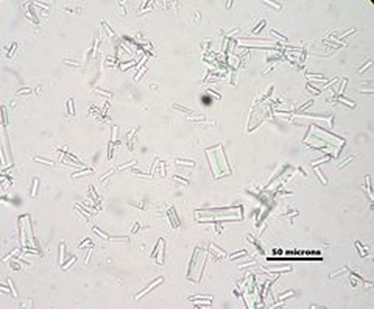 A = granular cast, dog
B = calcium carbonate, horse
C = struvite, dog
---
Update on discontinuing Salmonella phagetyping  
Durda Slavic
Among many Salmonella spp. isolated at AHL and sent to the OIE Salmonella reference laboratory for serotyping, only Salmonella Enteritidis, Salmonella Heidelberg ,and Salmonella Typhimurium and its variants underwent phagetyping. As of August 31, 2017 phagetyping of non-human Salmonella spp. isolates will be discontinued. The phage stocks required for phagetyping were provided by Public Health England, which has changed their approach to serotyping and phagetyping by moving to whole genome sequencing (WGS) of Salmonella isolates, significantly reducing phage production and making them unavailable for routine typing of non-human isolates.   AHL
---
AHL Newsletter
September, 2017 - Volume 21, Number 3
       Editor:  Grant Maxie, DVM, PhD, Diplomate ACVP
       Editorial Assistants:  Helen Oliver, April Nejedly
The AHL Newsletter is published quarterly (March, June, September, December) by the Animal Health Laboratory, Laboratory Services Division, University of Guelph.
Its mission is to inform AHL clients and partners about AHL current activities, and laboratory-based animal disease events and disease trends.  All material is copyright 2017.  Ideas and opinions expressed herein do not necessarily reflect the opinions of the University or the Editor.
Articles may be reprinted with the permission of the editor and with appropriate credit given to the AHL Newsletter.
Mailing address & contact information:
Animal Health Laboratory
Laboratory Services Division, University of Guelph
Box 3612, Guelph, Ontario, Canada  N1H 6R8
Phone: (519) 824-4120 ext. 54538; fax: (519) 821-8072
To receive an electronic copy of this Newsletter, please send your email address to us at holiver@uoguelph.ca
ISSN 1481-7179
Canada Post Publications number - 40064673
Contributors to this issue
- from the Animal Health Laboratory:
Melanie Barham, DVM, PMP
Patricia Bell-Rogers, BSc, MSc
Marina Brash, DVM, DVSc, Diplomate ACVP
Hugh Cai, DVM, MSC, DVSc
Michael Deane, BA
Jason Eidt, BSc
Emily Martin, DVM, MSc
Kristiina Ruotsalo, DVM, DVSc, Diplomate ACVP
Jan Shapiro, DVM, DipEqSurg, DipPath
Durda Slavic, DVM, PhD
Maria Spinato, DVM, DVSc, Diplomate ACVP
Margaret Stalker, DVM, PhD, Diplomate ACVP
Qiumei You, DVM
Other contributors:
Jeff Caswell, DVM, DVSc, PhD; Andrew Peregrine, BVMS, PhD, DVM, DipEVPC, DipACVM, Pathobiology, OVC, Guelph, ON.
Hanadie Nur, BVM&S, Toronto, ON
Our continued thanks to all of the non-author AHL clerical, technical, and professional staff who contribute to the generation of results reported in the AHL Newsletter.
---