AVIAN/FUR/EXOTIC SPECIES
Clinical toxoplasmosis in a pet rabbit
Marina Brash, Hanadie Nur, Margaret Stalker
A pet rabbit was presented to a veterinary emergency clinic with a clinical history of inappetence. The rabbit was dehydrated, and radiographs showed an enlarged liver. The rabbit was referred to The Links Road Animal & Bird Clinic for further evaluation. The following day, the rabbit became pyrexic (41.7oC), and over the course of the next 24 h declined rapidly, becoming dull, depressed, exhibiting head pressing and a hunched posture indicative of abdominal pain. The owner elected for euthanasia.
At postmortem, the liver was enlarged and mottled red/tan. The spleen was enlarged and congested. A small amount of clear fluid was present in the thoracic cavity and the heart was pale. Significant histologic lesions were limited to the spleen, liver, and lung. There was acute multifocal splenic necrosis with fibrin exudation, and in close proximity to a few of these foci were clusters of small basophilic organisms (Fig 1), confirmed to be Toxoplasma gondii cysts and tachyzoites by immunohistochemical staining (Fig 2). There was also acute multifocal hepatic necrosis and interstitial pneumonia.
T. gondii is an obligate intracellular coccidium that infects many species of warm-blooded animals, including people, however clinical infections in domestic rabbits are not common. Pyrexia and lethargy have previously been reported in a rabbit dying with toxoplasmosis. The affected rabbit in the report was housed with other rabbits in hutches. Other pets in the household included several cats and dogs, and these pets had access to the area where the rabbits were housed, and where the bags of rabbit pellets were stored, affording the opportunity for food and water contamination with cat feces.
Toxoplasmosis should be included in the list of conditions that have short clinical courses culminating in mortality in rabbits, especially if they have known contact with cats. AHL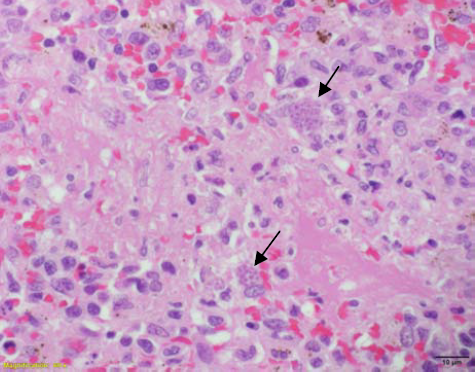 Figure 1. A focus of acute fibrinous splenic necrosis with a few variably sized clusters (arrows) of Toxoplasma gondii tachyzoites at the outer margin. 600X H&E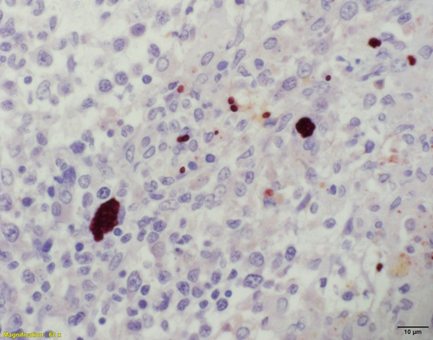 Figure 2. Spleen. Positive immunostaining of Toxoplasma gondii cysts and tachyzoites in the spleen. 600X
---
Developing a health and disease surveillance network for Ontario mink farms: project ends Friday September 29, 2017   
Emily Martin
Funding was obtained through the Ontario Animal Health Network (OAHN) to provide semi-annual testing on found-dead animals for the spring and fall of 2016 and 2017. There was also funding for Aleutian disease CIE testing in the fall.
This project will be wrapping up with an end date of Friday, September 29, 2017. After this date, all mink submissions to the AHL will be charged based on the published AHL Fee Schedule.   AHL