U of G's iGEM team brewing up solutions to a centuries-old problem using synthetic biology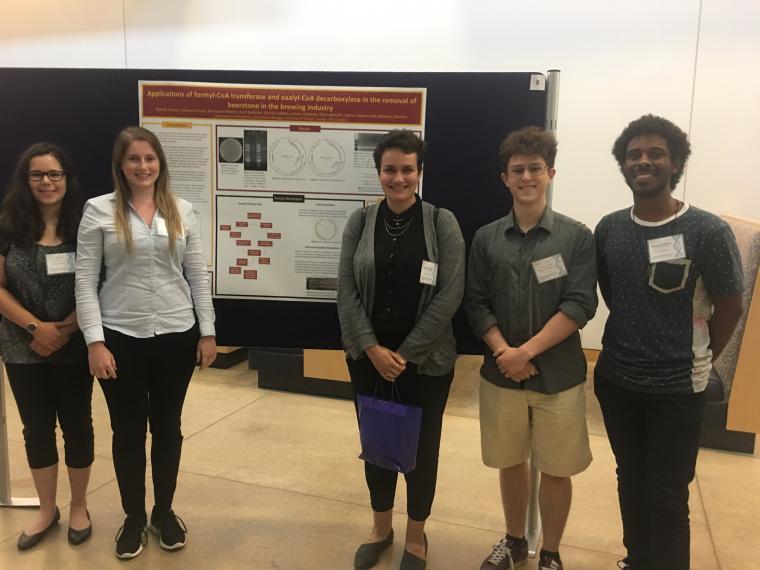 The beer brewing process is on the minds of first- and fourth-year undergraduate students alike in the University of Guelph's International Genetically Engineered Machine team – or iGEM for short.
The iGEM program sees students attempt to solve industry problems using synthetic biology – a discipline that applies engineering to biological systems. As Guelph has so many breweries, the U of G iGEM team is focusing on how to remove a waste product from the beer brewing process, while emphasizing the importance of educating and communicating with both the brewing industry and the greater community. The students figured it would be a great way for their team to gain knowledge while targeting an overt problem that breweries have been dealing with for centuries.
Since the team's inception in 2017, they have been focusing on two enzymes known as OXC and FRC. The goal is not only to use the enzymes to prevent the hard, scaly buildup known as beerstone in brewing vats, but to get the yeast in the brewing process to actually take in the beerstone as an alternative energy source.
While they will be presenting their project at the international iGEM Jamboree held this upcoming October in Boston – which is technically a competition – the endless learning opportunities seem to outweigh the stress of competing.
"Networking is really the biggest aspect of the Jamboree," says Nicole Leblanc, a third-year student in the molecular biology and genetics program. "We never actually feel like we're competing against anyone."
"It's a really unique opportunity to be exposed to activities that aren't as mainstream in a lab, but are equally important, such as human resources and social outreach," says Larsen Iorgovits, a second-year student in the microbiology co-op program.
While most of the 12 current members of the U of G iGEM team are from the College of Biological Sciences, they're hoping to diversify in the coming years by attracting students from all seven colleges.
"The iGEM club is a unique and accessible opportunity for undergraduates from a variety of disciplines to gain the tools needed to succeed in a lab setting that is typically only available to third- and fourth-year science students," says Jehoshua Sharma, a fifth-year student in the microbiology co-op program. "We would love to see students from all disciplines such as arts and sciences, business, and software engineering join our team."
Whether students are looking to explore the field of synthetic biology, try their hand in a lab or foster their communication and community outreach skills, it seems that the growing U of G iGEM club is the place to be.
U of G iGEM Twitter
U of G iGEM Instagram
---
Acknowledgements
Resources, lab space, and funding for the U of G iGEM team has been provided by Malcolm Campbell, Vice President (Research), Jonathan Newman, Dean of the College of Biological Science, and Marc Coppolino, Chair of the Department of Molecular and Cellular Biology. Profs. Rebecca Shapiro and Stephen Seah offer support as the team's advisors.
Share this page
Find related news by keyword
News Topics