Required to Withdraw

All University of Guelph degree programs, including the Bachelor of Engineering (B.Eng) program, have established conditions that must be met for students to continue in their program. Criteria used to assess this continuation of study can be found in the University Calendar. If a student is required to withdraw, they will receive notification from Enrolment Services, Office of Registrarial Services indicating they have been Required to Withdraw from the University of Guelph for a minimum of two (2) semesters.
Figure 1: Options After Being Required to Withdraw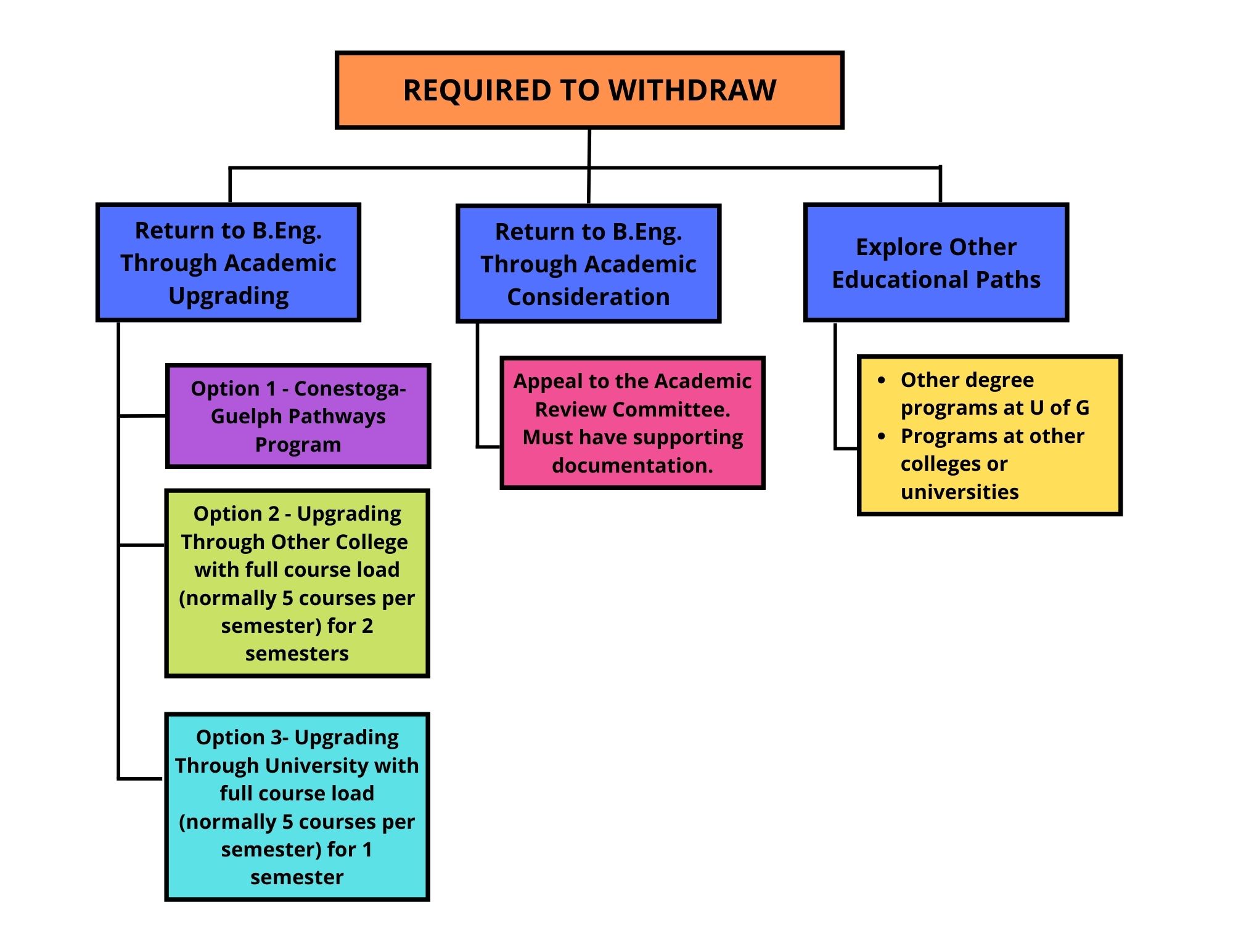 When can I reapply to the University?
An application for readmission to the University may be considered at the end of the two (2) semester rustication period. To apply for readmission, an application must be submitted along with the necessary fee and supporting documentation. The application is available on-line at: http://www.uoguelph.ca/admissions/internal Please ensure that the application is submitted prior to the deadline indicated in the instructions.
What do I need to do to return to the Engineering Program?
If you wish to return to the Bachelor of Engineering program, the Admissions Committee for that program will expect you to satisfy the following conditions:
1. Substantial academic upgrading,
2. Identification of previous problems, which may have contributed to the withdrawal, and
3. Information and documentation indicating the resolution of previous problems noted above.
Students who have been required to withdraw more than once from the University of Guelph will be considered by the B.Eng. Admissions Committee but rarely is readmission granted.
What does "Substantial Academic Upgrading" mean?
The B.Eng. program at the University of Guelph is a professionally accredited program with competitive admission requirements. Substantial academic upgrading is expected of students who have been required to withdraw from the B.Eng. program on the basis of academic performance, and who wish to return to the program after the minimum rustication period. Readmission is not guaranteed.
Normally, the B.Eng. Admissions Committee will expect readmission applicants to have completed either:
a) two full-time semesters at a college in an engineering technology program, or
b) five university level courses taken together in one semester.
Details for these options and the minimum grade expectations for each option are provided below. It is recognized that some students may not be able to satisfy the full course load expected for upgrading due to circumstances such as a disability, for example. Students who cannot complete the full course load should submit appropriate documentation with their application for readmission to support their upgrading choices. The School of Engineering will not provide preapproval of upgrading course load. It is the responsibility of the applicant to provide appropriate supporting documentation to the Admissions Committee for their consideration. The minimum grade expectations for college and university upgrading, as outlined in the options below, also apply to the reduced course loads. 
What are my Upgrading Options?
Conestoga College
For First Year Engineering Students, there is the Conestoga-Guelph Pathways program. This program is designed for engineering students who are required to withdraw at the end of their first year of study at Guelph. Contact information and application deadline information is available in the following brochure:
Development of an individual program of study for substantial academic upgrading is also available for upper year engineering students who have been required to withdraw from the Guelph engineering program. Contact Conestoga College directly about how to apply for this program.
Other Colleges or University
Successful completion of two full -time semesters (minimum of five courses per semester) in an appropriate engineering technology program at the college level with a minimum average of 80% in EACH semester and with no final grade less than 65% in individual courses. It is the applicant 's responsibility to identify appropriate engineering technology programs if not attending Conestoga College. The School of Engineering will not provide preapproval of the engineering technology program selected. The engineering admissions committee will assess the appropriateness of the engineering technology program at the time of application for readmission.
Successful completion of a minimum of five (5) university level courses in one semester with a minimum final grade of 70% in EACH university course. The courses completed should seek to upgrade those specific subjects for which the applicant failed or in which they performed poorly. It is the applicant 's responsibility to identify appropriate courses to be taken for upgrading. The School of Engineering will not provide preapproval of the upgrading courses selected. Courses listed in the Engineering Program Guide under Complementary Studies Electives are NOT considered academic upgrading for the purpose of readmission to the B.Eng program.
Will my upgrading courses count as a transfer credit?
Upgrading courses taken during the rustication period for the purpose of readmission to the B.Eng. program are not eligible for transfer credit.
What does "Identification of Previous Problems" mean?
If you decide that engineering at the University of Guelph is what you would like to pursue, then you will need to identify in your admission letter why your academic performance was poor and what steps you have taken during your rustication to ensure that your performance will be improved upon readmission. There are many different reasons why students do not meet the academic requirements of the Bachelor of Engineering program. The School of Engineering sincerely hopes you will take this opportunity to reflect upon the reasons which relate to your particular situation.
What does "Information and Documentation of Resolution of Problems" mean?
Where appropriate, the Admissions Committee expects supporting documentation (i.e., from a doctor, psychiatrist or personal counsellor) to substantiate your application letter. If you have any questions or concerns about the application process you are encouraged you to contact the B.Eng. Admission Counsellor, Blake Morrison (bmorri05@uoguelph.ca) in Admission Services well in advance of the application deadline.
What Academic Calendar will I be using if I am readmitted?
If you are readmitted, you will be following the academic course calendar that is current at the time of readmission. You are advised to review all sections of the current undergraduate calendar published on the University of Guelph website pertaining to the Bachelor of Engineering Program before making your application for readmission. It is your responsibility to familiarize yourself with all program requirements and to contact the Program Counsellor for clarification, where necessary. 
Can I appeal the decision for my withdrawal from the University?
The University is aware that a variety of situations or events beyond the student's control may affect academic performance. If you feel that you have grounds (medical, psychological, or compassionate) for your academic performance in the past semester and would like to appeal the decision of a withdrawal from the University, please talk to your Engineering Program Counsellor for more information.
Who can I talk to if I want to change into a different program at the University?
If you decide you are interested in changing to a different program (eg. Math, Computer Science, Biology, etc.) at the university, we would encourage to talk to a Program Counsellor for that department. The Program Counsellor can help you understand what type of academic upgrading is required for entry into their program. 
I have other questions about this process. Who should I contact?
Should you require clarification of upgrading requirements, please contact the Engineering Academic Counselling Office.