Carmen Savelli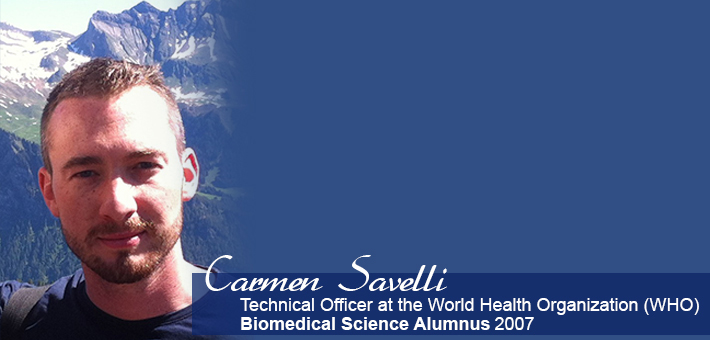 I graduated in 2007 with a BSc in Biomedical Sciences. (I also obtained a Certificate in Leadership from the College of Management and Economics at the University of Guelph. The certificate program involved the completion of 5 undergraduate courses in addition to 120 hours of leadership practice, and was structured in such a way that allowed me to complete both my BSc degree and the certificate program concurrently. To fulfill the leadership practice component of the certificate program, I proposed and coordinated the inaugural and second annual Biomedical Science Student Leadership Conference at the University of Guelph, which has remained an annual event.)

I am currently employed as a Technical Officer at the World Health Organization (WHO) in Geneva, Switzerland. Within the Risk Assessment and Management Unit of the Department of Food Safety and Zoonoses, I work with a team of doctors, veterinarians, scientists and other public health professionals to address health issues related to foodborne and zoonotic diseases worldwide. Specifically, I am involved with the response aspects of international food safety emergencies and utilize our established international network of public health and food safety professionals to mitigate the impact of foodborne illnesses. With new threats constantly emerging, I'm always learning about new diseases and hazards and enjoy the challenge of working in a fast-paced environment with a diverse team of people from around the globe. I also enjoy applying the knowledge and skills I learned while I was a student and I have a sense of satisfaction knowing that I am doing something directly related to my studies.

As a requirement for the biomedical science program I completed my fourth-year research project in collaboration with the Centre for Foodborne, Environmental, and Zoonotic Infectious Diseases at the Public Health Agency of Canada (PHAC). It was during this experience when I initially became interested in the link between biomedical science and public health, and upon graduation I was selected for a full-time position in the same office. For about three years I worked with a team of epidemiologists at PHAC, investigating national outbreaks of foodborne illness, while concurrently completing my Master of Public Health (MPH)) degree at the University of Waterloo. I subsequently came to WHO in 2010 and have been enjoying the experience since then. Looking back, I can connect a series of very distinct events that have led me on this career path which all started at the UofG in my third year epidemiology class: It was there where I met a guest lecturer named Dr Victoria Edge, an adjunct faculty member working at PHAC, whose passion and wit inspired me to follow-up after class with a chat over coffee which resulted in a summer job at PHAC -- the rest is history.

One of the best things about the UofG is the sense of community that comes from the amazing people there -- the students, the faculty, the residence assistants, the club members, the teammates, everyone. The support that one needs when facing the challenges that come with moving away from home, managing a heavy course load and dealing with a jam-packed social schedule is so important, and it is extremely well established at the UofG. It's so important to know that you have somewhere to go when you are looking for some advice, need to de-stress, or just want to have some fun. The University of Guelph is an inclusive place where everyone is made to feel comfortable in their own skin.

Talk to your friends, your professors, and older students for their perspective. Travel, see the world, and meet new people at every opportunity you have. Get involved, join a club, and take a stand when you believe in something. Don't be afraid to take risks and push yourself to do more than you think you can -- you will always surprise yourself if you try! Ask questions, explore your options, and most importantly: don't be afraid to change your mind. Most undergrads have only ever been students and so the thought of graduating without knowing exactly what the next step is can seem terrifying to some, but everyone eventually realizes that life goes on after school and it's actually really exciting out there -- even if it doesn't look exactly like the 3- or 5-year plan that you've been refining while procrastinating before exams. The time I spent at the University of Guelph were certainly some of the best years of my life and the relationships I made with both fellow students and professors will last a lifetime. I certainly had some ups and downs but it's those kinds of experiences that make us stronger people. Take advantage of all of the amazing opportunities afforded by being a student at the UofG because at the end of the day, what you get out of your undergraduate education depends on what you put into it - so get excited, work hard, and have fun!