Graduate Programs
Human Health & Nutritional Sciences Graduate Information
Human Health & Nutritional Sciences: MSc, PhD Program Brochure PDF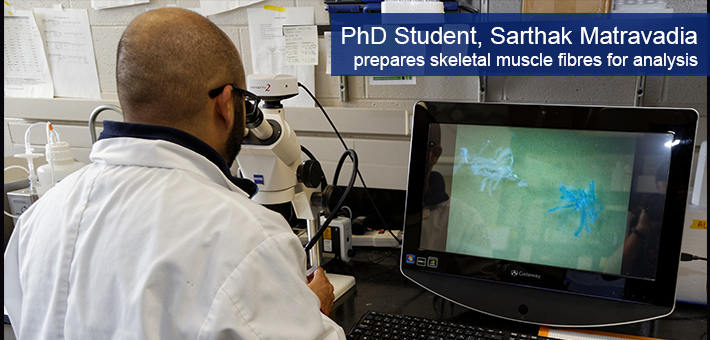 Sarthak Matravadia
PhD Student Sarthak Matravadia prepares skeletal muscle fibres for analysis.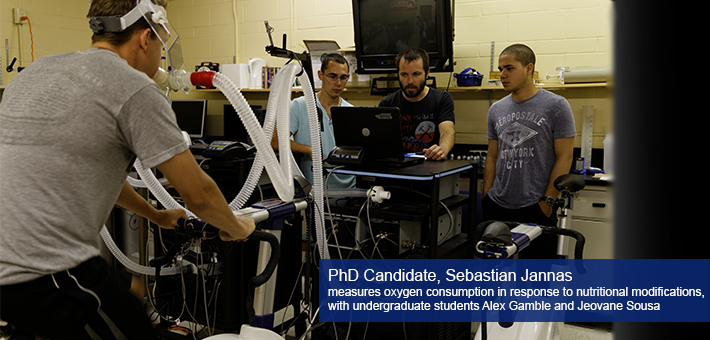 Sebastian Jannas
PhD Candidate Sebastian Jannas measures oxygen consumption in response to nutritional modifications, with undergraduate students Alex Gamble and Jeovane Sousa.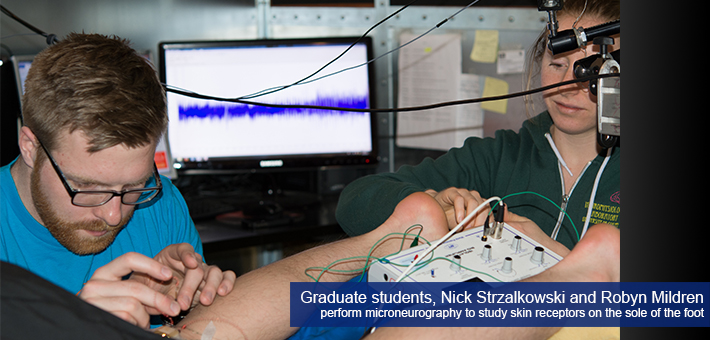 Nick Strzalkowski and Robyn Mildren
Graduate students Nick Strzalkowski and Robyn Mildren perform microneurography to study skin receptors on the sole of the foot.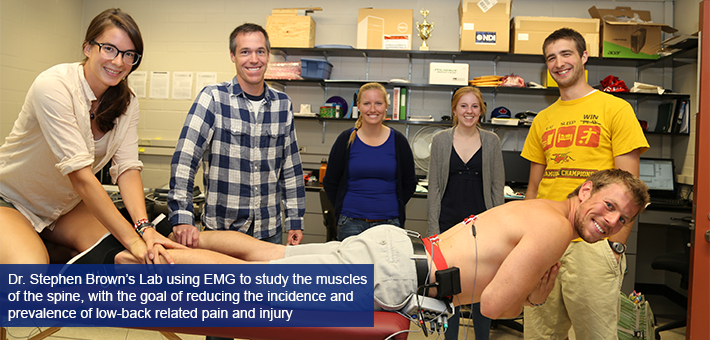 Dr. Stephen Brown's Lab
Dr. Stephen Brown's lab using EMG to study the muscles of the spine, with the goal of reducing the incidence and prevalence of low-back related pain and injury.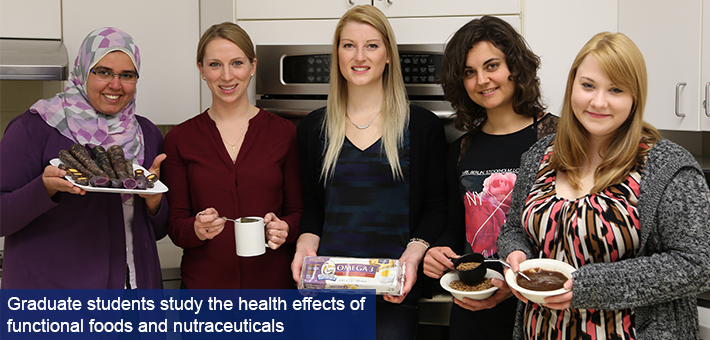 Graduate Students
Graduate students study the health effects of functional foods and nutraceuticals.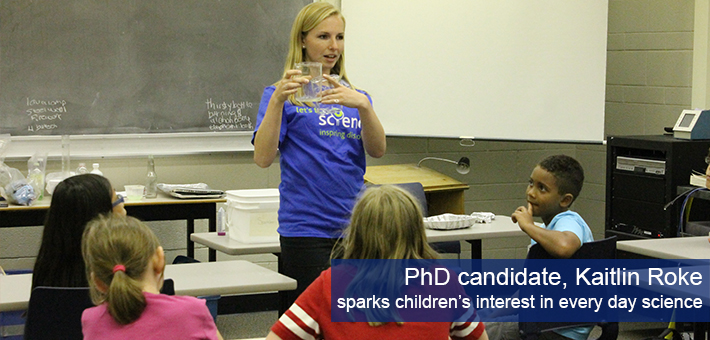 Kaitlin Roke
PhD candidate Kaitlin Roke sparks children's interest in everyday science.
---
The Department offers programs of study leading to an MSc by thesis and an MSc by coursework and project. Doctoral programs leading to the PhD degree are available in three areas of emphasis:
Biomechanics
Nutrition, Exercise and Metabolism
Nutritional and Nutraceutical Sciences
The Department also participates in two interdepartmental programs and two collaborative programs:
Graduate students are an important and valued component of our Department and we welcome inquiries from students with the appropriate academic qualifications. Unfortunately, the number of qualified students who can be admitted is limited by the number of students a faculty member can supervise (space and time) AND the amount of money available to pay the stipends of these students. Potential graduate students should contact faculty members who share their research interests, BEFORE completing and submitting an official application form.
To assist our faculty in making a selection from the pool of interested students, we suggest you include a statement which contains the following:
Courses completed (plus the mark received)

Relevant research and/or work experience you have, and with whom

Whether you have a scholarship

Two to three academic or research references

The reason for contacting our particular faculty.​
You should be aware that students with insufficient command of the English language may not qualify for a Teaching Assistantship.