Cardiovascular Research Day
Location
Location: OVC Pathobiology, Room 1800, 12:00-5:00 pm
Posters: OVC Lifetime Learning Centre, Room 1707B, 5:00-6:00 pm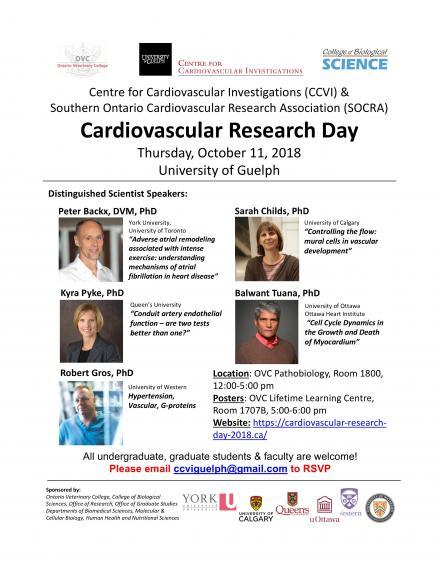 Details
Cardiovascular Research Day
Please see attached poster for Cardiovascular Research Day on Thursday, October 11th, noon-6 pm hosted by the Centre for Cardiovascular Investigations (CCVI) and the Southern Ontario Cardiovascular Research Association (SOCRA).
There is no charge for the conference and pizza lunch is included. 
We hope that you will join us, thank you!
Centre for Cardiovascular Investigations
Google: Cardiovascular Research Guelph
Twitter: @CCVIGuelph
LinkedIn: CCVI Guelph
Event Website
Share this page
Find related events by keyword