CCVI Distinguished Speaker Seminar
Location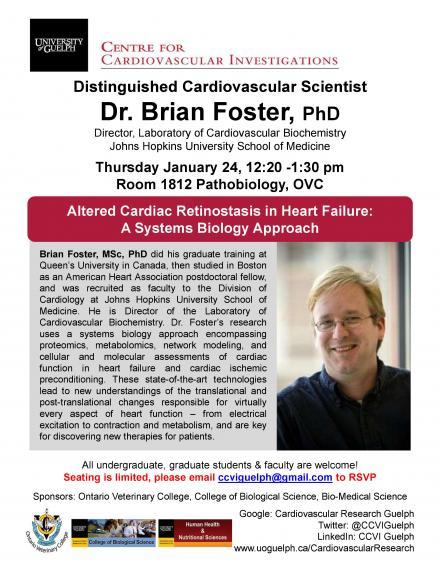 Details
CENTRE FOR CARDIOVASCULAR INVESTIGATIONS
Distinguished Cardiovascular Scientist
Dr. Brian Foster, PhD
Director, Laboratory of Cardiovascular Biochemistry Johns Hopkins University School of Medicine
Thursday January 24, 12:20 -1:30 pm Room 1812 Pathobiology, OVC
Brian Foster, MSc, PhD did his graduate training at Queen's University in Canada, then studied in Boston as an American Heart Association postdoctoral fellow, and was recruited as faculty to the Division of Cardiology at Johns Hopkins University School of Medicine. He is Director of the Laboratory of Cardiovascular Biochemistry. Dr. Foster's research uses a systems biology approach encompassing proteomics, metabolomics, network modeling, and cellular and molecular assessments of cardiac function in heart failure and cardiac ischemic preconditioning. These state-of-the-art technologies lead to new understandings of the translational and post-translational changes responsible for virtually every aspect of heart function – from electrical excitation to contraction and metabolism, and are key for discovering new therapies for patients.
Altered Cardiac Retinostasis in Heart Failure:
A Systems Biology Approach
All undergraduate, graduate students & faculty are welcome!
Seating is limited, please email ccviguelph@gmail.com to RSVP
Sponsors: Ontario Veterinary College, College of Biological Science, Bio-Medical Science
Google: Cardiovascular Research Guelph
Twitter: @CCVIGuelph
LinkedIn: CCVI Guelph
Event Website