U of G Garden Gander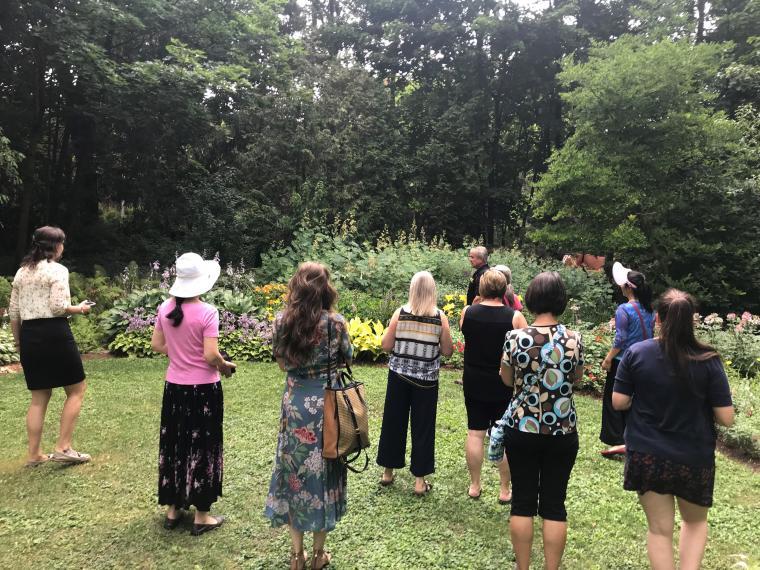 U of G Garden Gander
Wellness@Work is launching a summer walking series, exploring U of G's beautiful gardens. Join us every Tuesday until the end of August for a guided walk through the picturesque gardens and landscapes on campus.
John Reinhart, Grounds Manager, will take participants on a noon hour walk to explore different gardens and trees on our campus.  Each week will feature a different area of campus with more to discover.  Come learn about new plantings, plant problems, botany, history of plantings and more!
"Plants are the best. Walking in the shade, under the ceiling provided by so many trees, could possibly be the most relaxing environment found on campus." – John Reinhart

Meet at the Cannon in Branion Plaza for a 12:05pm start.  The walk will wrap up around 12:50pm. Everyone is welcome to join, so please bring a colleague or friend along with you! 
Dates for the weekly noon hour walks and approximate routes include:
July 24th  - north of College Ave
July 31st  - Mid campus, College Ave to Stadium walk between Gordon and E.Ring rd.
August 7th  - Conservatory Gardens
August 14th  - Stadium walk to Reynolds walk between Gordon and E.Ring rd.
August 21st  - Reynolds walk to S.Ring rd. Between Gordon and E.Ring
August 28th  - West of Gordon
See you there!
Here's what our participants said: 
"I have participated in the lunch hour walks and have really enjoyed them. They have been informative and I've seen gardens in areas on campus that I don't normally go. It has been very enjoyable and I will most definitely be visiting these gardens again.  These walks are a great reason to get me out of the office and contributes to my wellness at work! Thank you so much for organizing these walks and a big thank you to John Reinhart for leading them!" -Laurie 
"I attended 4 of the Garden Gander walks, and they were amazing.  They made me feel much more connected to, and increased my respect for, my campus.  They communicated a wealth of interesting knowledge.  They also provided a great respite from stress and pressure at work, with some purposeful exercise outside in the fresh air". -Richard 
"I just wanted to say thanks for organizing the noon hour Garden Gander Walks. They have been a lovely addition to my weeks (when I have been able to attend) this summer. I learned plenty and now I have a sense of place and understanding when I walk around campus! Looking forward to hearing about the walks continuing into the fall." -Jillian
"Just wanted to say that I enjoyed the garden walks this summer. I could not attend all of them but would look forward to more if they were organized this fall!  Please consider doing series for summer 2019.  Great idea" -Christine
"Just wanted to let you know how much we appreciate the tree walks that you organized with John and Robin. I looked forward to them every week, they were fantastic! It was always great to leave a stressful work environment to go learn about different trees on our campus. It has a lasting effect as well, because I walk by these tree every day, and now I can appreciate them more meaningfully." -Natalie